I've been sharing my process as I design my amigurumi Meerkat crochet pattern – hope you find this behind-the-scenes journey through what goes into a PlanetJune design interesting! To catch up, see:
– Part 1: Research, Shape, Colour and Sketch
– Part 2: Construction Decisions
– Part 3: Making The Head
Last time, I'd figured out the perfect colour changes for the head, and was ready for the final stage: finishing the rest of the head and designing the body, limbs and tail…
Part 4: Making the Body
I'm not sure if it's because of the psychological aspect of showing you my progress as I go, or just something about the meerkat itself, but this design is proving to be really slow going. I've been struggling with proportion and had to draw myself a life-size reference sketch – I think it's because meerkats are so long and thin, I kept underestimating how tall it should be!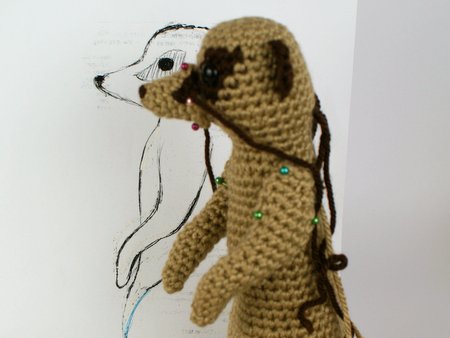 Full-size sketch for proportion reference
I typically have several designs on the go at once, and if I get stuck on one, I set it aside and work on something else for a while. The solution usually pops into my head a few days later, while I'm doing something completely different. Trying to force it doesn't seem to make my brain come up with the best solution any more quickly – I'll come up with something if I force myself, but I'll usually end up redoing that part later when I think of a better-looking or simpler solution, so it's best for me to just let it sit and wait for inspiration to strike.
That's what happened here: it took me 3 attempts to get the arms right, not because the shape was wrong, but to improve my technique so I could simplify the pattern while keeping that unmistakable shape – meerkats have very unusual arms! There's always a trade-off between making a design more realistic and making it easier to crochet, and, in my opinion, the best pattern will give a good balance: a recognisable result combined with an enjoyable crocheting experience.
Before I release a design into the world, I always take the time to stand back and consider if I've really done my best or if anything could be improved. If I'm not satisfied, it goes on pause for a while until I figure out how to improve it. That's the stage I'm at right now – I've roughly pinned all the pieces together so I can get a better idea of what else needs to be changed: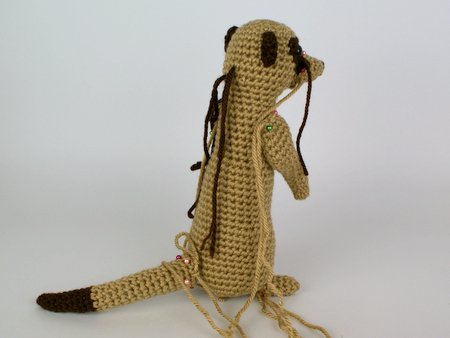 Almost there…
This isn't the final design, but it's pretty close! (I'll save the full reveal for the finished design.) I have a little more work to do on the leg area, and some placements need adjusting, but next time you see my meerkat, he'll be finished 🙂
---
So that's really it for the design process – my next steps will be to make the final tweaks to the design and then, when I'm happy with all the pieces, to photograph the assembly process. I'll write up my notes into proper crochet instructions, then edit my photos and describe the assembly process carefully so you'll be able to easily understand how to turn the crocheted pieces of your meerkat into a close copy of my completed design.
After this, I have to set the pattern aside for a while so I can approach it with fresh eyes for technical editing and proofreading. During this break, I'll be figuring out how to best photograph my meerkat so he'll look at his most appealing, then take him into the studio (or out on location) for his cover photoshoot. I'll select the best photos, edit them, and then add them to the pattern.
Once the pattern is complete, it'll be time to do a final check for accuracy and clarity, then the pattern will – finally – be finished! Everyone who commissioned it will receive their copy, and then I'll then publish it in my shop, so you'll be able to buy my Meerkat crochet pattern if you aren't among the commissioners.
UPDATE: See the finished Meerkat pattern here!
---
I hope this insight into what goes into making a PlanetJune design has been eye-opening for you. Some of my designs come together more quickly and easily than this, but there's always a lot that goes on behind the scenes to create my deceptively simple-looking shapes and designs, and I don't regret a second of that time – it's always worth it 🙂