When I was writing my new book, I had a lot of project samples to crochet in a short period of time, and that's pretty hard on the hands.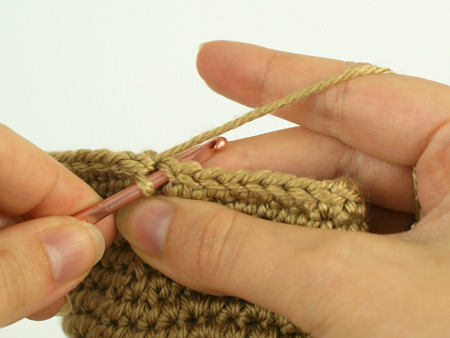 This is how I crochet (and this is my meerkat amigurumi, not a book project!)
When I've been crocheting for a while, the yarn starts to wear a groove in my forefinger as it rubs over it, and, if I keep going, my finger gets red and sore, and my skin condition gets aggravated. A chafed finger really isn't something you want to see in close-up book tutorial photos, so I needed a solution to protect my finger.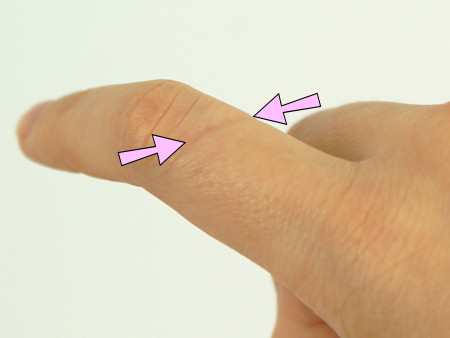 Groovy (and not in a good way) – this is after just a few minutes of fast amigurumi crocheting
First I tried crocheting a finger sleeve, which worked really well for comfort and maintaining tension, but it looked clunky, and after a few minutes of use it began to spin around on my finger and wouldn't hold in place. I also tried using plastic and metal yarn guides (meant for stranding multiple colours of yarn) which stopped the rubbing, but I found they messed with my tension.
Other suggestions from my ever-helpful Ravelry group members included finger cots, taping the finger, or wrapping paper towel around the finger and then taping over that.
In the end I found a very simple solution that works for me: I sewed a very basic finger sleeve from a smooth, stretchy, spandex-blend fabric. This fabric doesn't fray, so all I needed was one row of stitching to turn a small rectangle of fabric into a tube that fits tightly over my finger.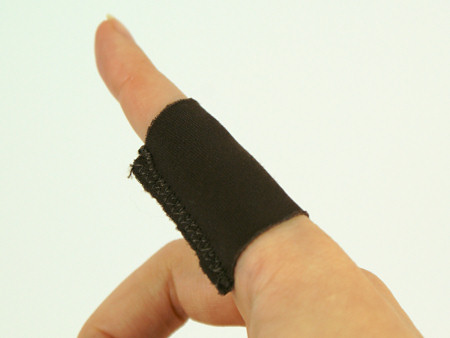 It's not pretty, but it works
When I wear it, my yarn runs smoothly over the fabric and it doesn't affect my crocheting tension. The tube did stretch a bit after a few days of hard use and became too loose to be effective, but I just stitched another seam slightly further in (thanks to Kris for that suggestion) and it hasn't stretched further since. The best part is it only takes a tiny scrap of a smooth stretch fabric, and you can customise it to exactly fit whichever part of your finger gets rubbed or irritated by your yarn.
I keep the seam on the outside so it doesn't dig into my finger, but rotate the sleeve on my finger so the seam doesn't touch the yarn. Sometimes a simple solution is best: this little tube took mere minutes to make but has already saved me a lot of discomfort as I worked on all my book projects.
I still use my finger sleeve when I have a heavy crocheting session or use yarn that chafes, and I think I'll whip up another half dozen or so – the biggest problem with finger sleeves is that they seem as prone as yarn needles to being mislaid! If I have a few handy, I'll be able to keep one in every project bag.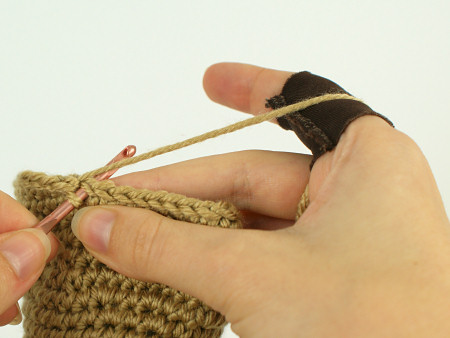 Problem solved!
If you'd like to try making a finger sleeve, look for a smooth fabric with spandex/lycra so it's nice and stretchy. Or, if you don't want to spend money when you only need a tiny scrap of fabric, I bet a piece snipped from an old swimsuit would work perfectly…
My starting fabric rectangle was 4cm long by 6cm around (about 1½ by 2⅜") but I have small fingers, so you may want a longer and/or wider tube. Just measure your finger and remember to add a little extra width for the seam allowance (but not too much, as you need a tight fit so it won't slip). If it's too loose, just sew another seam to make the tube slightly narrower, as I did.
Do you have problems with yarn chafing your finger when you crochet or knit? Please share what works for you in the comments!