Today I have a new fast and easy donationware pattern for you: Tiny Eggs!
Make miniature (1″/2.5cm) crocheted eggs that are still egg-shaped despite their diminutive size. Decorate for Easter with a bowl of calorie-free 'chocolate' eggs (just don't eat them!) or make them as realistic-sized songbird eggs.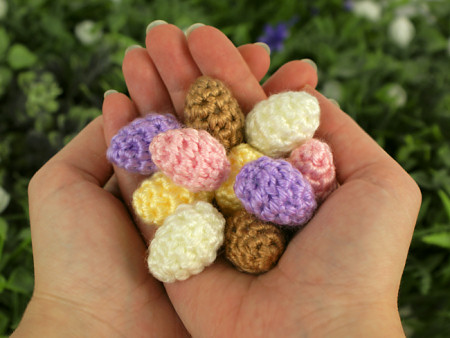 Tiny Eggs is a free pattern, but I decided to go a step further with the donationware PDF version this time, so it gets its own name: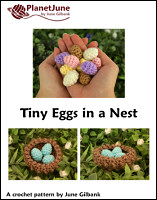 Tiny Eggs in a Nest is the PDF version, available for any size donation, and it includes a bonus pattern for a tiny textured bird's nest (3″/7.5cm diameter) which I designed especially for these eggs.
The beautiful nest is smooth on the inside and textured on the outside, just like a real bird's nest, so you can make a nestful of Tiny Eggs as a lovely decoration to celebrate spring, or as the perfect accompaniment to an amigurumi bird.
I really appreciate those of you who choose to donate for my donationware patterns (whether it's a $1 or $20+ donation – every dollar counts). I'd have stopped creating 'free' patterns long before this point if not for your generous donations that support the creation of future donationware patterns and make it worth my while to keep creating them!
So, to show my appreciation, I give added value to the PDF version wherever I can, and in this case, it means the very special textured nest pattern, available exclusively in the Tiny Eggs in a Nest PDF pattern. With the bonus nest pattern, Tiny Eggs can do double duty as both a mini Easter Egg pattern and a sweet bird's nest pattern.

I hope you enjoy making the teeniest tiniest crocheted eggs, with or without the nest!
Go to the free Tiny Eggs pattern >>
Or jump straight to donate:
Order the Tiny Eggs in a Nest pattern >>
Not ready to make it yet? Add it to your Ravelry queue:
PS – Don't forget to share your eggs and/or nests in the PlanetJune Spring/Easter CAL on Ravelry 🙂