© June Gilbank 2014
Make miniature crocheted eggs that are still perfectly egg-shaped despite their diminutive size. Decorate for Easter with a bowl of calorie-free 'chocolate' eggs – just don't eat them!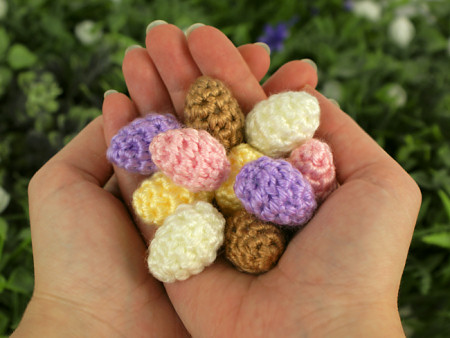 This pattern is Donationware – the Tiny Eggs pattern is available for free, but if you like it please consider sending me a donation to show your appreciation: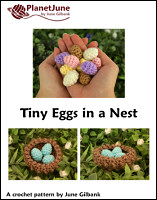 Send me a donation and receive the easy-to-print PDF version of the pattern as a thank you!
As a bonus, the PDF version, Tiny Eggs in a Nest, also includes a beautiful tiny textured bird's nest (3″/7.5cm diameter) designed especially for these eggs, as a lovely decoration to celebrate spring or as the perfect accompaniment to an amigurumi bird.
Donations of any size are much appreciated. Just add the amount you wish to donate, and, once you have checked out and paid, your pattern will instantly be available to download from your PlanetJune account.

The complete pattern and instructions for the Tiny Eggs are available below, regardless of whether or not you choose to pay for them 🙂 But please consider donating, so you'll receive the lovely mini nest pattern too!
Tiny Eggs is a free PlanetJune original crochet pattern. Feel free to use items made from this pattern however you wish, but I'd appreciate credit as the pattern designer. Please do not reproduce the pattern anywhere else; instead post a link to www.planetjune.com/tinyeggs/
Not ready to make it yet? Add it to your Ravelry queue:
Terminology
| | |
| --- | --- |
| ch | chain |
| invdec | invisible decrease Note: If you prefer, you may use a standard sc2tog decrease in place of each invdec. |
| sc | single crochet (double crochet for UK/Aus) |
| st | stitch |
Notes
Do not join at the end of each round; rounds are worked in continuous spirals.
Use a stitch marker to mark the beginning of each round. Move the marker up each time you start a new round.
You will need…
E US/3.5mm crochet hook
Small amount of worsted weight yarn
Polyester fibrefill stuffing
Yarn needle to weave in ends
Stitch marker
Tiny Egg Pattern
worked from top to bottom
Make a magic ring, ch 1.
Rnd 1: 4 sc in magic ring. (4 st)
Rnd 2: (2 sc in next st, sc in next st) twice. (6 st)
Rnd 3: (2 sc in next st, sc in next 2 st) twice. (8 st)
Rnd 4: (2 sc in next st, sc in next 3 st) twice. (10 st)
Rnd 5: sc in each st around. (10 st).
Stuff egg through hole (see Stuffing Tips, below).
Rnd 6: invdec five times. (5 st).
Fasten off, stitch the remaining hole closed and weave in the end.
Roll the egg around between your palms to smooth out the stuffing and stitches, then, if necessary, help it back into its correct shape (narrower at the top and rounder at the bottom).
Stuffing Tips
As the egg is extremely small, it can be a challenge to stuff. I prefer to leave the stuffing as late as possible, so I partially work Rnd 6 (invdec three times) before I add the stuffing through the remaining tiny space, and then complete the final two invdecs.
To make it easier to add the stuffing neatly, try compressing it before you add it by rolling it into a ball between the palms of your hands: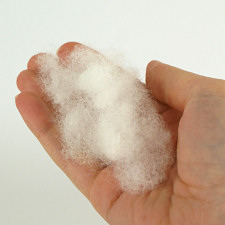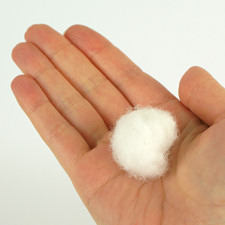 Hold the ball of stuffing up to the egg (below, left) – if you find it is too large, pull a piece off then roll it between your palms again to form a smaller ball.
Squash the balled up stuffing into the egg (below, right) – a Detail Stuffing Tool is perfect for this task, but if you don't have one, use a narrow implement (e.g. try the wrong end of a pencil or wooden spoon) to push the ball of fibrefill into the egg.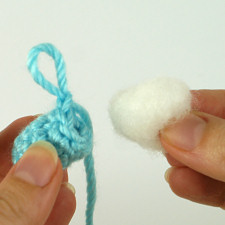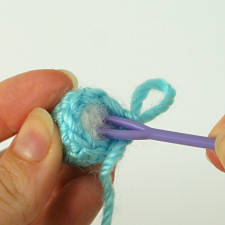 Make as many Tiny Eggs as you want! They only take minutes apiece to crochet, and they look especially good if you make multiple eggs in a selection of colours – almost good enough to eat… 🙂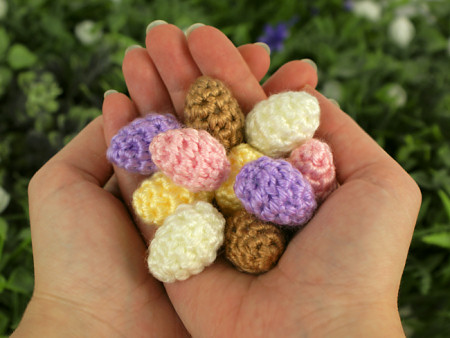 I hope you enjoy this pattern. Please leave me a comment below if you do, and consider leaving me a donation (don't forget you'll also get the lovely textured nest pattern as a bonus if you do). Thanks!