The question I get asked most often is how to make a magic ring to begin an amigurumi.
What is this 'Magic Ring', anyway?
A magic ring is a way to begin crocheting in the round by crocheting over an adjustable loop and then pulling the loop tight. The advantage of the magic ring method (below, right) is that, unlike the regular "chain 2, x single crochet in 2nd chain from hook" method (below, left), there is no hole left in the middle of your starting round.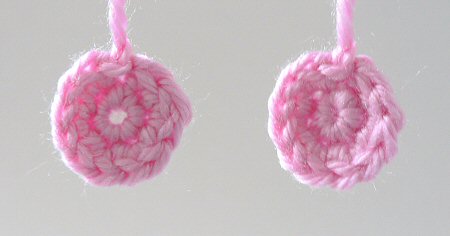 L: ch2, 6 sc in 2nd ch from hook, 2 sc in each st around.
R: magic ring, ch 1, 6 sc in magic ring, 2 sc in each st around.
How do I make a Magic Ring?
Choose your preferred learning method! I have video and step-by-step photo tutorials, all for right- and left-handers. Continue to: