To the person who has been stealing my crochet patterns and posting them online: I am not a large corporation who can easily absorb a little petty theft. I am not making millions from my patterns. I work hard to produce quality patterns for the enjoyment of the crafting community and I charge a small amount as compensation for my hard work.
I was shocked and hurt when a member of the Crochetville community drew this to my attention this morning (thanks Maria!). One of the things I love most about the online craft community (bloggers, forum users, etsy shoppers, etc) is the culture of inspiration, and sharing ideas and techniques, that enriches us all. I have created lots of free tutorials and I always offer my customers any advice or help they need via e-mail. So to discover that one of my customers has betrayed me like this hurts even more.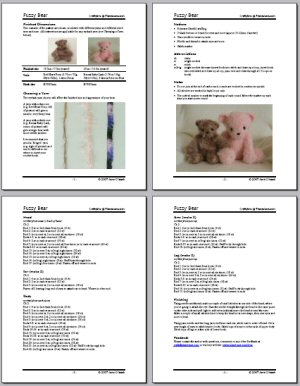 My patterns are protected by copyright… or are they??
To all my lovely honest customers and online friends: Thank you for your comments and your custom! Your appreciation of my work makes all this worthwhile, and I'm not going to let one bad apple spoil everything for me. If you see any of my patterns illegally floating around the internet, please do let me know so I can try to stop them from spreading.
Does anyone have any ideas as to how to combat this kind of thievery?