I'm updating my entire back catalogue of patterns with extra information and tips and a new space-saving layout, and re-releasing them in batches as they are ready. Please see the Pattern Re-Release FAQ for more information.
Time for the next batch of re-releases (and a test run for some improvements to my shop – keep reading for details and to help test the changes). This batch includes all my plant patterns: Cactus & Succulent Collections, African Violets, Lucky Bamboo, Water Lily and Christmas Trees. Note:
This batch doesn't include the donationware flowers etc – all my Donationware patterns will be re-released in a separate batch.
The Primroses pattern also isn't included in this batch as it's a new release, so it's already in the new format – there's nothing to update 🙂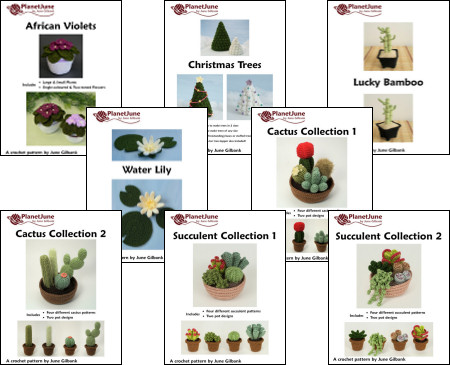 If you've previously purchased any of these pattern(s) (individually, or the Cactus and/or Succulent multipacks), the update(s) are now ready for you to download in the new format!
Log back into your PlanetJune account at any time in the next 2 weeks and you'll see the download buttons for these pattern purchases have been re-enabled, so you can click and download the new versions.
If you have lots of past orders in your PlanetJune account, you don't have to hunt for the right ones; just follow these simple steps:
In your PlanetJune account, click Show All Orders.
At the top of that page, click to the list of all your past purchases.
Find the pattern name in the alphabetical list.
Click the order number to go directly to that order.
Re-save your pattern 🙂
---
PDF Download Test & Survey
This batch also has a special second purpose. As many of you know, zip file downloads are becoming less popular, particularly as they are very difficult to use with iPads and other mobile devices. To make everyone's lives easier, I plan to convert my shop to straight PDFs, but this is a huge task with over 250 products to convert, so I want to be very careful to make sure nothing goes wrong, and make sure that your old orders will still be available if you need another copy of any of your patterns.
As a first test run, I've added a new PDF version of the Christmas Trees pattern to every order that already included that pattern. If you've bought this pattern, you'll see the updated zip file (MP008.zip) in your order, and also a new file (Christmas Trees crochet pattern.pdf).


Here's what the files should look like when you access your order in your account.
If you've purchased Christmas Trees, please try to download the Christmas Trees crochet pattern.pdf file and fill in this brief survey about your experience. This will give me valuable feedback to make sure the system is working well for everyone before I start to convert over 250 items in my shop! This isn't a job I want to do twice, so it's important that as many people test the system as possible before I get any further into making changes.
As a thank you for helping me test this new functionality, everyone who completes the survey will receive a discount code to use on your next order from PlanetJune! Complete the survey here >>
Note: If anything goes wrong and you can't save/view the new PDF, you can just download MP008.zip instead – it's also been updated to the new version of the Christmas Trees pattern, so you won't miss out. Please let me know what went wrong as well, though, so I can make sure to fix it before the new shop format goes live.
---
If you have any questions about the pattern reformat project, or you received the patterns through a different mechanism (and so don't have an order for them in the PlanetJune shop) but you'd still like the new versions, check the Pattern Re-Release FAQ for more information.
(There'll be more pattern re-releases coming soon – if you'd like to get an email notification each time a new batch is ready, sign up for the Crochet Pattern Updates mailing list.)