I've posted my best wildlife photos from this trip on the blog, but, in case you're interested in a little more detail, here's the story of our trip to Malaysian Borneo in September 2014…
Seeing orangutans in their natural environment would be one of the items on my bucket list (if I had one) so when Dave had the opportunity to give a talk at a conference in Borneo – one of the only two islands (together with Sumatra) where orangutans are found in the wild – we took our chance to have an orangutan adventure. We stayed at the Hilton in Kuching – this is the view from our room, overlooking the Sarawak River: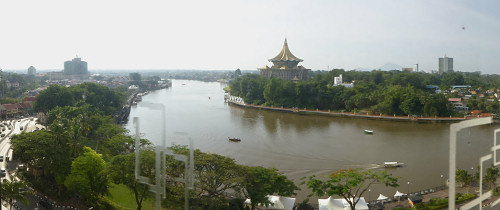 The river divides the city and river taxis (and tourist cruise boats) cross it all the time.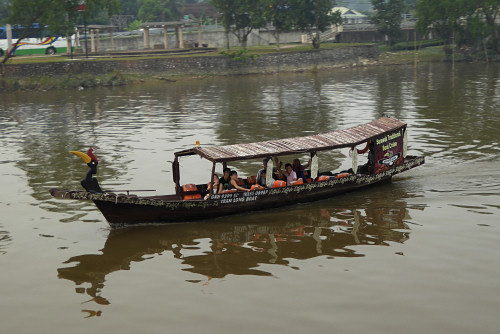 While Dave was working throughout the week, I spent most of my time walking around the city looking for wildlife (see my other post for my photos!) and doing a little shopping. I also enjoyed seeing intricate details like these in the architecture: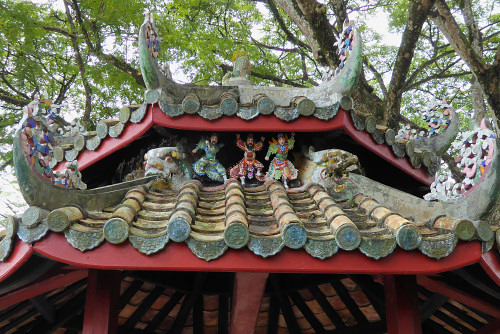 Kuching is about half Malay and half Chinese and there are many Chinese shops, temples, cemeteries, etc.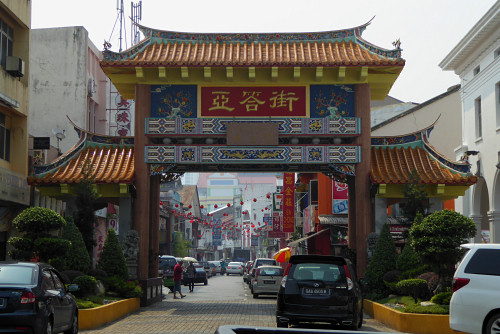 Kuching is known as the 'city of cats' and there are cat statues all over the city: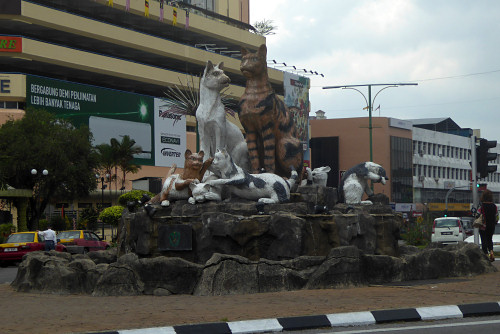 This one was my favourite: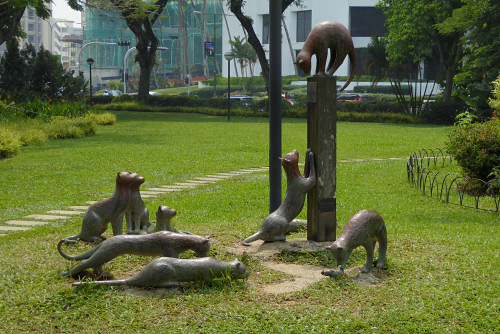 And I spotted many cats of the live variety too: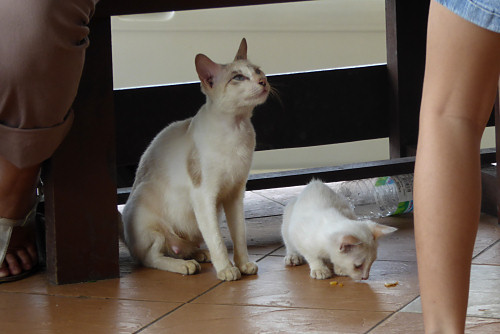 We took a sunset boat cruise (although this moment is probably the only time we saw the sun on the entire trip!)
And we were hoping to spot a Rajah Brooke's Birdwing butterfly (the national butterfly of Malaysia) but this giant model on the front of the Natural History Museum was as close as we got.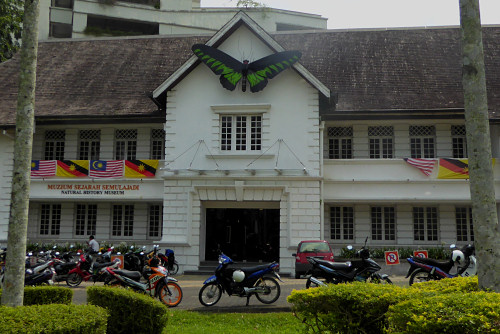 The conference excursion was to the Semenggoh Nature Reserve, where they rescue and rehabilitate wild orangutans. We saw lots of brightly coloured butterflies as we walked up to the orangutan feeding station, and heard loads of birds and gibbons. They keep 3 very large estuarine crocodiles in cages as they are too dangerous to re-release into the wild, so we got to see them (there's a photo of one in my wildlife post).
And then it was the orangutan feeding time! We were so excited, until we went and watched a man standing on a platform with a bucket of bananas for an hour while the water poured off us (no rain, just extreme heat and humidity) and that was that… Not one orangutan showed up. It's good news really – if the orangs don't show up it means they are successfully foraging for food in the wild and are well rehabilitated. But still…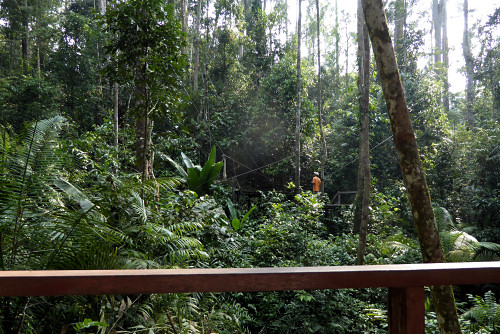 Yep: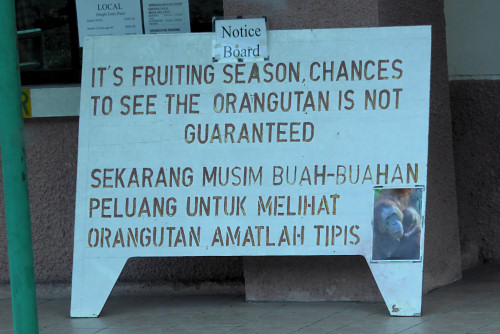 Luckily, we had planned to stay for 2 extra days, so Mission Orangutan was not over just yet…
Sarawak is famous for its pepper. Did you know that black, white and green peppercorns all come from the same plant – they are just processed in different ways? These are pepper vines where the peppercorns grow and are harvested: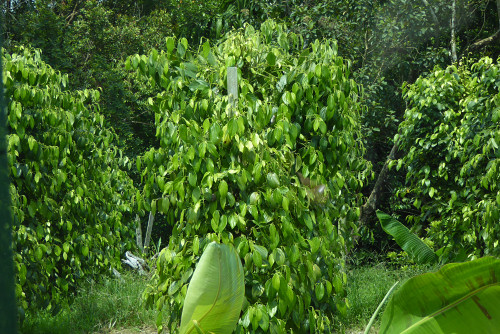 On the Saturday, we booked a tour to the Matang Wildlife Centre for the morning so we could finally see some orangutans. They take in injured animals and ex-pets, and also rehabilitate baby orangutan orphans so they can be released into the wild when they are old enough. We were the only people on our tour, so we had a private minibus trip and guided tour of the reserve.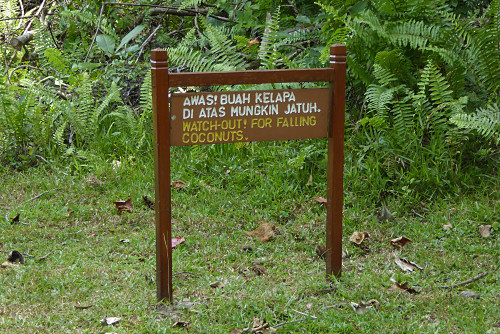 Most of the animals are in cages like a zoo – it's a bit sad to see, but these rescue centres are vitally important. This spectacular big male was kept illegally as a pet since he was a baby – can you imagine?! – and so he doesn't have the skills to be released into the wild. At least now he's part of the breeding program, so his genes will help to to safeguard the continued survival of his species.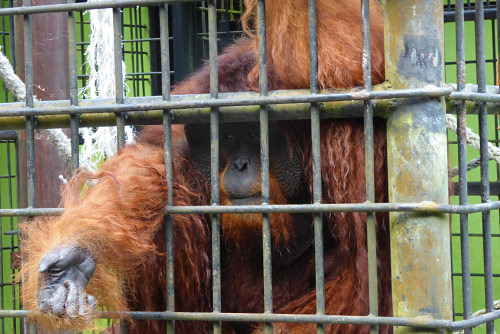 The orphaned baby orangs are brought out for training for 2 hours, twice a day. They learn to climb trees, make nests to sleep in, and get into wild fruits (simulated by fruit wrapped in a package that they have to break into). These are skills that they would normally learn from their mothers, and they wouldn't be able to survive in the wild without learning how to be a wild orangutan.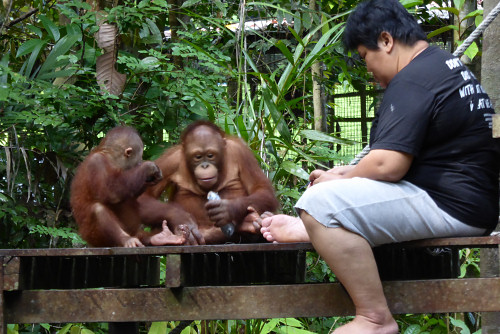 We got to see a 1 year old and 4 year old baby in training – very lovely. Eventually they will be released into the adjoining Kubah National Park. This wasn't originally a home to orangs, but they have already successfully released 11, so the rehabilitation scheme is working.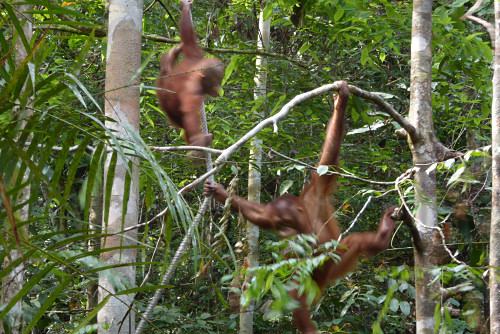 Not wanting to waste our final day in Borneo, we booked the full-day trip to Bako National Park, even though I had a tummy bug. The minibus took us to the harbour where we met our guide. You get to the park by a tiny motorboat that can only take up to 5 passengers.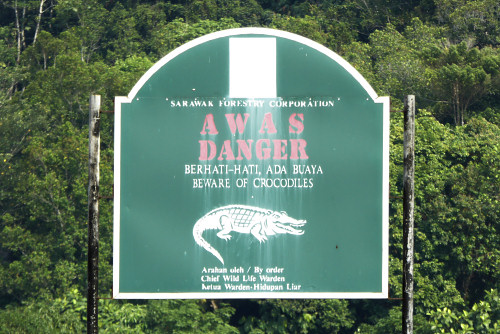 (We didn't see any crocodiles!) These are the little boats: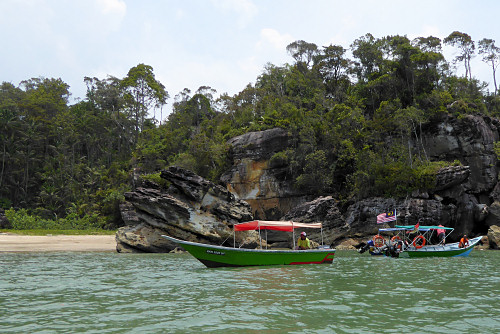 The boat arrived at a beach and we had to take off our shoes and wade ashore, but the water was lovely and warm.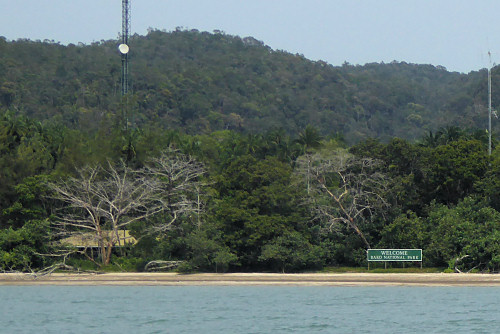 Our guide was excellent – he showed us a batchelor group of proboscis monkeys who had yet to retreat into the deep forest for the day, highly venomous pit vipers, fiddler crabs, mudskippers and giant mudskippers, and long-tailed macaques (see my photos in the wildlife post).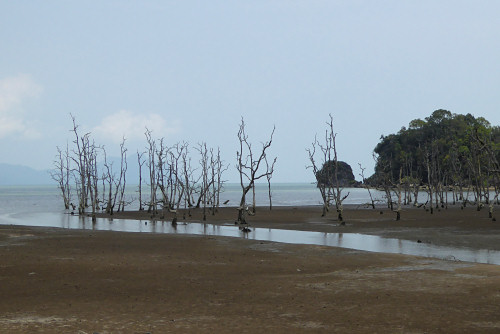 The macaques aren't scared of visitors…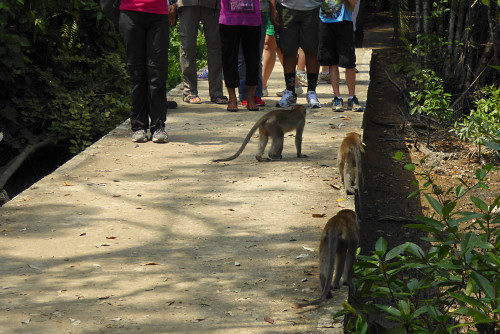 Luckily, our guide had told us to eat our lunch inside – we saw this macaque stealing these bread rolls from the table of some people eating outside!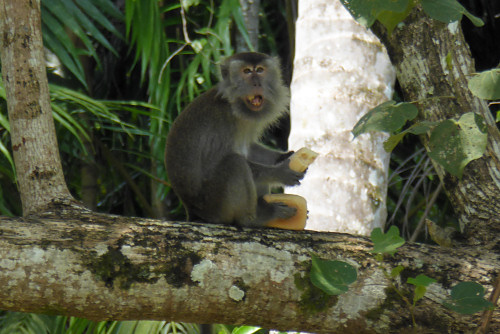 Then we headed out for our jungle trek, which was very difficult – only 800m long but with very difficult terrain and in ridiculously hot and humid conditions. It started out pleasantly enough: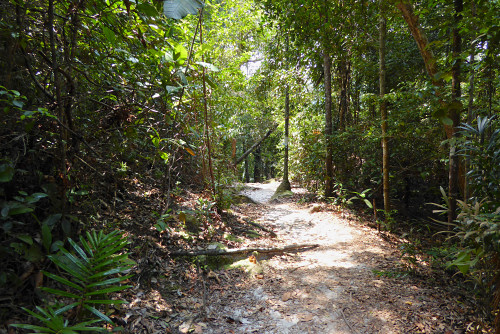 …but quickly became seriously strenuous. Scrambling over rocks and tree roots, having to find handholds so we wouldn't fall, and tiny narrow wooden steps that were very difficult to balance on. Here's part of the path: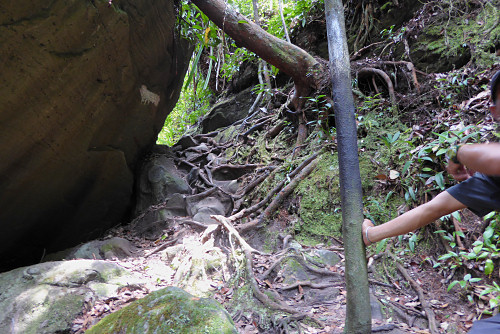 We stopped at a lookout point and I was about to walk between 2 trees when I noticed this pit viper on a branch I was about to push through!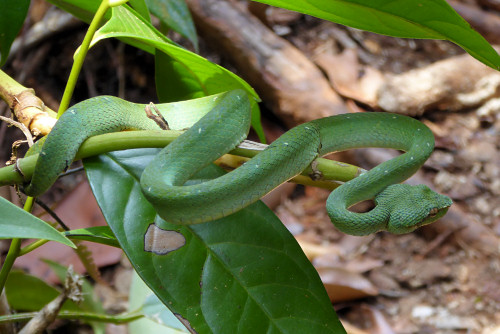 The guide hadn't noticed it so it was very lucky that I found it – there's no anti-venom in the park, so we wouldn't have been able to be treated until we got all the way back to a hospital in Kuching. Our guide used a long stick to carefully move the viper to a safer location away from the path.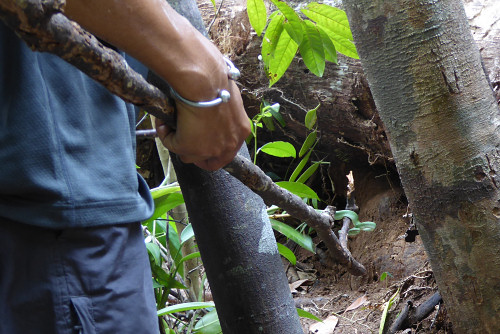 We eventually reached the end of the trail at a beach.
Our guide offered us the choice of either walking back – along the same path! – or paying for a boat trip back, which we gladly accepted. It was lovely and much cooler, and offered some stunning views: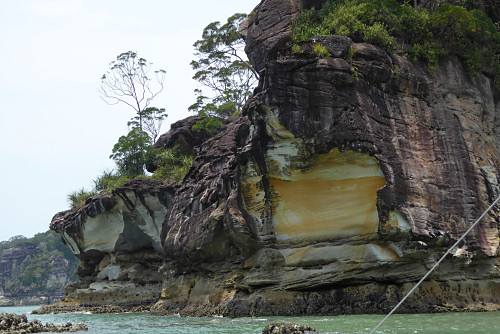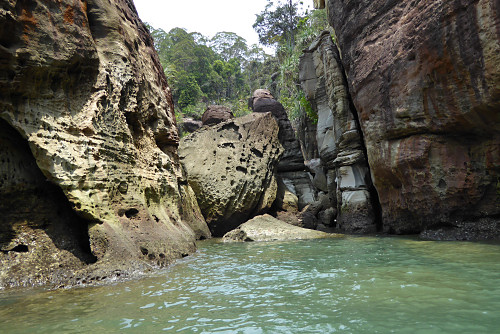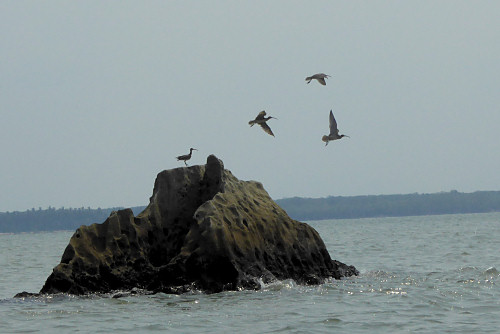 Yay!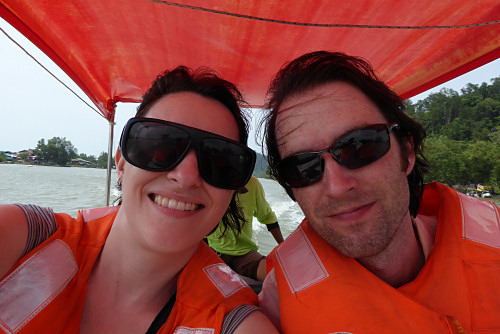 We crammed a lot into our 2-day holiday, and even though I was sick it was definitely worth it – this trip to Borneo was an amazing experience.