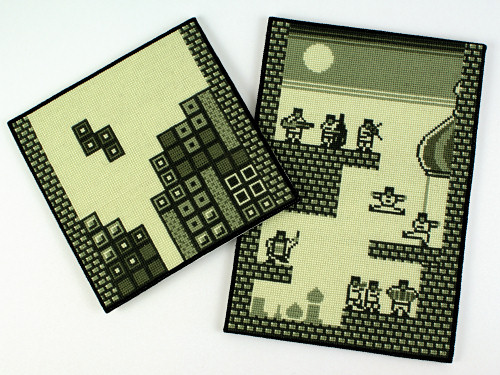 I like to have a relaxing craft project to work on over the holidays, to give me a complete break from work and designing. In December 2011, I'd hoped to do some knitting, but you have to learn to keep plans flexible when you live in Africa: the knitting needles I ordered from my local shop in November didn't arrive until the following March(!), so I had to change my plans. Instead, I returned to one of my oldest crafty pleasures: cross stitch.
Long before I taught myself to crochet, my crafts of choice were polymer clay, candlemaking, and counted cross-stitch. I used to buy cross stitch kits, and then, later, bought software that let me design my own charts. Now I know my way around Illustrator, I can design my own charts, from scratch – much more satisfying 🙂
I like the idea of 8-bit art – basing a design on pixelated video game graphics makes it so easy to replicate the original – but I wanted to give it my own twist. So, I came up with a Tetris design to stitch in 4 shades of green to mimic the original classic 2-bit black and white (actually light green and dark green – or 'pea soup' colours according to Wikipedia!) Game Boy version.
And here's the result: 10,000 perfect little stitches of geeky relaxation.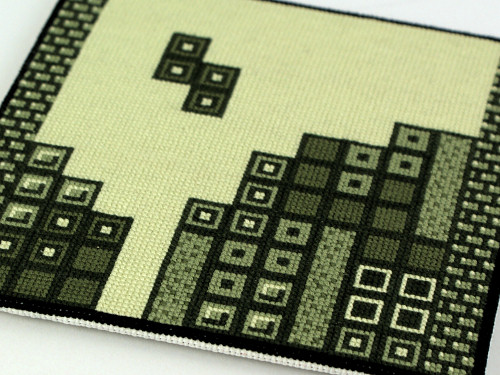 To give this design a very small amount of meaning, the falling block has a little built-in life metaphor: do you take the easy road by dropping the block straight down and completing two lines, or do you hold out for the big rewards by shifting it one space to the left first, and hoping a straight piece comes along soon so you can complete a tetris? (I'd hold out for the tetris every time!)
The original Game Boy Tetris is still the best version of the game (although I may be biased – it was my only game for months, until I could afford to buy Super Mario Land too – and I've probably logged hundreds of hours of gameplay on it). I have a Tetris game for my DS, but it doesn't hold a candle to the classic music and Russian dancing men from the original.
I considered making a companion piece showing the full band and all the dancing men, but that would need the full height of the Game Boy screen (144 pixels) – almost half as many stitches again as the first piece! I decided that'd be too much work, but, when the holidays next rolled around, guess what I started designing..?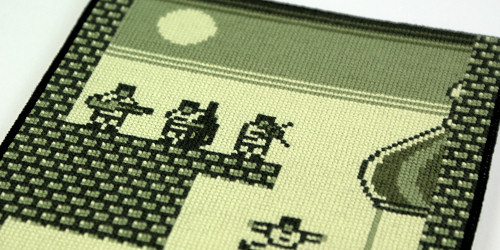 Can you hear the music?
I'd figured out how to draw symbol-coded cross-stitch charts in Illustrator and charted each piece fully before I started to work on it: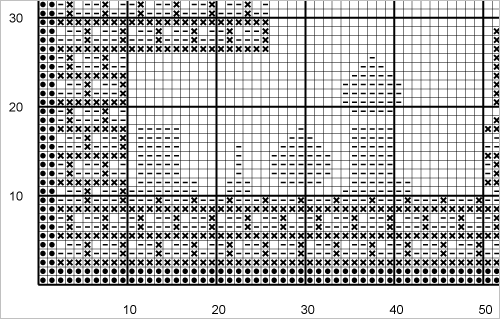 Doesn't my chart look great? I'd hoped to eventually release both patterns as Donationware, but the issues of trademark infringement and unlicensed patterns made that idea too difficult to pursue further, so I guess my charts will never see the light of day. But at least I know how to create perfect professional-quality cross stitch charts now – you never know when that'll come in handy!
This turned into a really long-term project. During my second Christmas of working on the second piece, I posted this wip photo (rotated so as not to give the game away):
I was still working on it last Christmas, and it's taken until now to complete, wash, press and mount both pieces.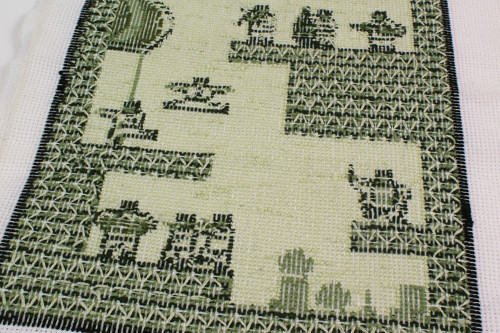 The back of the second piece – I love how the back of cross stitch embroideries look almost as good as the front, and have their own patterns that you don't see from the front.
And finally, 4 years of holiday crafting and 24,800 stitches after I embarked on this project, they're ready to hang in my office/studio! It took a lot of patience to reach this point, but I think it was worth it: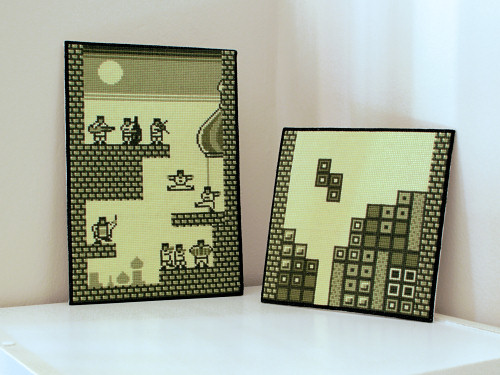 They're a perfect fit for the narrow wall space to the right of the window. The only question left is which should hang above the other: like this…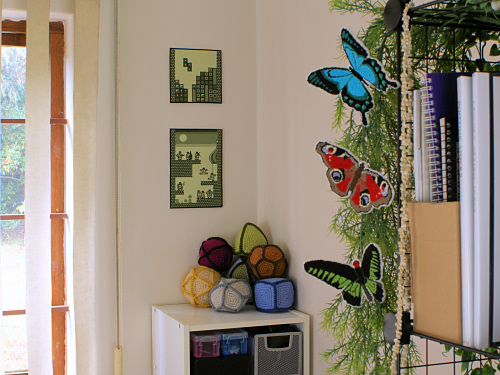 …or like this…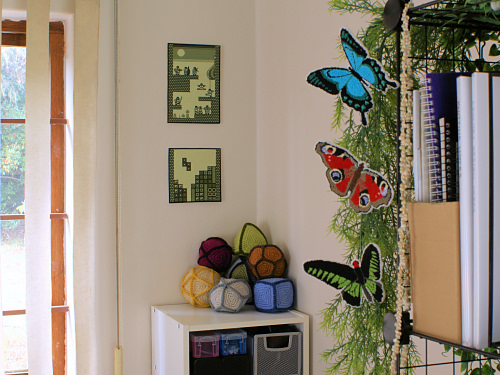 I really can't decide! Which do you prefer?
Either way, I love them. And now I'll get to see my Tetris wall hangings every day, and have a moment of happy nostalgia every time I look at them. 🙂