I've started an ongoing long term craft project to make a group of different butterflies using Punchneedle embroidery – all different colours and shapes but all based on my interpretation of real species – and mount each one individually on a wall so they all 'fly' together in a colourful cloud.
If you follow me on Twitter, you may have spotted this in-progress photo of my Sea Green Swallowtail:
With everything that's happened lately, it's taken me a while to find the time to finish the butterfly, but now here she is: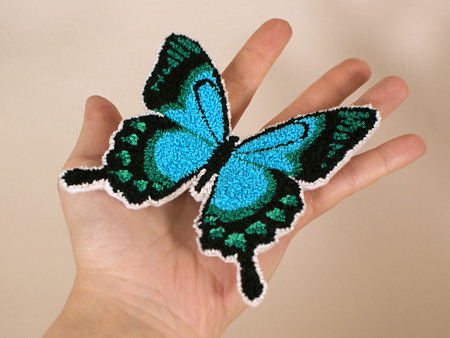 I wired the wings so I can bend them back slightly, to add a little dimension, and I bent the ends of the wire into a concealed hanging loop and a hook, so I have the option to hang the butterfly from a nail in the wall, or hook it onto something. Until I build enough of a collection to have them 'flying' up a wall, I'll be hooking them into my wire storage shelves (with my prop fake plants) – and that looks pretty good too: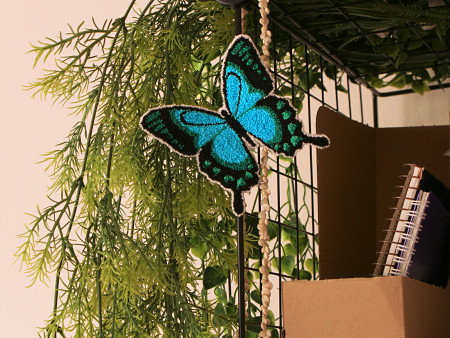 I'm so happy with how my first butterfly design turned out – bright and cheerful and colourful, just as I'd envisaged!
I've decided on a constraint for all the butterflies in this project: I'll scale all my designs so they fit nicely into a 6″ embroidery hoop (as I did for this first one), for ease of punching. And, to suit the strengths of the Punchneedle medium, I'll be looking for butterflies that don't have too much fine detail, but that have varied wing shapes, colours and patterns, so I can build a stunning collection.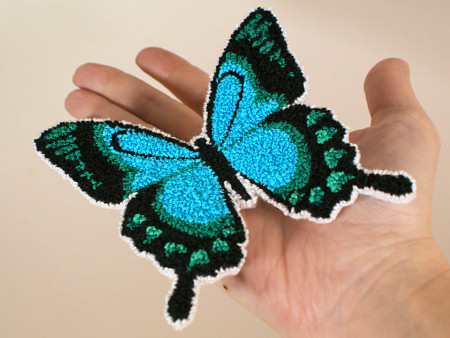 My next butterfly design will be a beautiful Peacock, and, after that, I'm not sure! I know I'd like to include at least one butterfly from each country I've lived in as part of this project, but they don't all need to have personal significance to me. Do you have a favourite type of butterfly? Let me know, and I may add it to my butterfly collection!
(As I've already been asked this question, let me add: I have no specific plans to publish my butterfly designs, but I'm not ruling out the possibility of one day publishing them, either as individual patterns or as an ebook collection, if there's enough interest. For now, I'm just enjoying the slow process of creating without any pressure to publish.)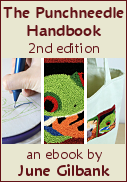 If this post has piqued your interest in Punchneedle embroidery, take a look at my Punchneedle intro page for information on this craft and how to get started.
And I know of an excellent ebook if you'd like to try your hand at it – my own Punchneedle Handbook! My punching skills are a little rusty after my 3-year hiatus, but I used all the fix-it tips from the Troubleshooting section of my book to perfect my butterfly, and now you'd never know (if I hadn't just told you). 😉