An exciting announcement today: I've just published the 2nd edition of my punchneedle embroidery ebook, The Punchneedle Handbook: Miniature Punchneedle Embroidery Basics & Beyond.
The new 2nd edition is fully revised and updated, with a clean, space-saving layout that allows for larger photos throughout and additional content. And, most importantly, it's now available in 2 versions: right-handed and left-handed.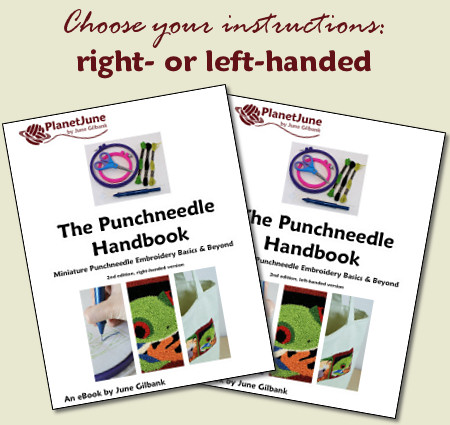 New to Punchneedle?
If you've yet to experience the joys of punchneedle embroidery, read my Punchneedle FAQ to get an idea of what this underrated craft is all about and why I find it so appealing.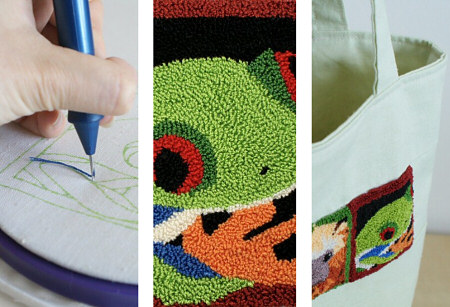 Then allow me to guide you through the learning process with The Punchneedle Handbook ebook, in which I show you step-by-step how to create beautiful, colourful, textured embroideries with just a punchneedle tool and one simple looped stitch.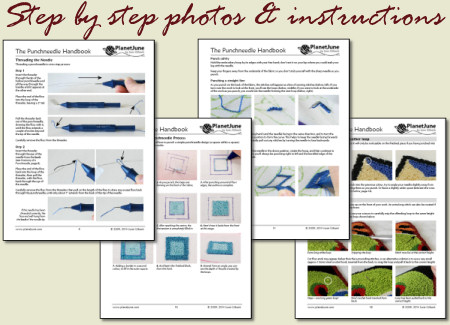 You'll learn how to perfect your technique and experiment with colour effects, and how to finish your embroideries. My invaluable troubleshooting section shows you examples of every problem you may encounter as you punch, with instructions for how to fix problems in your existing project, and how to prevent them from happening in future.
Launch Discount!
For one week only, you can buy the 2nd edition of The Punchneedle Handbook at 15% off – that's only $8.50! (And you also have the choice of adding any one of my punchneedle patterns to your order for half price, so you can practice your newfound skills.) To take advantage of my launch special, just use the discount code PUNCH at checkout.


All the PlanetJune punchneedle patterns
Existing Customers
If you bought the 1st edition of The Punchneedle Handbook, as a thank you for your past custom, I'd like to offer you a copy of the 2nd edition (version of your choice) absolutely free! If you'd like to take me up on this, please email me with:
The 5-digit order number of your original order (you'll find it in your PlanetJune account and in your original order confirmation email)
Your choice of the right-handed or left-handed version
I'll add a download link for the 2nd edition to your existing order and email you a confirmation when it's ready for you to download 🙂
Note: I'm keeping this offer open indefinitely, as the current anti-spam regulations mean I don't think I can email past customers – even to offer you a free upgrade with no strings attached – without your explicit consent. So I hope you'll all find this post eventually and take me up on the offer!
(I've also reformatted all my existing punchneedle patterns into my new layout, but the changes are only cosmetic, and there's probably little point in you downloading the new versions of any you've already purchased. But, if you do want to grab the reformatted versions, the download links are active in your previous orders in your PlanetJune account.)
I Love Punchneedle!
I haven't had a chance to make any punchneedle art for far too long, but that's all changing…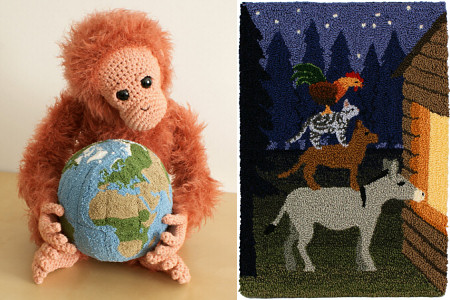 My punchneedle art: 3D sculptural globe embroidery and 2D 'Musicians of Bremen' thread painting
I've been really enjoying my return to punchneedle – it's like paint-by-numbers with embroidery floss: fast, relaxing and satisfying. I'll have the first butterfly from my new project ready to show you soon – it's so exciting to work on something completely new, and I think this butterfly project is going to yield a gorgeous collection.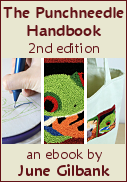 I'm so happy to be able to relaunch my ebook with this new 2nd edition, and especially that I can now offer you a book that's tailored for you as a right- or left-hander, with large, clear photos so you can see exactly how the punchneedle tool and stitches should look at every step of the process.
I hope The Punchneedle Handbook will help you to enjoy punchneedle as much as I do!