I've been waiting for a very long time to be able to show you this piece! I was commissioned to make some punchneedle-embroidered artwork in 2009 for a book about stories told through needlearts. Recent years have created an uncertain climate for traditional print publishing, and (to make a very long story short) the book never made it to print. So, after years of waiting, I'm finally free to show you what I made…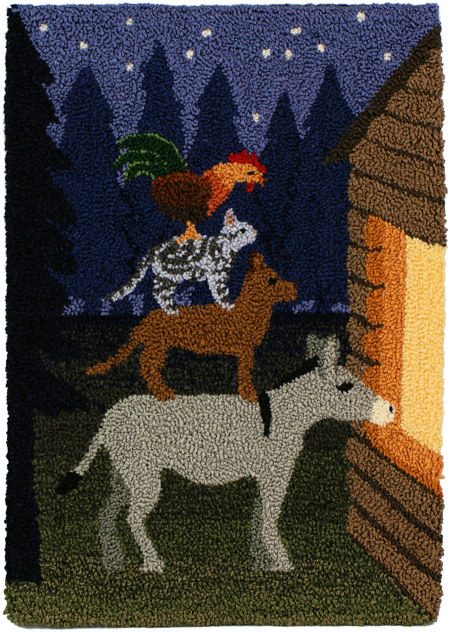 I chose the folk tale of the Musicians of Bremen for my design for several reasons: the story spoke to me; it's not an obvious choice of story, so it hasn't been overused or Disneyfied; it features animals; and there's the iconic image of the animals standing on each others' backs that I thought would translate well into my artwork.
If you're not familiar with the story, the four abandoned animals find each other as they each set out alone to seek their fortune as musicians in Bremen, but ultimately they discovered all they needed to be happy when they found a home and the companionship of their friends. I like this moral of simple comfort and happiness.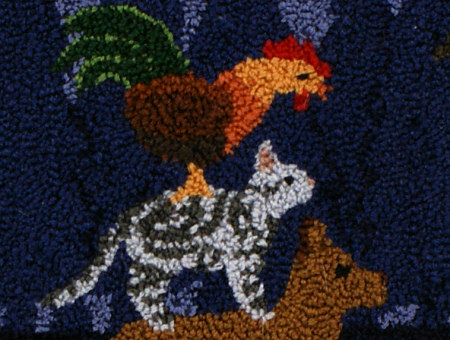 Fine detail in the cockerel and silver mackerel tabby markings.
I designed my piece to be set in the forest at night, showing the animals looking through the window of the cottage that would ultimately become their home. The visual impact comes from the color of the animals and the warmth of the lighted cottage window against the cool, dark background of the forest. I used a palette of 29 shades of embroidery floss in this piece, including a colour-blending technique to add depth to the forest floor.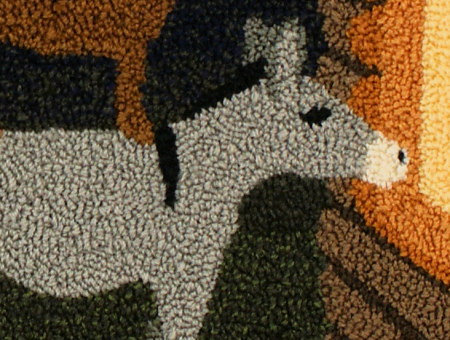 Awww, donkey! Plus some of the colour-blended background.
It took a couple of months to complete the embroidery. The finished piece measures 7 3/4 x 5 1/2 inches (19.7 x 14.0 cm) and is stretched over felt-covered board so it doesn't need a frame and can be propped on a mantelpiece or hung on a wall. The Musicians of Bremen is my second-largest punchneedle project after my globe (pictured below, with my crocheted orangutan):

I haven't had time to make any new punchneedle projects since the globe, but looking at my Musicians of Bremen piece makes me hope I can find some time to start punching again – it makes for such colourful, textural, satisfying projects!


If this post has you intrigued about punchneedle embroidery, please see my Punchneedle FAQ for more info, a tutorial, lots of patterns, and my ebook, The Punchneedle Handbook.