(Keep reading to the end of this post for details of how to get bonus entries in this month's Review & Win contest!)
This week and next, my husband is away doing important astronomy-related things in Chile, so I've decided that, instead of being sad and lonely, I'll have a 10-day design marathon while he's away. I've been planning a huge new pattern series for months (the theme will be a secret until it's all ready to launch) and I don't know how far I'll get towards completing all the designs, but this alone-time is a perfect opportunity to at least make lots of progress, or maybe even complete the series – we'll see!
Review and Win contest
September's 'Review and Win' winner is Carrolyn A, with her review of a PlanetJune classic, the PocketAmi Sets 1 & 2 multipack: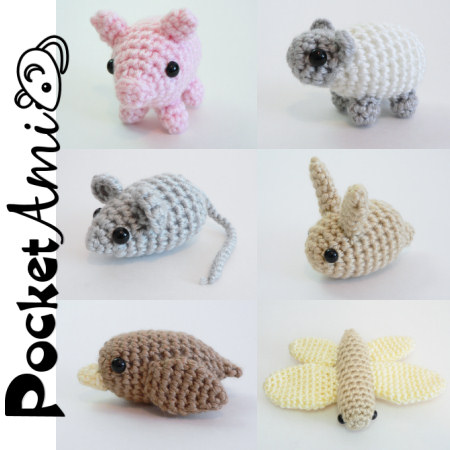 I really enjoyed making these patterns. Since the amis are so small, they can easily use up any scraps. I used the bunny to finish up my variegated brown, and still had some left over.

What I found to be another HUGE plus is that you can use 9mm eyes on these amis, which adds to their cute, chibi look. No need to buy other eyes than the typical ones I use for June's patterns 🙂

One last thing that makes these amis so great is the tails. They are made by using the ending yarn of the pattern, unlike in patterns I've done from other sources that involved making a chain and then attaching it to the ami, trying to figure out how to weave in the ends. No so here, as June's already figured that out for us 😀
Congrats Carrolyn – I'll email you to find out which pattern you'd like as your prize 🙂
To be entered into this month's draw for a free pattern of your choice, just write a review of any product in my shop – thank you!
Bonus Entries!
As my accessories pattern range is less well-known than my amigurumi, in preparation for next month's Accessories CAL, I'd like to get more people who've already made any of my PlanetJune Accessories patterns to review them in my shop. So, throughout September, you'll get a bonus double entry into the Review & Win contest for every PlanetJune Accessories pattern you review!