The humble single crochet stitch may be the simplest of crochet stitches, but it's still open to interpretation, as it can be worked the standard way (into both loops of the stitch below) or modified by working into only the front or back loop of the stitch below. Today I'm going to delve into the differences you'll see from working into front loops, back loops, or both loops, starting with a video tutorial in case you're not clear about which loops are which.
Keep reading beyond the video and we'll take a thorough look at the differences through one of my scientifically-approached crochet investigations into the results of using each of the different loops 🙂
Loops Matter!
In amigurumi, there are specific reasons for using back loops or front loops at certain places in a pattern: turning a sharp corner in either direction; using the unworked loops as attachment points to crochet back into later; using novelty yarns where the stitches will be hidden by the fuzzy yarn; or for visual or textural effect, especially in a colourwork piece.
If you're following a crochet pattern, it's important to work each stitch as the designer intended if you want to achieve a good result. Working into different loops not only gives your stitches a different appearance, but also changes the overall shape of the piece.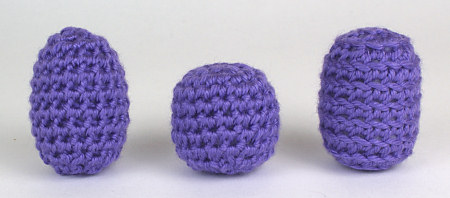 The same crochet pattern, worked in different loops, looks totally different!
I'm not convinced that people really grasp the impact of these differences, as I've seen many people working my patterns in back loops only and ending up with a very thin, extra-tall amigurumi as a result, without knowing why. Or working one of my fuzzy patterns (designed to be worked in back loops only) in both loops, resulting in a very squashed, short looking amigurumi. Let's demystify this once and for all, so you can make the best amigurumi possible!
Video: Front, Back, Both Loops (right-handed)
Click to watch this video on YouTube.
Video: Front, Back, Both Loops (left-handed)
Click to watch this video on YouTube.
Note: The videos may look a little small embedded in the blog: if so, you can fullscreen them or click through to YouTube to watch them full-sized 🙂
A Loopy Investigation
Let's look at this scientifically, so we can really appreciate the differences in the crocheted fabrics. For our comparison, I've crocheted the same sample piece three times, once in the standard both loops, once in front loops (FL) only, and once in back loops (BL) only.
To keep things fair, I kept everything else constant for each sample:
The same hook (E/3.5mm) and yarn (worsted weight, Caron Simply Soft)
The same style of crocheting (single crochet in a continuous spiral without joining or turning)
The same crochet pattern (i.e. the same number of stitches and rounds, with increases and decreases in the same places)
Here are the basic fabrics created by working in the round without turning [Note: I turned each of them inside out briefly to take the back (inside) photos, so you'll know what to expect if you're accidentally crocheting with the wrong side facing out]: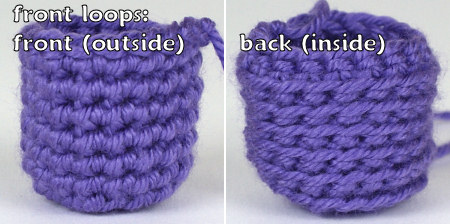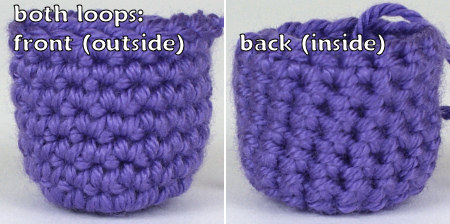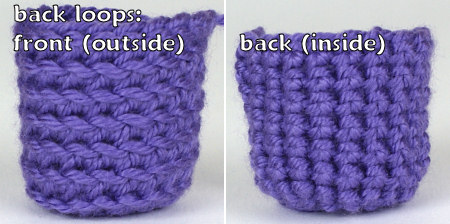 And now we'll do a comparison of the three.
Stitch Shape
The overall shapes of the samples will clearly show any difference in the shape of the stitches: a wider sample means wider stitches, and a taller sample means taller stitches, as each sample is formed from the same number and position of stitches.
Unstuffed: We'll compare the straight sides of each sample, where the stitches are all single crochet, with no increases or decreases.


L-R: front loops only, both loops, back loops only
As you can see, all the pieces have a comparable width. The FL piece is very slightly shorter than the regular piece, but looks quite similar, but the BL piece is considerably taller and looks completely different from the outside.
Stuffed: Now look what happens when you stuff the pieces. [Note: to keep things fair, I didn't cram in as much stuffing as I possibly could; I used the same level of stuffing in each sample: enough to hold its shape, but still be squashy to the touch.]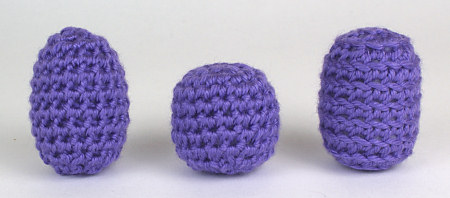 L-R: front loops only, both loops, back loops only
What you may not have expected is that, with stuffing, the FL sample stretches out so it no longer looks similar to the standard piece – it stretches to be the same height as the BL sample! Now just imagine that you're following one of my patterns and these samples are supposed to be the round head or body of an animal – you can see why working in either FL or BL only is going to give you a completely different, stretched-looking animal…
Base Fabric Characteristics
Let's compare the fabrics formed where the stitches are worked 1 to 1, with no increases or decreases:


L-R: front loops only, both loops, back loops only
Crocheting into one loop only instead of both changes the characteristics of the fabric formed: it makes it less rigid, more fluid and flowing, and either more stretchy (FL only in my samples) or thinner and more open (BL only in my samples). Many crocheted garment patterns utilise these properties to great effect – when you're making clothing, a more flexible fabric that can drape on your body is far more flattering than a stiff, thick boxy fabric.
But the opposite is true for amigurumi: here we are aiming for a solid stiff fabric that holds its shape with as few gaps as possible. Crocheting into both loops gives us this fabric: it has very little stretch, and the fabric is thick and firm, so it holds together when it's stretched by the stuffing.
As the stitches are held further apart by working into either single loop, there is naturally a larger gap at the base of each stitch. (You don't see it in the FL sample until you stuff it, because the FL fabric is stretchy but relaxed and only stretches when the stuffing is inserted.) The unworked loops help to partially obscure the resulting gap by covering the top inside edge of the FL sample, and the bottom outside edge of the BL sample, but the remaining hole (the area below each stitch where you can see right through to the stuffing) is still larger in either case than with the standard sample. You'd expect this, because working into both loops keeps the stitches pulled together, so those large holes never form.
Increasing and Decreasing
At the points where you increase and decrease, you're either forcing 2 stitches into 1 gap, or pulling 2 stitches together to form 1. Both these cases lead to larger holes in the surrounding fabric than with normal stitches, so it's important for us to examine both ends of the stuffed samples, to compare the end with the increases and the end with the decreases for each sample.
Decreases: I should mention that, for my standard sample, I used the invisible decrease (invdec), one of the most essential techniques for amigurumi as it practically eliminates the holes or bumps from decreasing. As this technique can only be used with standard single crochet, I couldn't apply it to the other samples, so I was already expecting an inferior result.


L-R: front loops only, both loops, back loops only
As I suspected, neither of the single loop samples could compare with the invdec. The BL only sample in particular has very large gaps where the stuffing is clearly visible, but neither FL or BL gives what I'd consider to be a satisfactory result.
Increases: Although I do have an invisible increase (invinc) technique, I don't regard it as an essential (as the standard increase isn't terribly gappy to begin with), so I didn't use it for my sample, to give a fairer test. It should be noted, though, that invinc could be used to further improve the increase results (of the standard sample only).


L-R: front loops only, both loops, back loops only
Again, neither of the single loop samples had small enough gaps to keep the stuffing hidden. The FL only increase stitches are very pretty – it looks like a flower! -and the loops on the inside do mostly hide the stuffing, but not in every stitch, so the end result is a bit uneven. The unworked loops of the BL only sample are so far below the increases above that they do nothing to hide the holes, which are very large.
If you look at my samples, you can see that the more open fabric formed by FL or BL only leaves much larger gaps with both increases and decreases. The unworked loops still help to fill the holes slightly, but only cover 1/3 or less of the hole, so the remaining gap is still much larger than in the standard sample, and there's no technique comparable to the invdec or invinc that could be used to reduce those holes without distorting the surrounding fabric.
Summary
A firm fabric with minimal holes is the ideal for amigurumi. You can't use my invdec/invinc techniques unless you work in standard single crochet; the thinner, stretchier fabric made from working into one loop only naturally has larger gaps and couldn't hold the kind of shaping you see in my designs; and any shaping stitches would look gappy due to the larger holes seen when you increase and decrease.
For non-amigurumi crochet projects such as garments or accessories, you can use the special properties of BL or FL only crochet to their advantage. But, for the reasons I demonstrate above, I recommend that you always work in both loops for amigurumi or any other stuffed crocheted work, unless you have a specific reason to do otherwise.
Final thoughts:
If you're following a crochet pattern, remember that sc and sc in BL/FL only are never interchangeable!
If you're creating your own design, use the most appropriate stitches for your design to give you the best results.
If you're writing a crochet pattern, be sure to specify anywhere that you use non-standard stitches (i.e not worked into both loops).
---
Do you find my tutorials helpful? If so, please consider making a contribution towards my time so I can continue to create clear and concise tutorials for you:
Thank you so much for your support! Now click below for loads more crochet video and photo tutorials (and do let me know what else you'd like me to cover in future tutorials…)