In a happy coincidence, what day could be more appropriate to begin my planned alien invasion than today, Independence Day?!
PlanetJune Aliens give a nod to the classic Roswell grey aliens, but with a cute PlanetJune twist: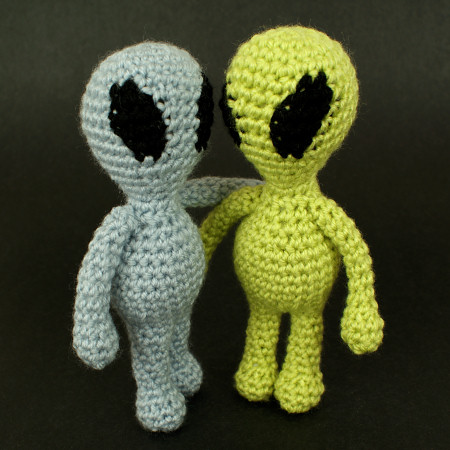 Of course my aliens required the classic huge eyes, oversized heads, and enigmatic expressions, but I also had some fun adding my own personal touches. Aliens like these are usually depicted as very slender and elongated, but the friendly aliens who live on PlanetJune are carefully shaped to have tubby little tummies and bums, and are completely benign and non-threatening 🙂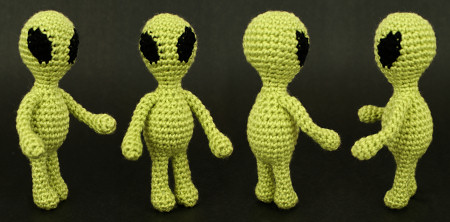 PlanetJune aliens are cute from all angles
Aliens has a few rounds of detailed colourwork to make the beautifully-shaped eyes, but after that it's fast and easy all the way. The body and limbs work up extremely quickly, and this pattern has almost no sewing, so, once you get past the eyes, you can finish an alien in no time! If I didn't have other commitments, I'd be tempted to whip up a much larger family of aliens, all in different colours….
My Aliens pattern includes 2 options: a fun poseable version with wired limbs (my green alien, below), and a more child-friendly version (my blue alien, below) with either thread-jointed arms that can swing at the shoulder or firmly attached arms (probably a safer choice for teething babies and kids who are a bit rough with their toys!). The pattern includes full instructions for all the options.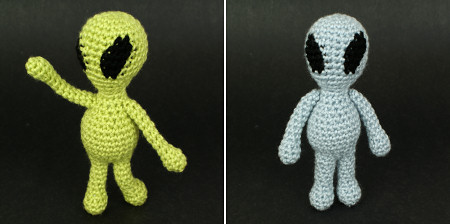 As you can see, even the most enigmatic aliens can develop their own distinct personalities
Aliens is a new addition to the small PlanetJune Mythical pattern range, so I designed them to perfectly match the scale of my Yeti & Bigfoot pattern:

It's a mythical meet-up! Green likes to be the star of the show, and Bigfoot looks as camera-shy as always…
If you can't resist the lure of these enigmatic aliens, you'll find my Aliens pattern as a new addition to the Prehistoric & Mythical category of the PlanetJune shop. (And then you can make and share your mythical creatures as part of this month's PJ Fiction & Fantasy CAL!)
Or, if you're not ready to buy just yet, add Aliens to your queue or favourites on Ravelry, so you don't forget about them:
Unlike in the movie, today we – together with our new alien friends – can celebrate our Independence Day. 😉 Don't you know someone who'd appreciate having a cute alien or two in their life? Just looking at these aliens makes me smile, which is exactly what I need right now. I hope they have the same effect on you: let the alien invasion commence!