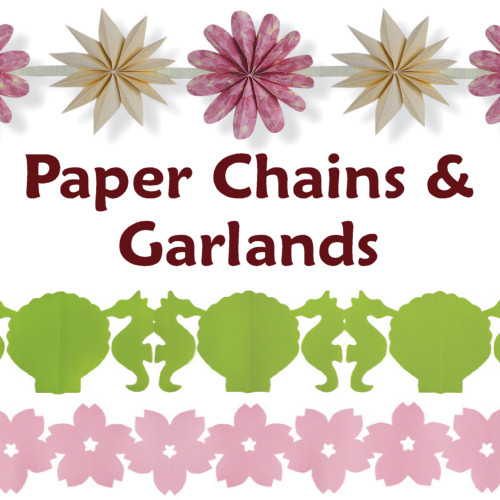 My first book, Paper Chains & Garlands, was published in 2009. It was released as a kit with several rolls and sheets of paper and was available exclusively through the US-based bookstore chain Barnes & Noble. This meant that it was only available within the US, and when it sold out within a year, Barnes and Noble chose not to reprint it, so it's been unavailable since 2010.
I've finally been able to re-acquire the rights to my content, and I'm very excited to announce that I've repackaged Paper Chains & Garlands as an ebook that you can buy as a PDF file, directly from PlanetJune!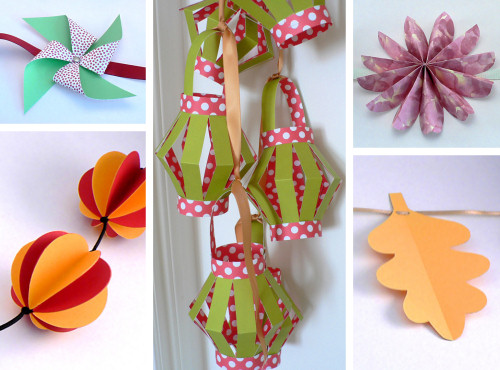 Paper Chains & Garlands: Easy to make decorations, for parties, holidays, and home décor is an original ebook by June Gilbank.
Turn your next celebration into a creatively crafted occasion to remember. Create delightful decorations on themes that range from the seasonal (snowflakes, autumn leaves, cherry blossoms) to the decorative (pleated flowers, pinwheels, elephants). The illustrated instructions by expert crafter June Gilbank show you how to fold, cut, unfurl, and string chains and garlands like a pro. With tips on how to cut simple paper dolls as well as elegant Chinese lanterns, Paper Chains and Garlands is the perfect craft book for expert crafters as well as beginners.
(Want more details? Click through to my shop to view the complete Table of Contents and reviews of the first edition.)

Second Edition: What's New?
The new second edition ebook is even better than the original book, as I've fully revised and updated it, and it now includes bonus content and 10 pages of printable templates that are sized to print correctly onto either A4 or letter-sized paper and available in multiple sizes so you can easily create your paper decorations in a size you like.
Simply print the template you want, at the size you want, onto a sheet of cardstock and cut it out to create a long-lasting reusable template that you can draw around over and over again, to make as many decorations as you need!

Upgrade from the First Edition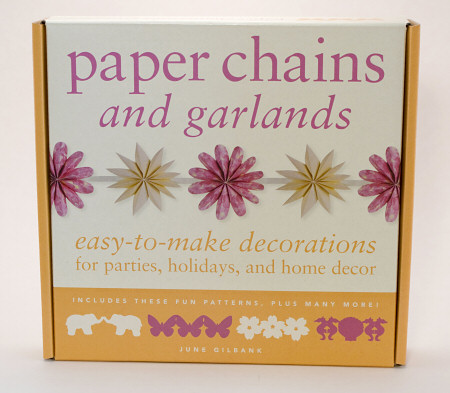 Are you now kicking yourself because you bought the old, inferior, first edition? Don't worry: if you can prove you bought my original Paper Chains and Garlands (email me a copy of e.g. your till receipt, a photo of you holding the book, or your order confirmation email from B&N) I'll send you a discount code worth a massive 60% off the second edition – it's definitely worth upgrading to have those printable templates and a handy PDF version!
Make Easy and Fun Papercrafts
If you've been looking for some fun craft projects to try with the kids, inexpensive ways to decorate for parties and holidays, or just want an easy introduction to papercrafting, look no further. Try your hand at origami, papercutting, and a variety of other papercrafting techniques, all explained in my clear, easy-to-follow style with step-by-step illustrations.
What are you waiting for? Pick up your copy now and enjoy some papercrafting! 🙂