If you're a long-time reader, you may remember the R2-D2 sculpture I completed in 2009. Ever since I saw The Force Awakens, I've been wanting to make my R2 a little BB-8 buddy. I bought the polymer clay in May (it turns out FIMO Soft is available in the perfect orange colour – very convenient), and I've been waiting to find some sculpting time ever since. And here's the result: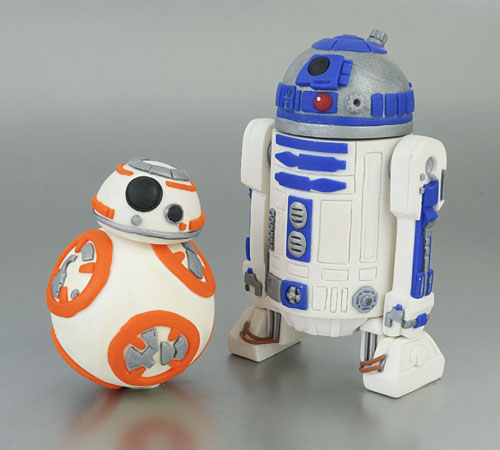 This was not an easy project. It didn't occur to me at first how much more difficult BB-8 would be to make than R2-D2. The detailing I did on R2 was incredibly small, and, as BB-8 is only two-thirds the size of R2, that means all the detail is even smaller.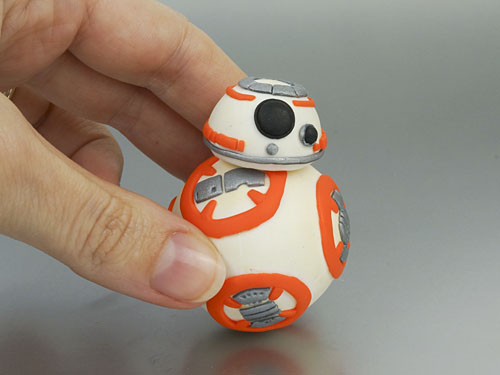 And then there's the real problem: circles. (Yes, this should have been obvious from the start…) BB-8 is a ball, where R2 is a cylinder, and all the details are based on circles, whereas R2's are based on rectangles. Freehanding circles is hard. Freehanding rings is even harder. And then try shrinking all those rings down to fit on a ball that's only 4cm (1.5″) tall..!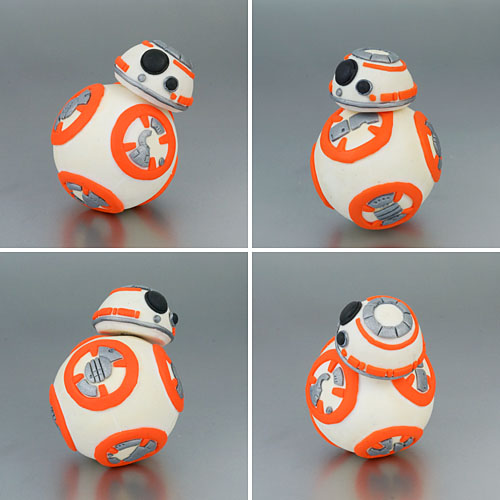 So yes, the circles aren't perfect, and I had to leave out the finest level of detailing. But it's part of the joy of a handsculpt that it's clearly handmade – if I wanted exact perfection, I could have just bought a model BB-8 from a toy shop, but where's the fun in that?
And now for your reward for reading this whole post: BB-8 and R2-D2 both have hidden magnets embedded within them that allow their heads to rotate! Just watch this: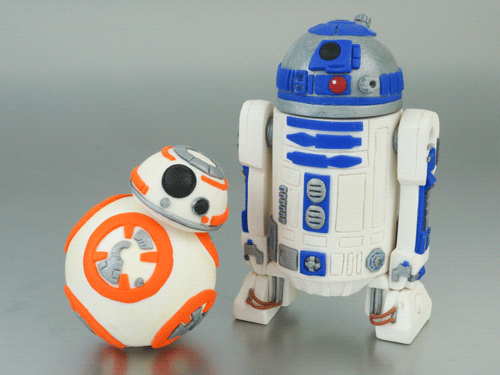 See my R2-D2 post to see how I achieved this!
It's such a pleasure to make things just for the fun and challenge of the making. R2-D2 is very pleased with his little brother, and so am I 🙂