It's easy when you're immersed in a business every day to jump straight into the next thing, keep tightly focused on the next task, and not really see how far you've come. This Year in Review post is the one time I actually stop and think about what I've accomplished over the past year…
In 2016, I released 14 new crochet patterns, adding a varied mix of animals, plants, accessories, donationware and seasonal designs to my catalogue: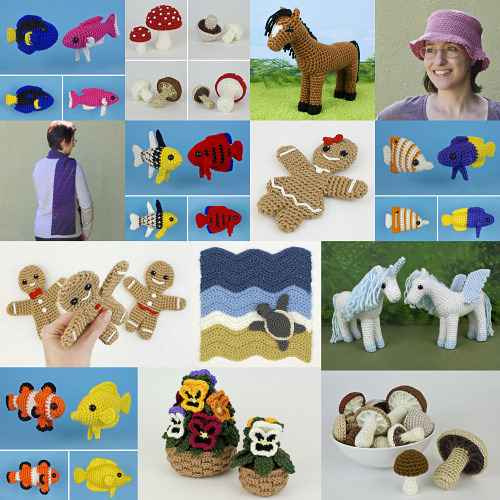 I haven't had a lot of time for non-work crafting, but I have knitted another 1.5 sweaters (although I've just realised I haven't even photographed/blogged my last 2015 sweater yet – oops!) and made a few other things, including my polymer clay BB-8 🙂

Personal Report
From May-August, I spent 1-2 weeks of each month travelling (to the UK, Hawaii, a Kruger safari, and Canada), which was far too much, but I either take the opportunity to travel with Dave when he has observing trips and conferences, or we miss out on the chance of a short holiday at an exciting location for little more than the cost of my plane tickets.
But, especially as we decided (for safety reasons) to not announce when we weren't going to be home, that put a lot of business stress on me. How can I stay active on my blog and social media when all I'm doing is visiting places I can't mention or struggling to catch up and get the next pattern ready before the next trip?
It was exhausting, and it took its toll with another 2-month bronchitis episode, which forced a lapse in my knee rehab exercises, so now I have knee problems again… I know I did too much, and I've learnt my lesson.
But, although I'd like to travel less frequently in future, I don't regret my choices: we had some spectacular travel adventures with memories I'll always treasure, I got over the bronchitis, and I know I can get my knee back to its still-wobbly-but-not-painful best in time. And I have an amazing amount of new wildlife inspiration: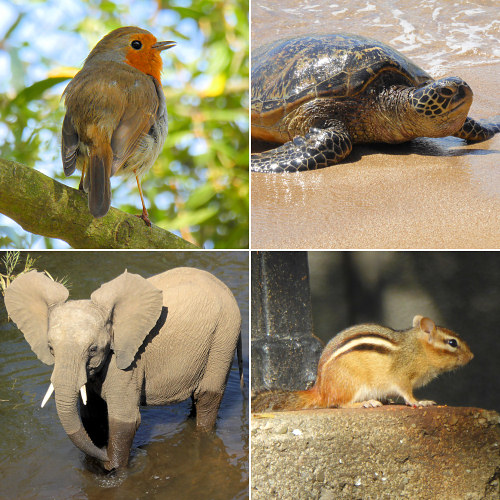 Clockwise from top left: I photographed a UK robin, Hawaiian turtle, Canadian chipmunk, and African elephant – all in one year!
Business Report
My most popular patterns in 2016 were my turtles, cacti/succulents, and AmiCats (all pictured below), followed by the new 2016 releases.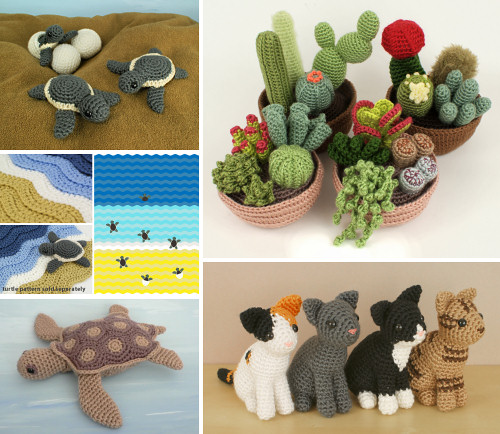 It's always the case that a few bestselling patterns make up the majority of my sales, but the size and variety of my catalogue as a whole is equally important – looking at my sales statistics, I can see that I wouldn't be able to make a good living from my patterns without having both a) a handful of very popular designs and b) many dozens of other choices.
For the past five years, I've kept an annual list of large project goals for PlanetJune, to complete as time permits. In 2016, I completed the last of these large behind-the-scenes projects to improve the running of my business:
Upgrading and relaunching my shop with new features
Splitting my FAQ into its own microsite with each answer on its own page
Adding closed captioning to all my YouTube video tutorials
Relaunching my newsletter with a new branded look and better anti-spam protection
Developing and coding an improved pattern commissions system (to be relaunched later this month – watch this space!)
What's Next?
It's exciting to have completed all my big projects – I usually spend a large fraction of each year working behind the scenes on tech updates and improvements. But patterns and tutorials are big projects in themselves, and there'll always be new tech/security updates to implement, so I'm happy to start 2017 without any additional goals. If I leave myself with more time to play around with new design concepts, who knows what I'll come up with..?
My wish for 2017 is for creative freedom, light-heartedness, and time to relax. I think PlanetJune will benefit from that too, and I hope you'll also be able to find those things in the year ahead. Happy New Year!