PlanetJune Commissions has been revamped to be easier, faster and more fun. The basic premise hasn't changed – you can help to choose and crowdfund new PlanetJune crochet pattern designs by 'voting' with your commission pledge!
But I've reworked the mechanisms to make it more fun for you from now on, and so you won't be stuck with pledges you made forever ago.
A Little Background…
It's coming up for 5 years since I first launched my crowdfunded commissions system as a barometer of public opinion on which potential animal designs may be most popular. Every animal on the commissions list is one I feel confident I'd be able to design, and happy to do so if enough people show an interest. I don't have time to design them all, and using the commissions system as a gauge to which may be popular is a useful method to decide between multiple designs I'd be equally happy to create.
After a few hurdles (I set the prices far too low, so too many designs were being pledged for me to keep up with!), I temporarily withdrew the commissions system while I completed all the fully-pledged designs and worked on upgrading the system to make it more sustainable.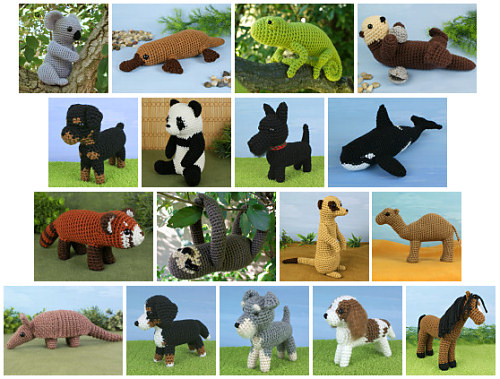 Thanks to my supporters, I've now completed 17 crowdsourced commissioned designs – and I'm ready to start on the 18th! Which animal will it be..?
How It Works
Commissions are now linked to your PlanetJune account. Once you've logged in, you'll find the new commissions options in 'My Account', and from there you can make pledges, view your existing pledges, and upgrade, downgrade or delete your pledges.
Now you can pledge any full dollar amount (although there's still a $6 minimum) so you can pledge $7, or $10, or $25 – or whatever you want!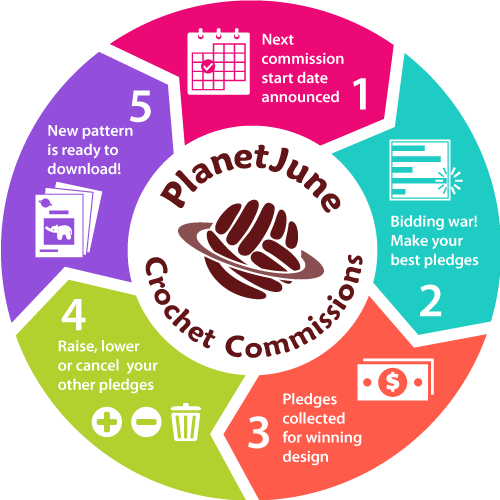 Your pledge indicates your intention to pay that amount towards the commission of the design in question, should that design become fully-funded. But, your pledge will only become locked-in at such time as the design is a) fully pledged and b) at the top of the queue.
This means you won't be stuck with a pledge you made months or years ago – you can log into your PlanetJune account and change or delete any unlocked pledges at any time until the next commission is ready to begin (at which time all pledges towards the next fully-pledged design will be locked).
This gives you the freedom to pledge as much as you like towards as many designs as you like. At most, you'll be committing to one of your pledges, as only the first fully-funded design will get locked and made. Even if there are other fully-funded commissions, no further pledges will be locked-in until I've completed the previous design, published the pattern, and announced the date of the next commissions slot – you can still delete those pledges if you change your mind.
So you're only ever committed to your pledge for the current commission. Let's say you want to pay $30 for any one of 3 designs (but not for all of them!), you can pledge $30 towards each of them in the hope that one will grab the next commission slot. Once that happens, you're free to delete your remaining pledges if you want, so you won't get a surprise $30 invoice several months (or even years) later.
In this way, we can have a 'bidding war' every time I have a commission slot available. I'll announce the slot via the Commissions newsletter, you make your best pledge for all the designs you'd like to commission, and whichever hits the jackpot first will become my next commissioned pattern!
Then, after the bidding war is over, you'll have at least a month to decide if you're still happy to honour all your other pledges, as no other design will be locked-in until I've completed the current pattern and announced the date of the next commission slot. Edit or delete your pledges from your PlanetJune account as often as you want – it's all automatic.
Design Options
To give you a better idea of what I plan to design with each option, I've added a representative photo of each of the animals, either from my own photos, or licenced through Creative Commons.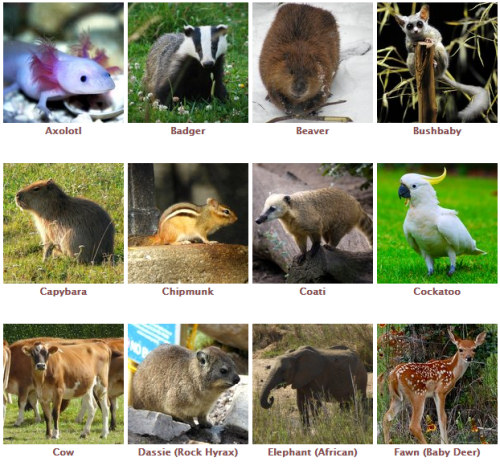 The photos above are just a sample – you can see them all on the Design Options page on the new Commissions microsite.
Note: I had planned to add some new options to the commissions list at this relaunch time, but the list is plenty long enough already, so I'm keeping the options as-is for the time being. Once we're well into the first cycle, I'll get rid of some of the least popular choices and replace them with new requests. So please:
Pledge now (see below) for any poorly-pledged designs you don't want to see removed from the list – even if it won't get made now, your pledge will keep it in the running to be made in future
Leave a comment if you have any design requests – I may add them to the list very soon!
Stay Updated
I highly recommend you sign up for my Commissions News mailing list to be notified whenever new design options are added. I'll also be emailing the list with a reminder a couple of weeks before I open each new commissions slot, so you'll have an extra chance to check all your pledges and delete any you're unhappy with – or add some new ones – before the next commission gets locked in.
Pledge Now for the February Timeslot!
Make your best pledges right now for the animals you'd most like me to design. At the time I write this, Goat is in the lead, with Raccoon and Capybara coming up fast and a whole host of others closing in – but that could all change in an instant… Make your best pledges now for your favourites, and maybe your design will be the one I start in the next month!
Ready to pledge? Login to your PlanetJune account – you'll see the Commissions options (to make/edit your pledges) in 'My Account'.
Or check out the design options and FAQ on the Commissions microsite.
---
I hope the new and improved PlanetJune Commissions will lead to lots more lovely animal designs to add to my portfolio – I'm looking forward to seeing which I'll get to make first!