My first design for the year is the Heart Cactus Collection, a sweet addition to my popular Cactus and Succulent Collections, with two new types of heart-shaped cacti in a lovely rounded pot, together with matching 3-dimensional hearts in two sizes. Perfect for your Valentine, or to show someone you care at any time of year.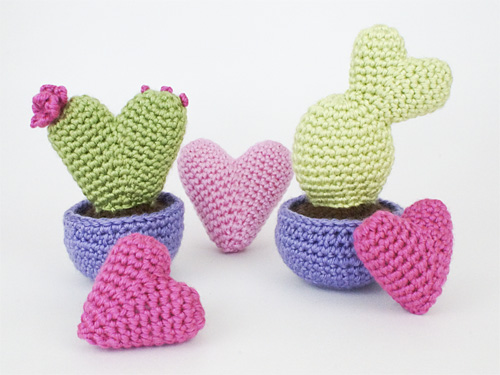 The heart cacti are scaled so you can mix-and-match them with all the previous Cactus and Succulent Collection patterns:


Spot the new additions? (Hint: look for the purple pots…)
As well as making individual heart cacti, you can include a heart cactus in your next cactus or succulent garden!
You can also use this new pot with any of the other cacti and succulent plants, or the pots from the other patterns with the heart cacti.
About the Pattern
This pattern includes two styles of heart-shaped cactus: one short and wide with flowers, and one tall and multi-segmented.
Feel free to use the included cactus flower and bud instructions to make your own original cacti by choosing the number and position of flowers and buds; adding flowers and/or buds to the tall cactus, or omitting them from the short cactus.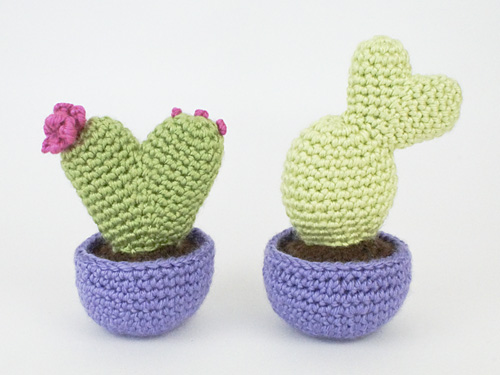 Did You Know? The idea of heart-shaped cacti isn't just a fancy – several types of Opuntia (prickly pear) cactus sometimes develop heart-shaped pads 🙂
As well as the truncated hearts that form the heart cacti, this pattern also includes free bonus instructions to complete the tip of the heart shapes, so you can make sweet 3-D hearts in two sizes.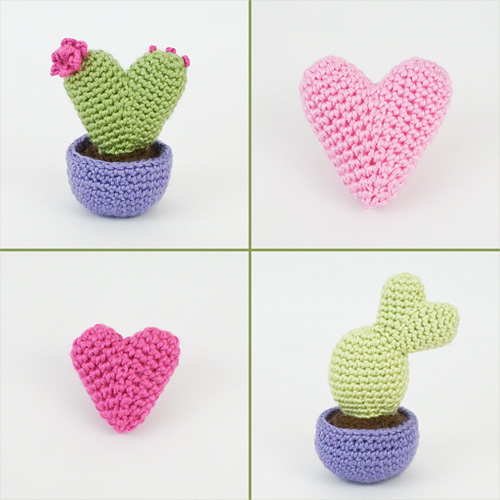 Links to Buy & Launch Discount
Although I always offer discounts for shopping directly from PlanetJune, to spread the love even further, I'm offering an additional 10% discount for this week only. Just enter code LOVE at checkout by Sunday, 22nd January 2017, and the extra discount will be applied.
Buy the Heart Cactus Collection pattern here in my shop. Or, if you're not ready to buy just yet, please heart or queue it on Ravelry so you don't forget about it:
If you're making hearts and/or heart-shaped cacti from these patterns, please join us for the Hearts & Flowers crochet-along in the PlanetJune Ravelry group, between now and Valentine's Day, and share photos of what you're making – I'd love to see!