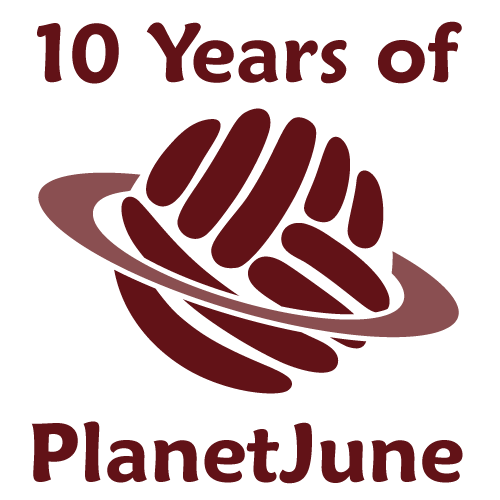 I can hardly believe it, but today marks the 10th anniversary of the day I self-published my first crochet pattern, Fuzzy Bear – and the day a new career path began to open up to me. After two years of running PlanetJune as a side-business, I quit my day job and struck out into the unknown, without knowing if it was even possible to support myself through crochet design alone.
Happily, 10 years, 2 books, and over 150 self-published patterns later, I've proven that it is possible to make a real living doing what I love, thanks to a measure of luck and a lot of hard work. And, best yet, I'm still excited by the idea of coming up with new designs and new techniques and sharing my love of crochet and nature with the world.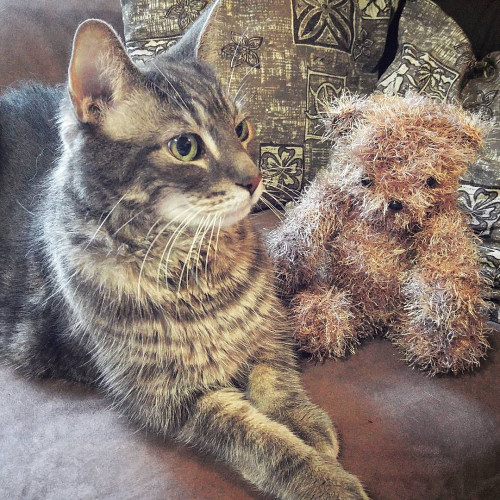 It's also my sweet Maui's 13th birthday today! Here are the birthday boys one year ago today, on their 12th and 9th birthdays.
I asked my customers to join the celebration by sending me a photo of their favourite things they've made from a PlanetJune pattern, and most responses said it was too hard to pick just one (thank you!), but here's a small selection from those who managed to make a choice…
From the PJ ravelry group (clockwise from top left):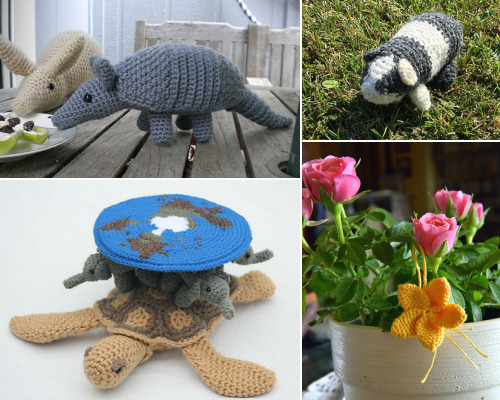 jukatca: [Aardvark, Armadillo and Camel are] my all-time favorites. They all have really cute faces, great shaping, and no color changes!
Pyroteca: I think my favorite will always be the fuzzy patterns – they are just so cute and innovative as there was (and still is) nothing out there like them. Let alone the fact that the patterns are so well written and can let someone on their first or second try at amigurumi produce something that looks amazing.
petrOlly: I think my favourite pattern is the plumeria flower. I love the magic in this pattern – the last few stitches give you the perfect plumeria, and the pattern always works.
Fatals-Attraction: I will chose a favourite project, my Discworld, which I gave to my mother-in-law (it is now her favourite!)
And from Facebook and my newsletter subscribers (clockwise from left):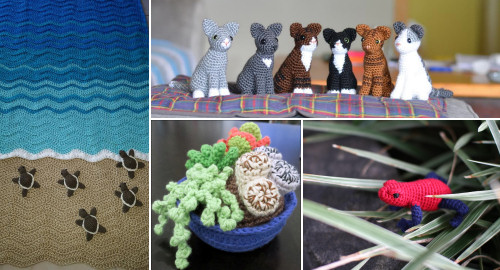 Peggy A:Your baby sea turtles on my blanket. The turtles have abalone buttons sewed to their undersides so you can change the placement and remove them for washing the blanket.
Anna B: My favourite patterns by far are the AmiCats.
Erica A: Very hard to pick a favourite, but frogs are my favourite animal, so frog it is. Just like the cats, I loved the clever shaping on this pattern.
Belinda Y: I love my low maintenance succulent garden! I collect real succulents and cacti too, so your patterns really caught my eye.
Thank you to everyone who sent me their photos – I've really enjoyed seeing them all over the past couple of weeks, and hearing which PlanetJune patterns mean the most to you! It was especially heartening to hear from those who learnt to crochet (through my books and tutorials) just so they could make one of my designs.
---
It's a real privilege to have the opportunity, through PlanetJune, to add a little more joy to the world through my creations, to help you to crochet your own special pieces from my patterns, and to raise a little more awareness and appreciation of our precious natural world.
Thank you for being here with me! I hope PlanetJune has made a positive difference in your life, however small, and will continue to do so as I head into my second decade of crochet design. ❤