2016 was a year of amazing travel experiences for me. Within two months, we had two completely different and equally wondrous wildlife experiences on literally opposite sides of the world, and I wanted to commemorate our adventures, so I chose one of my favourite photos from each trip, and had them professionally printed onto canvas.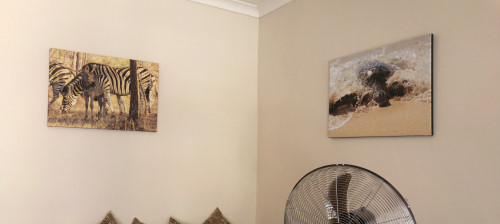 A baby zebra travelling in a family herd at the Kruger Park, South Africa, and a green sea turtle emerging from the breakers on Oahu, Hawaii.
As it proved very difficult to capture good photos of the canvases, here are my source photos so you can imagine how great the canvases look in person, hanging on my walls. Click to enlarge:
I've never done anything like this before, and I had no idea how they'd turn out, but my canvases look like professional photo artwork!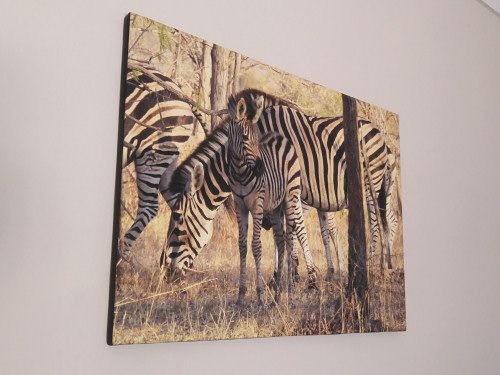 Every time I look around my living room, I'm reminded of the natural wonders we've seen, and it's even more special knowing that it's my own photography on display.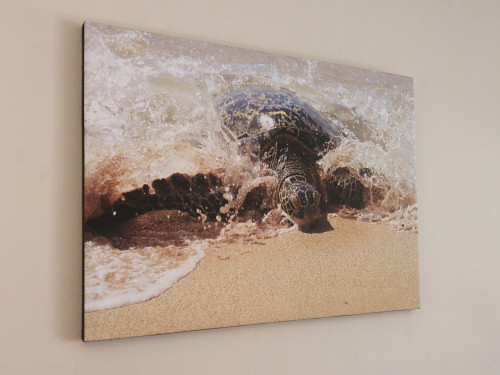 Having canvases printed with photos of your treasured memories creates unique, personalised home décor. It's much more interesting than just hanging a framed photo, and you can get huge canvases that make a real impact on the wall.
If you'd like to get special photo memories printed onto canvas, many photographic shops now offer this service, so you can probably find a shop that's local to you. The prices seem to be fairly reasonable, especially if you look out for special offers. (Make sure you get the protective UV-resistant coating – sometimes this may cost extra – so your canvases don't fade.)
My canvases are A2 size (roughly 42cm x 60cm; 16inches x 23inches), which I thought would be huge, but my walls are large and empty and I sometimes wish I'd had them printed at twice the size. Big and bold is the way to go. I'll know for next time – and I'm sure there will be a next time…