I have lots of safari photos to share with you today, from our trip back in July. Of all my experiences in South Africa, this is the one I'd been most looking forward to; Kruger National Park is one of the largest game reserves in Africa and is as large as some European countries! In our short visit, we saw only a tiny fraction of the park and still it was more amazing than anything I could have imagined – we saw dozens of different animals and birds, including all of the Big Five and lots more.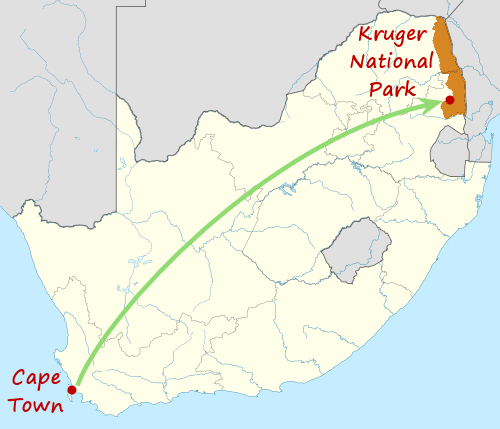 Kruger is about 1800km (1100 miles) as the crow flies from Cape Town – South Africa is a big country!
I've taken quite a few of these selfies this year, with me looking dishevelled and slightly delirious at having such a wondrous wildlife experience:
Can you see the reason for my delight, over my shoulder? (Keep reading and you can share my excitement – I have close-up photos and even a little video to share with you…)
So now let's move onto my proper photos; I've spent months trying to choose from over 3000 so I could show you a reasonable number! These galleries have left out a lot, but I hope they give you a taste of the real wild Africa. I've split the galleries so you can click into the groups you're interested in, to see the full-size photos, and skip any you aren't…
Even without the animals, the park is a wonder of nature: massive, beautiful and unspoilt. Here's an example of a Kruger day:
And Kruger is also a birder's paradise – the following gallery shows just a few examples of the amazing variety of birdlife we saw (including, in the middle, my favourite bird ever and the one I've always wanted to see in the wild: the stunning Lilac-Breasted Roller):
But, of course, the most exciting part was all the wild animals. We took sunrise and sunset game drives with experienced guides, and we spent a long 11 hour day driving through the park by car. (As this is wild land full of predators and large animals, the rules are extremely strict: no driving off-road, and you must keep your entire body inside the car at all times except at designated rest stops.)
We spotted the Big 5 (elephant, lion, leopard, buffalo, and rhino) and dozens of other animals. I've selected a small sampling for you, and I've arranged them so you can experience a day trip of wildlife, from dawn to past dusk…
Did you spot the one big animal missing from that gallery? I had the most amazing elephant experience, so I thought I'd give you a separate gallery so you can share a bit of my excitement!
A bit of background: the hotel we were staying at was right on the border of the park, so I spent hours sitting safely at the hotel's raised viewing platforms and watching wildlife pass by. From the hotel, I had spotted some elephants heading in the direction of the bridge at the entrance to the park, so we walked to the bridge in hopes of getting a better view of the elephants. It was a good decision: I happily stood on that bridge for an hour in the midday African sun as a large family group of 19 elephants meandered by beneath me, following the river, grazing, drinking, and fording the shallows:
Those baby elephants are even cuter on video:

For the best view, play the video at Full HD quality and fullscreen it.
Such a humbling experience. I went to Kruger hoping most of all to see a baby elephant, and my wish was definitely granted 🙂
I must admit that this trip had me dreaming of spending a few thousand dollars on pro camera equipment and becoming a real wildlife photographer. I could have easily spent weeks more in Kruger, watching and photographing the animals, and never getting bored – I don't think I could ever tire of this!
I hope my photos and video have given you a little glimpse into the amazing natural spectacle of wild Africa; a mini-safari you can experience through my eyes and camera lens if you can't make the trip to visit Kruger yourself.
Please leave me a comment if you've enjoyed this post 🙂