Today I'm excited to present a new pattern collection featuring some of the world's cutest little mouse-like animals: Mini Mammals! Although you may not have heard of all of them before, you won't be able to resist their big-eyed cuteness…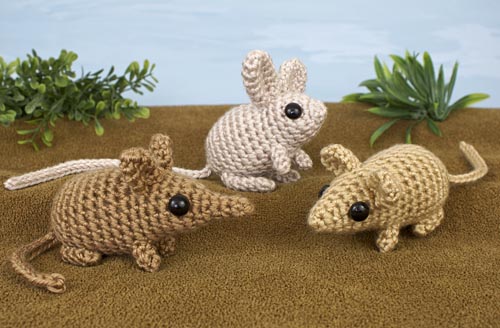 L-R: a long-nosed Sengi, a jumping Jerboa, and an adorable pet Mouse
And when I say mini, I really do mean mini: they're only about 4″ (10cm) long, excluding tails.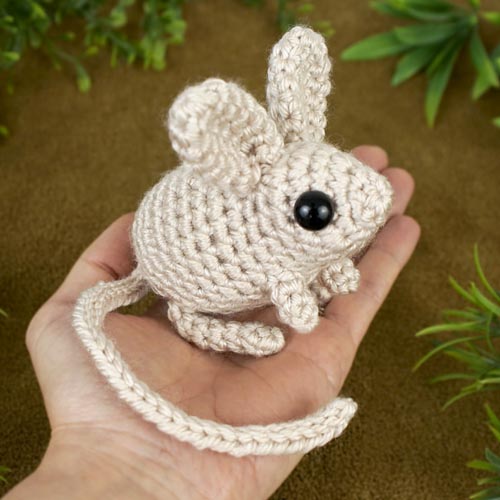 I have small hands – they really are tiny…
Meet the Mini Mammals!
Sengi: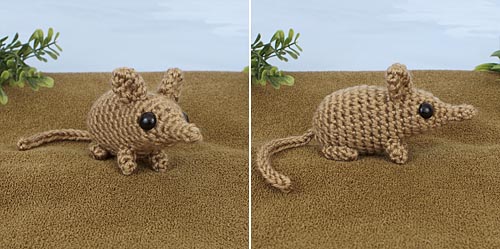 Sengi are also known as elephant shrews (but they aren't shrews).
They look like long-nosed mice, but they aren't even rodents – in fact, sengi are more closely related to aardvarks!
Sengi are the world's fastest small mammals. They make a network of tiny trails throughout their territory so they can run fast and escape from predators.
They live throughout Africa, eat insects, and hibernate every night to conserve energy.
Jerboa: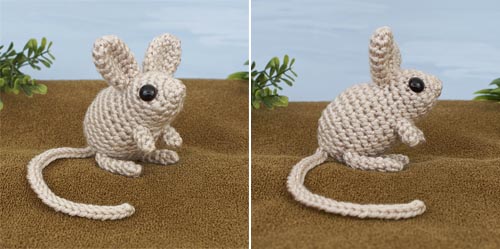 Jerboa live in the deserts of Asia and north Africa.
They are nocturnal rodents who mostly eat seeds and plants.
They move by hopping on their long back legs, using their long tails for balance, like a kangaroo!
There are over 30 species of jerboa. (I made the Long-Eared Jerboa for my pattern, because it's extra cute, but you can easily make a different type of jerboa by substituting the Mouse or Sengi ears!)
Mouse: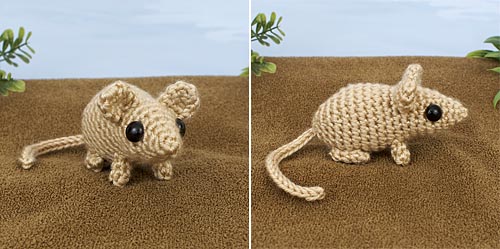 Mice are small, primarily nocturnal rodents who eat mostly seeds and grains.
They are among the most common and numerous animals in the world, and are found in almost every country.
A female house mouse can give birth to up to 150 babies per year!
A group of mice is known as a mischief 😉
Links to Buy & Launch Discount
This pattern collection includes all three Mini Mammals at a bargain price. Although I always offer discounts for shopping directly from PlanetJune, for this week only, you can take advantage of my additional 10% discount by entering code TINY at checkout by Monday, 20th February 2017.
Buy the Mini Mammals pattern here in my shop. Or, if you're not ready to buy just yet, please heart or queue it on Ravelry so you don't forget about it: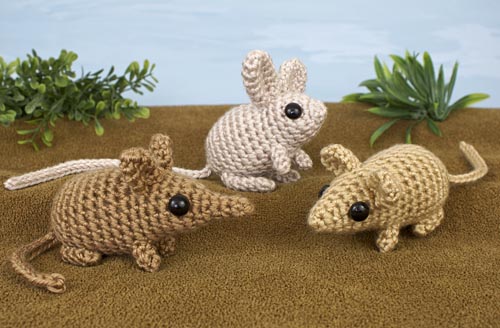 I hope you'll agree that these are among my cutest designs to date! Although I love them all, I'm especially happy with the way the long-eared Jerboa sits up – he just has so much personality, don't you think?