Yesterday, I spent the entire day transcribing all my crochet video tutorials so I could add closed captioning to my videos. From now on, if you're hard of hearing or have any problems understanding my accent, you can turn on the subtitles (it's the 'CC' option on all YouTube videos) and read along as I talk.

An example screenshot of one of my tutorials with CC turned on.
An added bonus is that, now YouTube is owned by Google, non-English speakers can use Google's auto-translate to get a (reasonable, if not perfect) translation of my videos, too: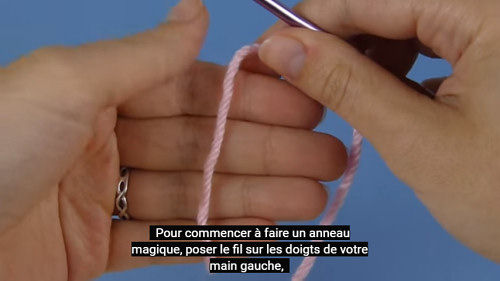 'anneau magique' = 'magic ring' in French! (Note: as far as I can see, auto-translate only works on the non-mobile version of YouTube at time of writing.)
I think adding these captions is a valuable addition to my video tutorials, and I'll be creating transcripts for all my new videos in future, too. But doing this wasn't something I'd planned…
Auto-Captions: a Cautionary Tale
Did you know that YouTube now adds automatic closed captioning to most videos? That sounds like a great feature, but it turns out it's appallingly (and hilariously) inaccurate.
Yesterday, I looked at the auto-captions for my videos for the first time and was truly horrified. They made no sense at all; almost every word was wrong (e.g. it's 'loop stitch', not 'lipstick'). But, worst of all, they also included some adult words and phrases that often made it sound like I was describing something very different from crochet..!
After working so hard to produce clear, comprehensible video tutorials, to find YouTube had added this comedy subtitling was a big disappointment – anyone who's tried to watch my videos with the closed captioning turned on must think I'm a complete idiot. (But, this was also an opportunity for me to enhance my videos by adding this feature properly, so it's not all bad.)
As I was replacing the auto-captions on each video with my new transcripts, I kept a list of the old captions for one phrase that I always say at the start of every video: "this is June from PlanetJune". It's a good indication of how poor (and inconsistent) the auto-captioning is. For my 30 video tutorials, YouTube mis-interpreted that same phrase in 15 different ways:
this is Jin from panicking
this is came from panicking
this is Jim component you
this is Kim from time to time
this is Kim from from gene
this is Kim from pumpkin
this scheme complaint came
this is Jen from Panaji
this is Kim from Planet game
this is Jim component to
this is Jim from Planet came
this is Kim from planet King
this is Jin from panicking
this is June from panicking
this is Kim from panicking
…so I'm sure you can imagine how bad the captions for the remainder of the videos were (although "this is June from panicking" was a pretty accurate description of me when I first discovered the extent of this problem!)
I don't know if my English accent caused extra problems for the auto-captioning, but, given the results I got with my fairly common/neutral accent I don't have high hopes that auto-captioning is ever accurate enough to be useful.
Check your Video Captions
If you make YouTube videos, I'd recommend that you check the results of your auto-captions as soon as possible, and see if yours are any better than mine were!
If there are only a few mistakes, it's easy to edit the captions to fix them.
If they're as bad as mine were but you don't have time to create proper transcripts at the moment, you can at least turn the auto-captions off for each video, so people won't laugh at you!
Or, you can do what I did and replace the auto-captioning on each video with a text file containing a complete and accurate transcript. (This takes time, but it'll help people to find you in search as well as being useful to your viewers, so I'd say it's well worth doing.)
How do you do these things? Here are some helpful links from YouTube to get you started:
---
Closed captioning my videos wasn't something I'd ever thought to do, but yet again (as with my mobile-friendly site redesign last year) Google has forced my hand in a way that's made me improve my offerings. So, um, thanks, Google?
If you'd like to see my tutorials, I have playlists for them in my YouTube channel:
I'm very happy to have accurate and helpful subtitles on all my video tutorials now, and I hope they'll make my videos an even more useful resource for crocheters. 🙂