Note: Don't miss the launch discount at the end of this post!
I really hope you'll enjoy my latest crochet design – it makes me smile to see these cheery colourful pansy faces, and I hope they'll give you a happy boost too! Depending on your climate, pansies can be among the earliest flowering plants in spring, but you don't even need to wait that long to add colour to your day…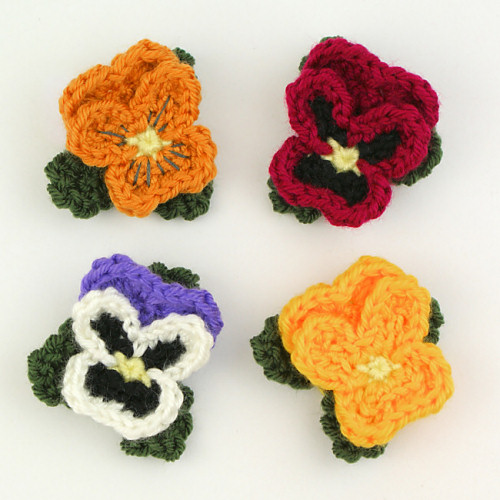 My Pansies pattern includes large and small baskets of realistic pansy plants, together with 4 different styles of pansy flowers, each available to crochet in all the pansy colours, giving you dozens of options!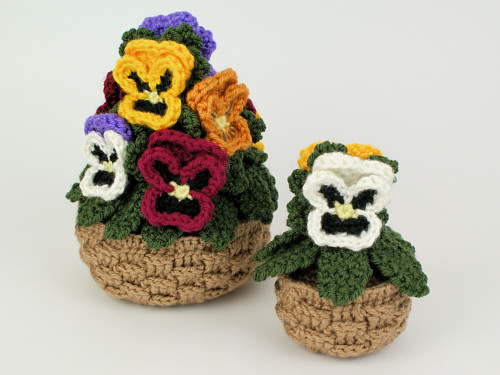 You can customize the basket contents to mix and match the pansy flowers however you wish. The small basket includes 2 pansy plants, and the large basket has 8, for a riot of glorious colour.
This pattern also includes bonus instructions for making any of the pansy styles into an individual leaf-backed pansy flower (as shown at the start of this post) – perfect as a decorative pin, appliqué, gift topper or ornament.
The word pansy is derived from the French pensée ('thought') and there's no better way to show someone you're thinking of them than with a cheerful crocheted pansy.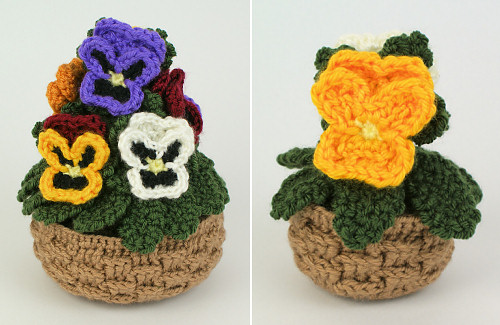 Pattern Details
Don't be phased by the apparent complexity of this pattern – I've put a lot of thought into making it easy and enjoyable for you to make:
Although the pansy flower is a little more complex than my other flowers, it's explained with written instructions, stage-by-stage photos, and right- and left-handed stitch diagrams. And once you've made a couple, they work up pretty quickly.
Yes, the baskets have quite a lot of leaves, but I've come up with a clever construction method for them so you won't be crocheting each leaf individually. It's a lot faster than you'd think from looking at the finished result (shh, don't tell!)
The complete pattern includes 16 pages and dozens of photos for constructing the flowers and assembling the pansies in both sizes of basket, so I'll walk you step-by-step through the whole process – no need to be intimidated. 🙂
The pages with the crochet instructions for each of the three options (large pansy basket, small pansy basket, pansy pin/appliqué) are listed within the pattern, so, if desired, you can save paper and ink by printing only the pages required for your option, and read the assembly instructions on-screen only.
Launch Discount
Although I always offer discounts for shopping directly from PlanetJune, to spread the joy even further, I'm offering an additional 10% discount for one week only. Just enter code HAPPY at checkout by next Monday, 22nd February 2016, and the extra discount will be applied.
Buy the pattern here in my shop. Or, if you're not ready to buy just yet, please heart or queue it on Ravelry so you don't forget about it: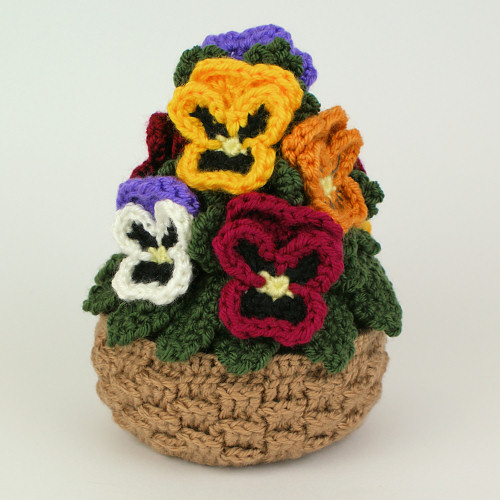 Promise of Spring CAL
And finally, to brighten your cold February days (or possibly your hot and dry days for us southern hemispherers…), join us in the PlanetJune group on Ravelry to crochet pansies and other happy PlanetJune plants and flowers.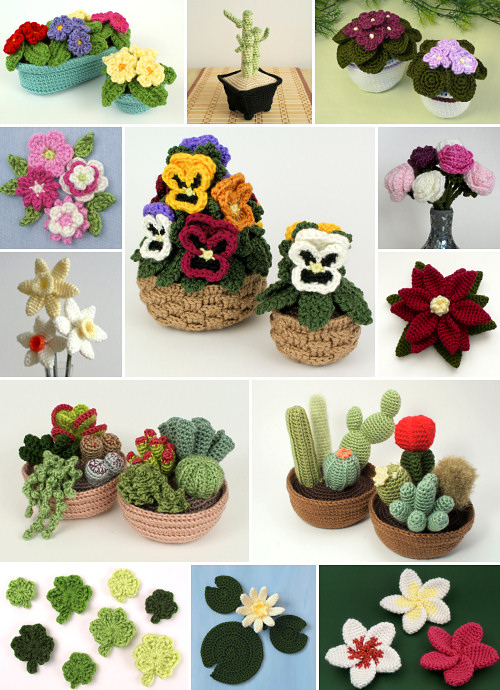 This CAL runs from now until the end of March, so you should have plenty of time to make even the most ambitious crocheted floral arrangement. I hope you'll join us and share in the colourful botanical joy!