I can't tell you how excited I am to reveal my latest crochet pattern collection – making more cats with different body types is something I've had planned since I released my first amigurumi cat patterns in 2015!
It may have taken over four years, but now, here at last, is AmiCats Collection 2: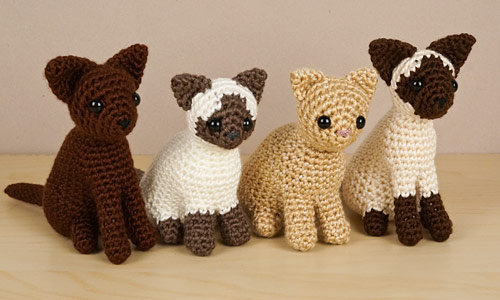 AmiCats Collection 2, L-R: Burmese, Himalayan, Persian, Siamese cats
For my first AmiCats Collection, I created all the designs based on a standard intermediate cat body type with different colour markings. For this second collection, I've developed new designs based on foreign (oriental) and cobby (exotic) cat body types.
AmiCats Collection 2 includes two patterns in each body type. The assembly process is the same AmiCats process you'll already be familiar with if you've ever made an AmiCat before, but I've reworked every piece of the cat shape to reflect the shapes of a stocky flat-faced cat and a slender oriental-type cat.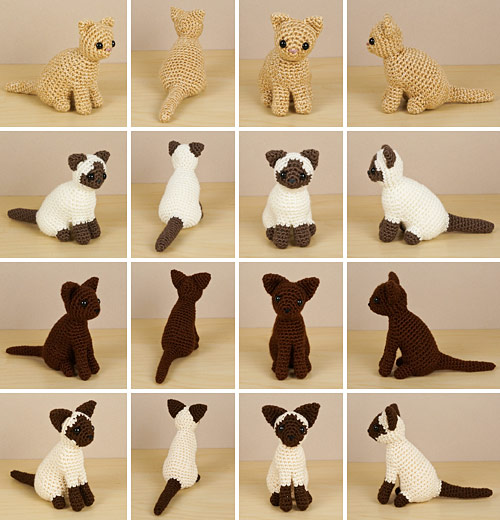 About the Designs
I've named each of these patterns after the most distinctive breed with that body type and markings, but of course you're not limited to making those specific breeds from these patterns! Here are a few more ideas for breeds you can make using these patterns:
Persian: Exotic Shorthair, American Shorthair, British Shorthair, Scottish Straight
Himalayan: Colourpoint Persian, Birman
Siamese: Tonkinese, Balinese, Colorpoint Shorthair, Thai
Burmese: Oriental Shorthair, Russian Blue, Javanese, Havana, Abyssinian, Sphynx, Peterbald
And of course you can make any of these into a regular domestic cat – these patterns aren't only for pedigrees! Pick whichever pattern you like best, or the one that looks closest to your own furbaby 🙂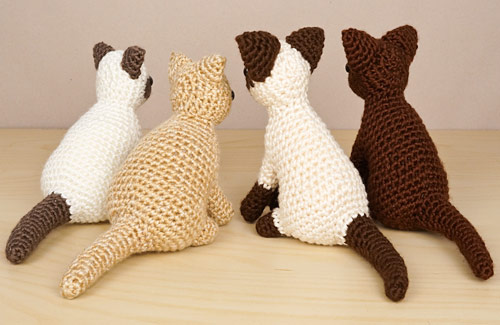 About the Patterns
The cats in AmiCats Collections 1 and 2 are all the same overall size, even with the different body shapes, so you can even mix and match pieces between all the patterns in both collections if you have e.g. a tabby cat with massive siamese-style ears, or a long-haired (or fat!) cat with a slender head. Or, if you're trying to make a custom cat, you can use the closest parts from each pattern as a starting point!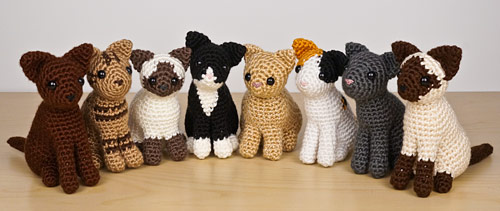 All the AmiCats! L-R: Burmese, Tabby, Himalayan, Tuxedo, Persian, Calico, Single-Coloured, Siamese
As with the original AmiCats, the new patterns come with two-page appendices for both right- and left-handers that clearly explain my innovative method for joining the legs and body while you crochet so they sit at exactly the right angle in the finished cat, and bonus instructions to crochet the (optional) pictured nose from crochet thread or embroidery floss and a 1.25mm/size 9 steel hook. (Instructions for making a simple felt or embroidered nose are also given.)
The assembly instructions in the appendices are the same for all 8 cats so you only need to print one set (LH or RH as needed, plus the crocheted nose) for all 8 cats. Note: don't print the appendices from the Siamese or Burmese unless those are the only AmiCats you buy, as these two patterns omit a step that's needed for all the others! But the figure numbering is consistent between all 8 AmiCats, to avoid confusion.
Buy Now!
If you just need one specific cat pattern, they are each available individually, but the AmiCats Collection 2 price is great value (all four patterns for less than the price of three), so I do advise you consider picking up the whole collection. Here are the links:
And if you'd like to save even more on AmiCats Collection 2, join us for the Cats & Dogs crochet-along (details below)…
---
Crochet-Along (and Save!)
I'm hosting a new crochet-along (CAL) in the PlanetJune group on Ravelry, to make any AmiCats or AmiDogs from now until November. Join in by choosing any of my 8 cat and 24 dog patterns to crochet!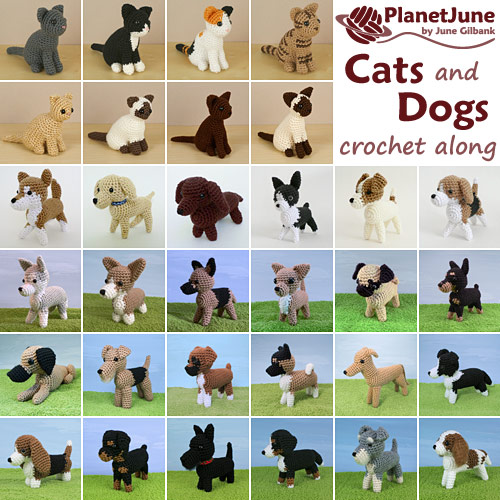 To join, just leave a message in the CAL thread saying you'd like to join, and I'll send you a private welcome message including a special CAL-exclusive discount code to use on AmiCats Collection 2!
And there's more: this is a prize CAL too, with one grand prize winner winning my upcoming Christmas Collection of crochet patterns, and runner-up discount codes for all other CAL entrants.
Sound good? Post to the CAL thread now and I'll send you your AmiCats 2 discount code so you can get started!
(New to Ravelry? See my crochet-along FAQ for answers to your questions!)
---
I hope you're excited about my new cat patterns – which is your favourite?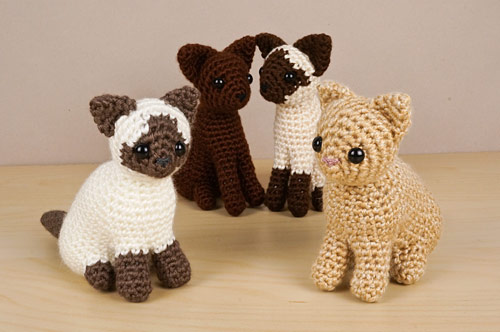 Can't choose? You don't have to – pick up AmiCats Collection 2 now and you can enjoy making all four… 😉