A quick announcement today: for one week only, until October 4th, I've re-opened my Crochet Tools shop with some old favourites and new offerings. Pre-order now and I'll ship your package by the start of November, in plenty of time for Christmas gifts 🙂
Detail Stuffing Tools
The ever-popular PlanetJune-exclusive stuffing tools are back, in all 5 cheerful colours: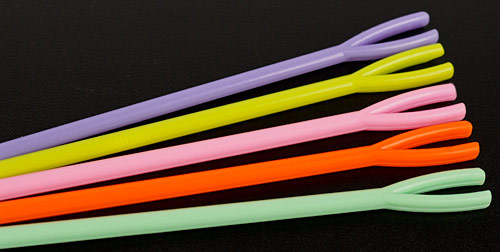 The Detail Stuffing Tool lets you get a grip on your stuffing, stuff the tiniest pieces and stuff right into the corners with ease. Don't miss out on your chance to grab my bestselling tool that's already an essential for thousands of amigurumi makers!
More Crochet Tools
Feast your eyes on these beauties: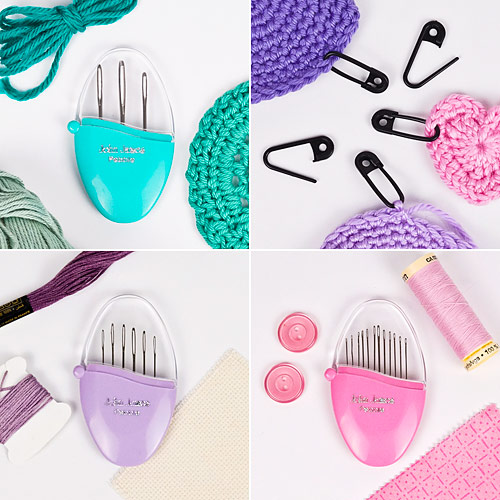 PlanetJune stitch markers are back in new extra-strong black plastic with a wider opening, but still with the same rounded tip that won't snag your yarn, a secure clasp that won't pop open accidentally, a large enough size (3cm/1.2″) to be able to open and close easily, and a super-cute safety pin shape. Sold in a set of 5. Go to Stitch Markers >>
Needles in Flip-Top Pebble Cases – finally, the perfect way to store your needles so you won't lose them! The stylish flip-top Pebble container is smooth and flat and easy to slip into your project bag, but large enough not to be mislaid. Each high quality needle slides into its own space in the Pebble, so it's easy to see if you've forgotten to replace it after use. John James is a renowned English needle brand that I've used for years and highly recommend.
Knitters Pebble (jade green). I didn't name it – we can call it a Crocheters Pebble if you prefer! Whether you're stitching your pieces together or weaving in loose yarn ends, a high quality yarn needle makes the task of finishing your crochet (or knit) projects much easier. The strong steel passes smoothly through even the smallest spaces, and the rounded tip won't damage your fibres. Includes 3 large assorted yarn needles. Go to Knitters Pebble >>
And, as I expect some of you enjoy other crafts too, here are some other handy pebbles you might enjoy:
Tapestry Pebble (lavender purple). Whether you're stitching features onto an amigurumi or enjoying a relaxing embroidery or cross stitch session, high quality tapestry needles make all the difference. The slightly rounded tips slide between your fibres without damaging them, giving a smooth finish to your work. Includes 6 assorted tapestry needles. Go to Tapestry Pebble >>
Household Pebble (pink). Whether for emergency repairs or hand sewing projects, every household needs a selection of high quality sharp needles. Use them to stitch on buttons, fix loose seams, hand-sew soft toys, and for all your other hand sewing needs. Includes 12 assorted general hand sewing needles. Go to Household Pebble >>
Buy More, Save More!
Christmas is coming, and wouldn't these tools make perfect stocking stuffers for your yarny friends and family too? Here's an added bonus if you want to stock up on several items – use these discount codes at checkout to save on your tools purchase:
Spend at least $10 on tools, save 10% with code SAVE10
Spend at least $15 on tools, save 15% with code SAVE15
Spend at least $20 on tools, save 20% with code SAVE20
Choose your Crochet Tools now! >>
---
I hope you like this selection of essential tools I have for you. Don't forget to order before the tool shop closes on October 4th, and, as my stocks are limited, if there's something in particular you have your eye on, don't wait!
Happy tool shopping 🙂