The (crochet) harvest is good this year!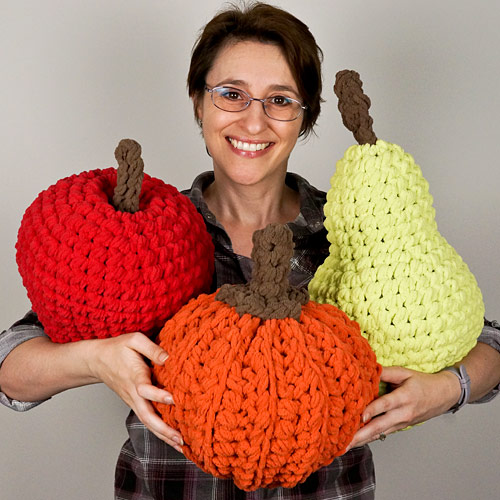 These are just my standard-sized Apple, Pear and Pumpkin patterns, super-sized into giant amigurumi. I love how quickly giant amigurumi work up for their size, and the results are adorably huggable. 🙂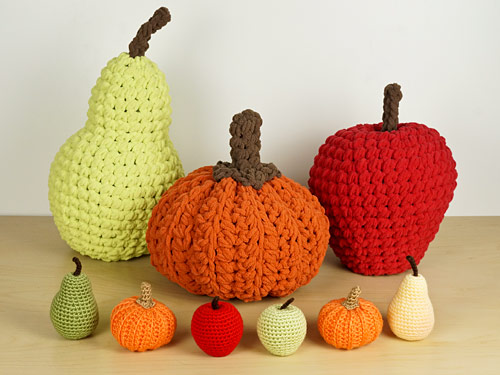 Giant fruit with their worsted weight counterparts – the giants are just a little bit larger!
Giant fruit would make such cute cuddly toys with some eyes and a little smile added, don't you think? And I'm thinking the giant pumpkin would also make the most amazing decor for Halloween – maybe with a felt Jack o'Lantern face!
Crochet your Own Giant Fruit
Do you want to make some too? (Why wouldn't you – they're so much fun!) I can help with that…
Learn all my upsizing tips and techniques in my ebook The Complete Guide to Giant Amigurumi: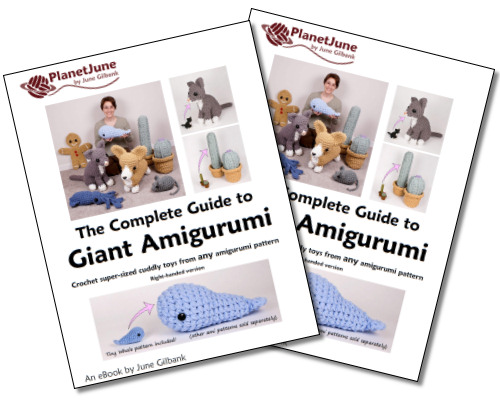 And here are the links to my free crochet patterns for the fruit:
Bonus tip for making a Giant Apple: To make the dimpled top and bottom for the giant apple, I found it was easiest to attach the stem before stuffing and closing the apple. I let the yarn ends dangle from the open bottom of the apple, and stuffed around them. After I finished crocheting the apple, I had the yarn ends in place and ready to pull tight to create the apple's shaping.