I had a truly magical wildlife experience last week, and I just had to share it with you. Every day, I check the bushes in my garden for Cape Dwarf Chameleons – they've been absent for the past year, but made up for it when they finally returned last week, as I got to spend a day with 6 teeny tiny newborn baby chameleons who were each barely an inch long (excluding tail)!
If you're short on time, here's a collage of my baby chameleon photos: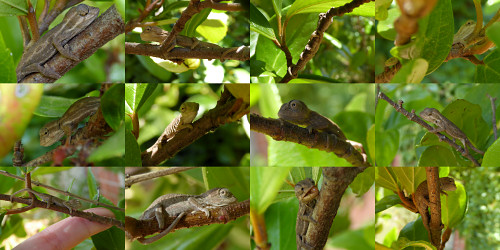 And scroll to the end of this post if you'd like to see my baby chameleon video. But, if you have the time, let me share some bigger photos and more details with you first:
This is the first chameleon I spotted last week – his bright colouring means he's probably a male (but it's not easy to tell with dwarf chameleons).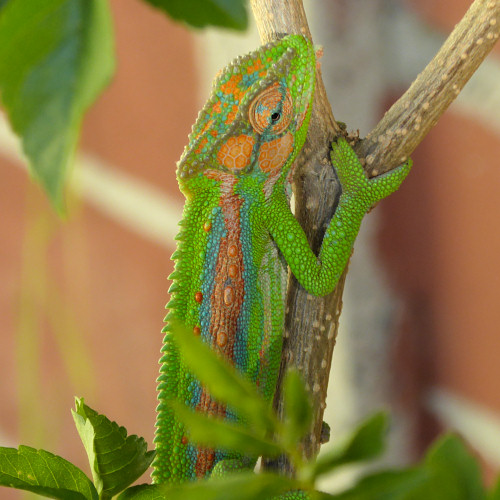 Even a big brightly coloured guy like this can be very difficult to spot – their best camouflage is to rotate themselves around the branch when you approach so they're hidden by the branch, like this: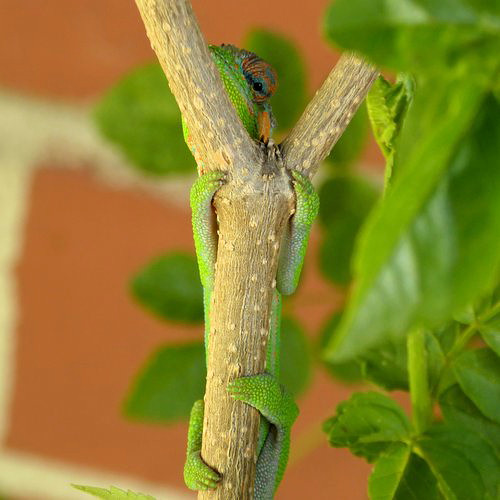 So you can imagine how much more difficult it'd be to spot tiny babies!
On Tuesday, I saw this bright green chameleon slowly meandering away from a bush in my garden. That was pretty exciting, and I was about to run for my camera when I saw a teeny brown miniature glistening newborn chameleon still in the bush. (In fact, you can see where the babies came from in this photo of the mother – it's not that black thing under the twig, which is actually part of the bush, but the pale U shape on her body at the very bottom of the photo.)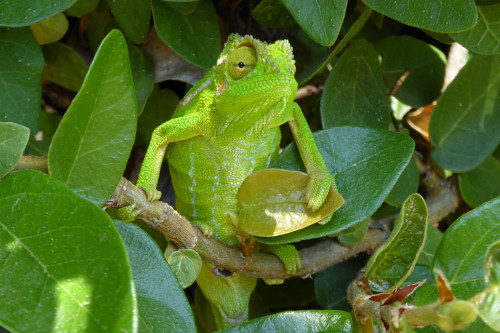 Unlike most other chameleons – and reptiles – dwarf chameleons don't hatch from eggs, but are born live and fully-formed. By the time I got back with my camera, the baby had dried out, and I took a photo with my finger for scale, so you can see how teeny-tiny they really are: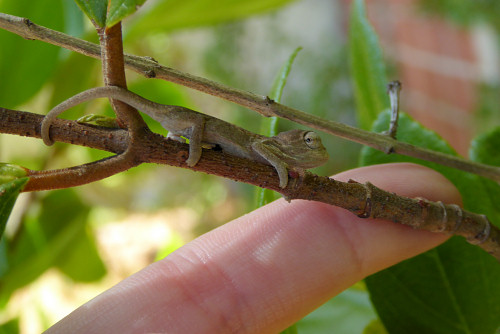 They're exceedingly difficult to spot, with their brown bodies clinging flat to the brown twigs: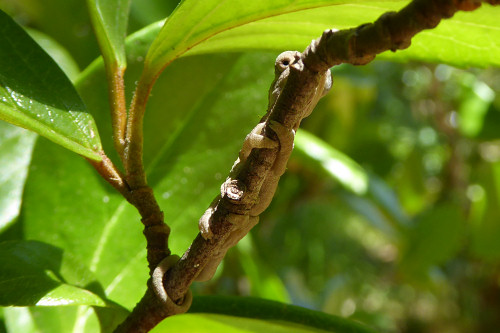 As soon as they're born, they are perfect miniatures of the adults, and able to get around safely through the foliage and catch their own food within minutes – it's remarkable.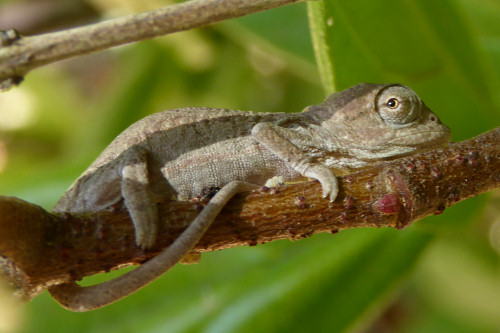 As I spent more time in the garden, I gradually spotted more and more babies scattered throughout the bush, until I eventually counted a grand total of 6!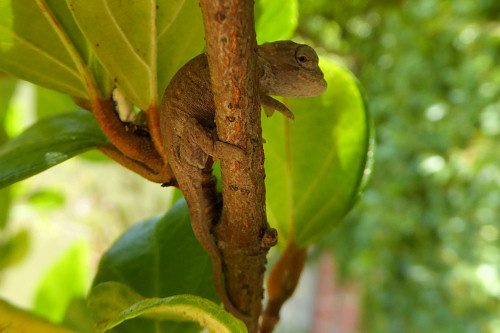 They all had slightly different colourings and markings. They moved around (very slowly, when they thought I wasn't looking) using their pincer-shaped feet and prehensile tails to cling safely to the branches.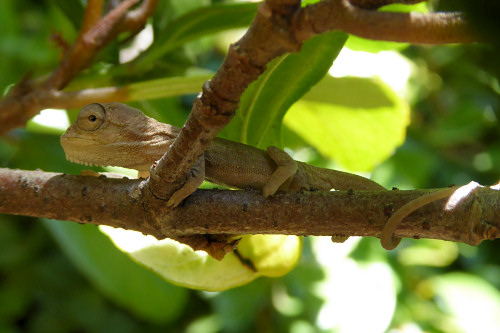 The babies are a fraction of the size of a leaf on the bush, so I had to check every twig from all angles to spot them all! Do you see the tightly coiled tail on the left in the picture below?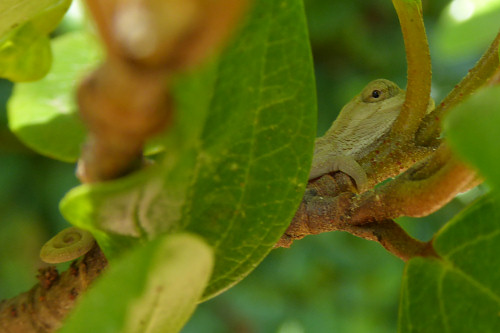 Here's a great example of camouflage – can you see both the babies below? (They're both on the twig running up the middle of the photo, and this is shown much larger than life-size):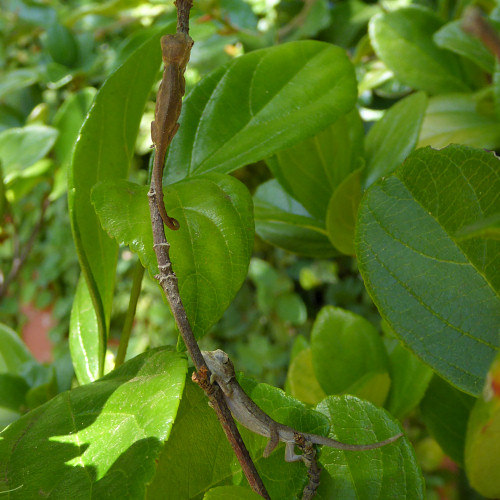 I just love their grumpy faces and pensive expressions…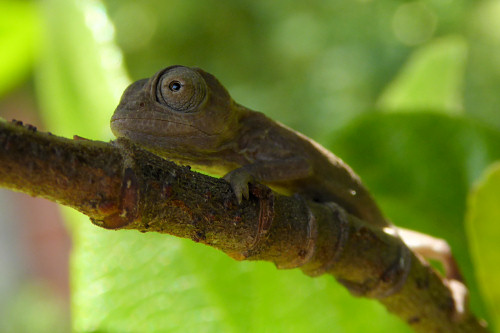 …their too-big skin and independently-swivelling eyes…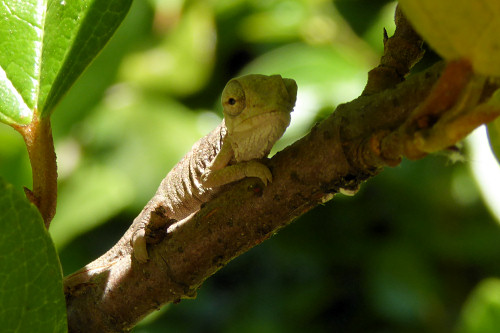 I had to peer through between leaves to spot the babies on twigs that were further away…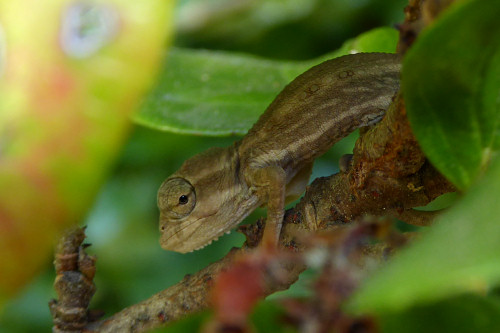 …although sometimes they emerged to give me a clearer view: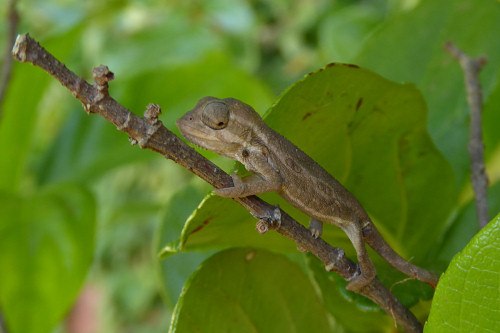 I spent most of the day sitting in the flowerbed so I could get down to their eye level and see these miniature marvels. I got to see them focussing both eyes on a tiny insect and then flicking out their sticky tongues to grab it: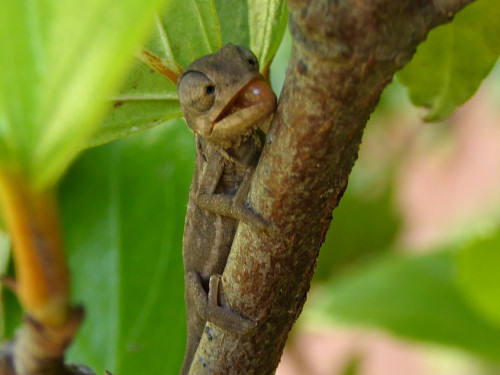 Or just clinging to a twig, motionless except for their swivelling eyes…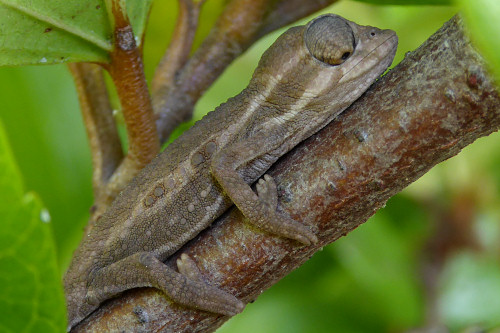 And now for the grand finale: I took a few video clips for you too and made it into a baby chameleon movie, so you can experience them properly (keep watching to the end – it's worth it!)
For the best experience, play the video at Full 1080p HD quality and fullscreen it.
About the video: I left the sound natural instead of adding music, so you can better experience my garden and enjoy the birdsong. I took these shots at macro range, and I did hold the camera steady, but the babies are so tiny (barely an inch long, excluding tail) that the twigs they are perched on sway in the slightest breeze. I hope you enjoy the video!
(Out of interest: would you like more wildlife videos to accompany my photoblog posts? They're a bit time-consuming to produce, but my new camera takes excellent video, and I think seeing the animals in motion adds to the experience I can share with you. Do you agree?)
---
I'm so glad I took the time to spend this day with the baby chameleons – by the next day, I could only see three on the bush, and on the following day I only spotted one – on a different bush! I haven't seen any of them since, but, between them being so very tiny, masters of camouflage, and easily capable of climbing all over the garden already, I'm not too concerned that anything has happened to them. And of course I'll keep checking the garden every day, in hopes that I'll spot some of them again some time….
If I hadn't already designed a chameleon crochet pattern, this experience would have made me drop everything else to make one! I hope you've enjoyed seeing my baby chameleons half as much as I have – it was such a privilege to be able to share the first day of their lives.