I'm a little giddy with anticipation right now, as I've almost reached the end of a design process that's been eluding me for a very a long time. My upcoming collection of animal designs has taken several years and over a dozen prototypes to reach the point where I'm truly satisfied with the shape and construction, and I'm hoping to have the resulting patterns complete and ready to reveal in the next couple of weeks. I can't wait to show them to you!
In the meantime, here's the latest PlanetJune news:
Christmas CAL
Now November is here, it's time to begin my annual Christmas CAL. We're doing things a bit differently this year: not only will the CAL include all the classic PlanetJune Christmas patterns pictured below – perfect for your seasonal decorating – but you can also enter with any PlanetJune design that you're making as a Christmas present. We'll cheer you along between now and Christmas as you crochet your handmade gifts – fun!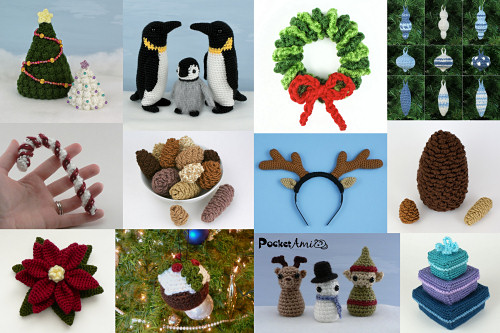 You'll find the links to all my Christmas crochet patterns here
If you're planning to make any PlanetJune designs as Christmas decorations or gifts, please join us in the PlanetJune ravelry group and share what you're making…
Crochet Tools Hiatus
I've reluctantly decided I have to temporarily close the Crochet Tools section of my shop (where I sell Detail Stuffing Tools, Stitch Markers, Amigurumi Essentials Kits, and free bookmarks) until the new year.
The postal strike in South Africa is still ongoing, and I can't hazard a guess as to how long your order will take to reach you – the post office workers only shrug when I ask, and I've just discovered there are packages I shipped in September that haven't yet reached their destination. This obviously isn't acceptable, and I anticipate the delays will only get worse as the strike lengthens and as we approach the busy Christmas season, when delivery times are always longer than usual.
As I have no other way to ship small packets at reasonable cost to you, I see no alternative but to suspend shipping until the strike is resolved, the backlog is cleared, and the Christmas rush is over. I'm very sorry for any inconvenience this causes. If you'd like to be notified when PlanetJune crochet tools are available to ship again, please sign up for the one-off notification email.
Fall CAL Report
My ever-popular Pumpkin was the most popular entry in the Fall CAL, with lots of giant and multi-coloured varieties popping up as well as the classic orange. Here's a sampling of the CAL entries (click the pic to see them all on Ravelry):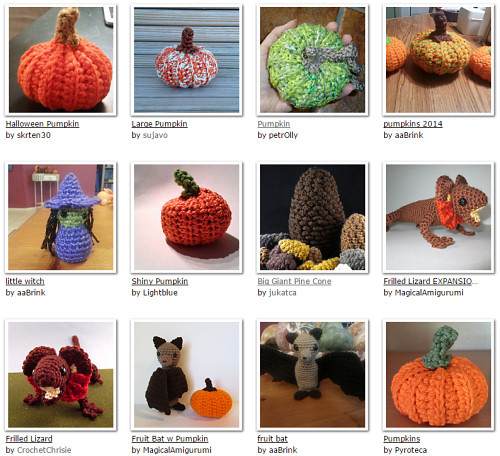 Review and Win contest
You're automatically entered in the next monthly draw every time you write a review for a PlanetJune pattern you've enjoyed – and you'll also be helping future customers make an informed decision about patterns they are considering buying.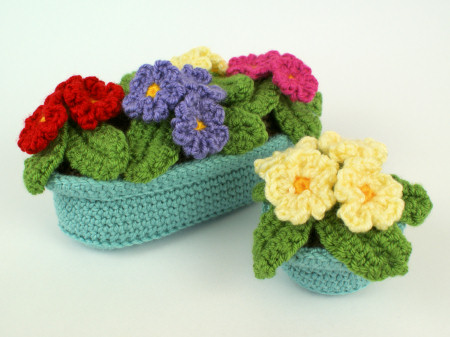 October's winner is Becky G's review of my colourful Primroses:
I decided to crochet the entire four plant pot and it looks so pretty. I was afraid I wouldn't be able to figure it out but the directions are easy to follow and looks life like when finished I would definitely recommend this pattern. I love it!
Congratulations, Becky – I've emailed you to find out which pattern you'd like as your prize! And thanks to everyone who takes a minute to leave a review in my shop for a pattern they've enjoyed – I (and other would-be customers) appreciate every one…