When I was doing dinosaur research for Dinosaurs Sets 2 & 3, I was very disappointed to discover that one of my 'must-make' dinosaurs didn't live up to my expectations. Remember the classic scene in Jurassic Park where a man tries to steal dinosaur embryos and is attacked by a venom-spitting Dilophosaurus with a giant expanding neck frill? It turns out that the neck frill (and the venom) were dramatic licence on the part of the film-makers.
But hang on, if I can't make a scientifically-inaccurate Dilophosaurus for my Dinosaur collection, why not make the real lizard that inspired the movie-makers?! The frill was actually 'borrowed' from the 100% real (and very cool) Australian frill-necked lizards.
And hence today's fun new release: an Expansion Pack for my Iguana pattern, so you can turn it into a Frilled Lizard in full display mode, with gaping mouth and fully-spread ridged frill.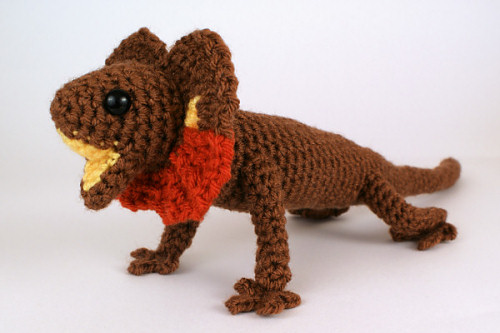 Frilled Lizard Fun Facts
Frill-necked lizards are part of the agamid family of lizards, otherwise known as dragons or dragon lizards.
The amazing brightly-coloured mouth lining and dramatic frill work as a defense mechanism for the lizard, to make it look big and threatening when it's frightened.
When un-expanded, the pleated frill lies flat along the lizard's neck with the bright colours hidden, to help the lizard stay camouflaged against predators.
Frilled lizards live in trees and come to the ground to feed on insects.
They can reach up to 3 feet long (although a good fraction of that comes from their tail!)

Pattern Info
This expansion pack pattern is intermediate level, but only because of the frill, which requires both changing colours and using different stitches (not just amigurumi-style single crochet). Please don't be intimidated if you're new to this type of crochet, though, as I'll walk you through developing your crochet skills as you crochet the frill:
In addition to my usual full written instructions and charted stitch diagrams, I've included instructional appendices for the frill for right- and left-handers.
Each appendix walks you through the frill row by row via a special colour-coded stitch diagram for the row and a photo of the frill at the end of the row.
If you're printing the pattern, save paper and ink by only printing the right- or left-handed appendix as applicable (or don't print either, if you don't need the additional instructions).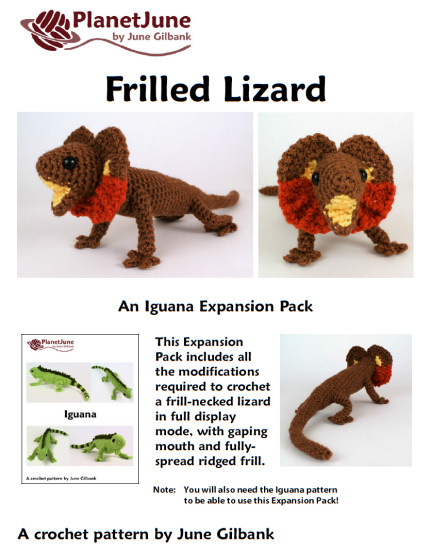 What is an Expansion Pack?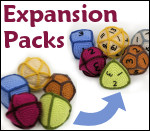 An Expansion Pack is an add-on to an existing PlanetJune pattern.
The Expansion Pack lets you modify or add to the original pattern to create something else.
You cannot use the Expansion Pack alone – you must also purchase the original pattern in order to be able to complete the pictured items in the Expansion Pack pattern.
You can buy the Frilled Lizard Expansion Pack for only $2.50 individually from the shop, or, if you haven't yet bought the Iguana pattern, you can buy the multipack of both lizards, and save 50c on the pair.
Launch Discount
If you've already bought the Iguana, you won't be able to save that 50c. But, for 7 days only, add the Frilled Lizard Expansion Pack pattern to your shopping cart, together with anything else (totalling $5 or more), then use the code FRILLY at checkout and you'll still get your discount! (Valid until next Sunday: 19th October 2014.)
Note: If you don't need anything else right now, this also applies to Gift Certificate purchases, so you can pick up a $5 gift certificate now, get your discount, and have $5 in your PlanetJune account ready for your next purchase, or to send to a crocheting friend!
---
My Frilled Lizard makes me laugh, with his wide open mouth and colourful frill. I've also just realised that his colours are very seasonally appropriate in autumnal shades of brown, orange and yellow – although that was just a happy accident based on the colouring of the real lizards! If you're not ready to make one just yet, don't forget to heart and queue it on Ravelry so you don't forget about him:
I hope you'll enjoy this pattern as much as I enjoyed creating him! 🙂