I've renamed my nature photoblog series from 'Cape Town wildlife' to 'South Africa wildlife', to distinguish these new occasional posts from my previous month-by-month year of wildlife posts. It's been a long time since I last posted nature photos (9 months!), so I have a lot of special things saved up to show you, when I have time to organise and edit my thousands of photos! I'll ease back into the wildlife blogging with a study of one of my favourite local animals…
I like to play 'spot the chameleon' in my garden. It's like a real-life version of Where's Wally/Waldo, only with a much better reward: you get to watch the tiny adorably grumpy-faced lizard after you spot him, and, because chameleons don't dart off in a split second like geckos do, it's much easier to take good photos.
I have no idea how many Cape Dwarf Chameleons live in, or visit, our garden. My best guess is 'several', and I choose to believe that they are all babies of Kermy, the chameleon I used to watch every day last year (and even fed a grasshopper to, on one magical occasion). Look how difficult it is to spot the (full-sized) Kermy: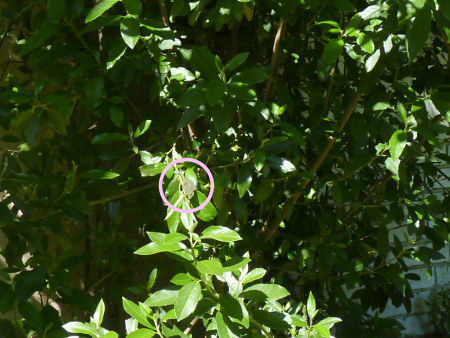 There he is! In dark colour mode: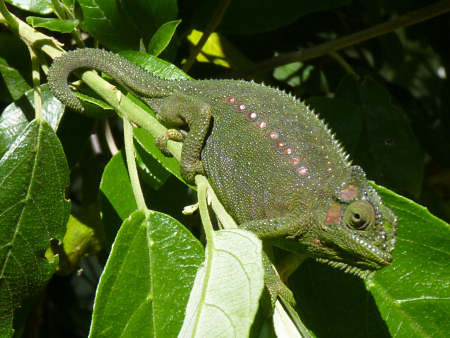 And in bright colour mode, with my hand for scale: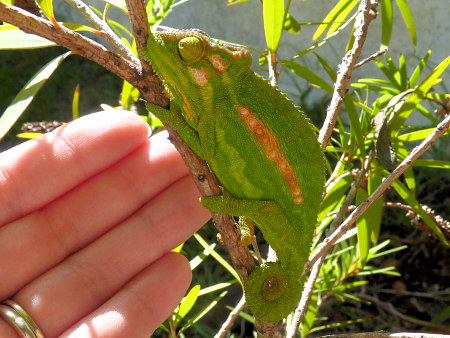 Now imagine how much more difficult the chameleon-spotting game is when they are teeny-tiny babies like this:
Awww! And it's not just the size that makes it tricky; they change colour like crazy! Here's another baby (these are all the same species btw, Cape Dwarf Chameleons):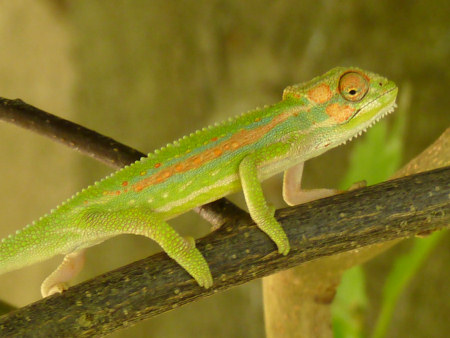 Look at the amazing colours!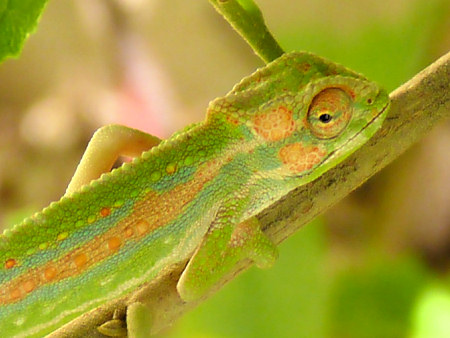 I was even more excited though, when I saw this completely different type of baby chameleon…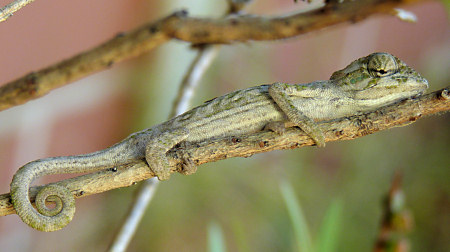 (who, incidentally, has a pretty neat way of hiding when he sees you coming…)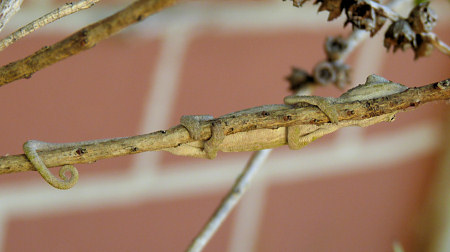 Where did he go?!
…only to discover the next day that his grey colouring was just skin getting ready to shed and he was a regular green chameleon all along! I could hardly believe it, but I have proof: here he is with just the nose skin left: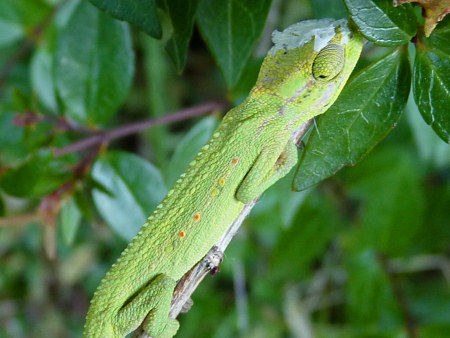 And then I spotted this very skinny orange baby on the same bush, so I know for sure that there are at least 2 of them: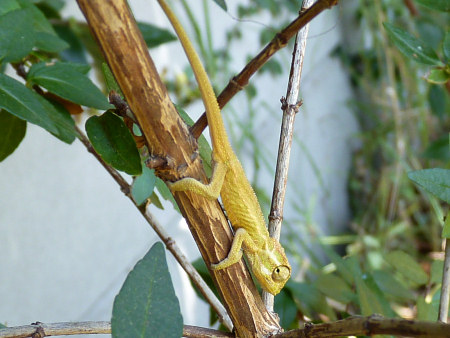 The next day, I managed to catch one of them napping! Awwww….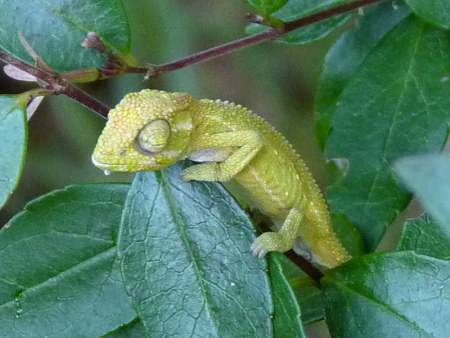 Then I didn't spot any for a couple of weeks until yesterday, when I found this one – he's much bigger now, and starting to look more like his daddy, my old friend Kermy 🙂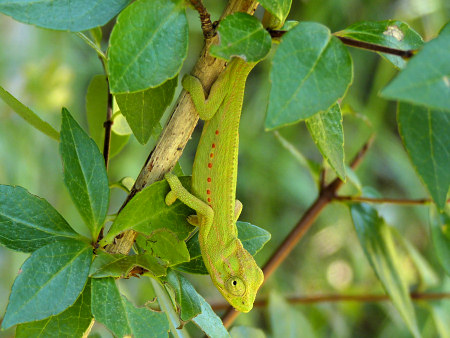 You can probably tell that I'm pretty smitten with these little guys…
I almost wish I hadn't already designed my chameleon crochet pattern last year, because I'm just not getting over this fascination, so I settled on the next best thing: I've designed a different lizard pattern to indulge in my newfound appreciation for reptiles. (It's a cute one, and I'll be revealing it very soon…)
I really hope you've enjoyed my chameleon photos – please leave me a comment if so. I promise I'll try not to leave such a long gap until my next wildlife report 🙂