If you saw my chameleon photoblog the other day, you'll know I have lizards on the brain. I've already designed a gecko and a chameleon though, so I needed a different type of lizard to complete my lizard crochet pattern trilogy. An iguana seemed like the obvious choice, with lots of fun details to include, so that's what I've made: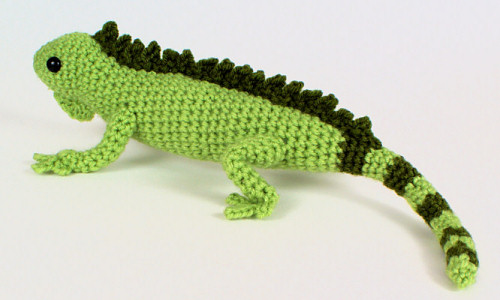 Iguana Fun Facts
My design is based on the Green Iguana, which lives in rainforests in Central and South America (although if you change the colour you could make different types of iguana).
Other types of iguana are adapted for different environments, such as the Marine Iguana from the Galapagos islands (which eats seaweed and algae and is an excellent swimmer), and the Desert Iguana from the southern US and Mexico (which can withstand high temperatures and burrows into sand to keep cool).
The Green Iguana is about 2 metres long, and is easily recognised by its dewlap (the loose skin under its chin), the row of spikes down its back and its very long tail.
Despite its size and fearsome appearance, the Green Iguana, like other iguanas, is primarily a herbivore.
I think I struck a good balance with this design between realistic and cute, detailed and easy to crochet. He's worked in two shades of green, although a single-coloured iguana would look nice too; you'd just lose the tail striping. He's an incredible 15″ (38cm) long, although, don't worry, most of that is tail – he's only 9″ (23cm) long excluding the tail 🙂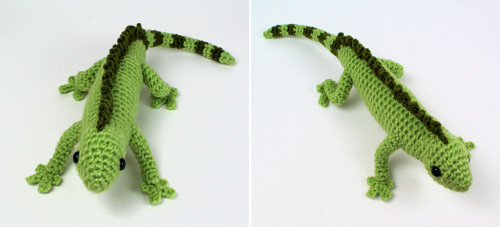 Let's look at that tail for a moment – it's a perfect excuse to practice my seamless, jogless Perfect Stripes: No-Cut Join technique, although the pattern includes a standard jogless stripes technique for those who aren't feeling adventurous and don't mind a slight visible seam in the tail.
The realistic legs are wired with pipe cleaners, but the pattern also includes tips for omitting the pipe cleaners if you want your iguana to be baby-safe.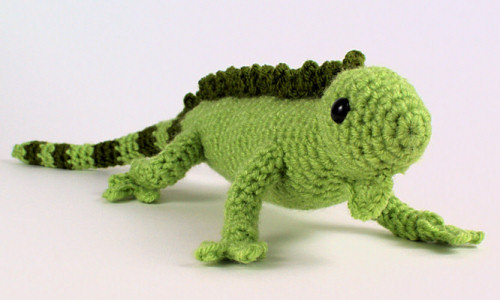 As with all my crochet patterns from now and going forward, any pieces not worked in simple amigurumi style include a stitch diagram in addition to the written instructions, so you can use whichever instructions work best for your learning style. And, as always, photos aid with every step of the assembly, so you can be confident you'll be able to make a perfect iguana too.
I hope you'll enjoy my latest pattern! If you'd like to jump right into iguana-making, you can pick up the Iguana amigurumi crochet pattern right now from my shop. Or, if you're not quite ready to buy, why not favourite/queue it on Ravelry so you don't forget about it?