If you'd like to sell your own patterns or handmade goods online, there are many options open to you. It can be intimidating, especially if you're just starting out, to figure out which venue is the best fit for you. As I'm always getting emails asking for advice about this, I thought I'd put together an overview of some of the major options, with the main positive and negative points of each.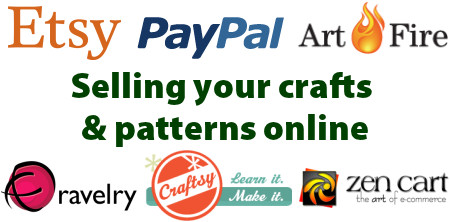 For this post, I'm going to look at the pros and cons of online craft marketplaces (like Etsy), online pattern marketplaces (like Ravelry), a PayPal shopping cart on your own blog/website, and creating your own self-hosted shop from scratch.
Online Craft Marketplaces
Online craft marketplaces like Etsy were primarily designed for people to sell handmade goods, but you can also sell patterns through them. (In some cases this can be a disadvantage for pattern sellers: no matter how clearly you phrase your title and description, you'll still receive orders from people who don't read them at all and buy a pattern thinking they are going to receive a handmade toy…)
As Etsy is so popular, I'll go into a little more detail with some pros and cons of an Etsy shop.
Pros:
Very popular, so you have access to a lot of traffic
Easy to set up listings and add photos
No setup fees: you only pay for each item you list
Can enable automatic re-listing for pattern sales
Possible digital file download service in future (currently in beta testing) or you can sign up for CraftHub as a digital download service
Cons:
Fee to list each item (currently 20c), whether or not it sells
Listing expires after 4 months, and you have to pay to relist it
Percentage fee on every sale (currently 3.5%)
With so much competition, it can be difficult to stand out
Listings get buried very quickly and are only found if someone is searching for that specific thing (e.g. "fox amigurumi pattern" has 73 results; "amigurumi pattern" has over 10,000)
Your potential customer needs to create an Etsy account in order to purchase from you
Automatic digital file delivery (for pattern sales) is only available for a fee
Other Marketplaces:
ArtFire is similar to Etsy, but there are no listing or success fees; instead you pay a fixed monthly fee, no matter how many items you list and how much (or little) you sell. Customers can buy without creating an account. There's no option for digital file delivery.
There are also other options, including BigCartel, Storenvy, Shopify, and many more. Each has a different fee structure, different customization options, and are suited to different types of products. Your best option is to shop around and read all the information you can on each before making your decision.
International Marketplaces:
The options I've mentioned so far have all been US-based, but most, if not all, welcome sellers from around the world. However, if you're not based in North America, you may wish to consider opening a shop with an online marketplace located in your own country. You can receive payments in your own currency, and if you sell physical products, selling to locals keeps your shipping costs lower, which may make your products seem more attractive!
You'd need to find an appropriate marketplace for your own country or continent – here are a couple of popular examples:
Folksy trades in British pounds and is for UK-based sellers only.
DaWanda is available to worldwide sellers, but primarily caters for the European market, with payment in Euros and site translations in English, German, French, Spanish, Italian, Dutch and Polish.
Online Pattern Marketplaces
Ravelry and Craftsy both provide a marketplace exclusively for patterns. This can be an effective solution for many pattern sellers. It's very low maintenance, as, once you've uploaded your patterns to their server, your customers can automatically download their patterns after paying.
Ravelry is for knitting and crochet patterns only. It gives you access to over 2 million Ravelry users, plus anyone else you bring in from your blog, social media, etc. It has a very reasonable sliding scale monthly fee structure (and it's free if you sell under $30/month). Customers don't need a Ravelry account to be able to buy from you.
Craftsy is for any kind of patterns and has zero fees at the time of writing. It is still new, so may not have a large customer base as yet – you may need to bring in much of your own traffic. Your customers will need to create a Craftsy account in order to purchase.
And an added bonus: as these venues are for pattern sales only, the chance of someone thinking they are buying a finished item instead of a pattern is much lower (although I hear it still happens, on Craftsy at least).
PayPal Shopping Cart
If you already have a blog, a PayPal shopping cart may be a good way to introduce for-sale items to your website and customers. (This is how I started out, in 2007!) You can either create a post or page for each item, or have one 'shop' page listing all your items. For each item, you'll create a PayPal button that people can use to add it to a PayPal shopping cart, and then check out through PayPal.
It's a good transitional move for a blogger – it's easy to set up, and there are no fees (beyond the PayPal fees you'd also be paying with any of the other options in this post). However, if you don't already have a blog and don't want to start blogging anyway, I'd advise against starting a blog or website just so you can use a PayPal shopping cart.
Using a PayPal cart instead of a 'real' shop makes you look like a very small business, which may deter some people from buying from you. (If you already have an audience who trusts you, that shouldn't be a problem though – and you can always move on to another option if/when things take off!)
I wouldn't advise a PayPal cart as a long-term solution if you're serious about growing your business and aren't just selling a few items as a hobby business; as it's just a shopping cart and not a full shop, it's very limited. If your business is successful and/or your catalogue grows, you'll get frustrated with having to create a new PayPal button for each item you create. You also have no way to track orders beyond your payment notification emails and PayPal account records, so you'll have to download your PayPal transaction logs into a spreadsheet if you want to generate any reports about how well you're doing, or get your sales totals for your tax return.
Self-hosted eCommerce Site
If you have your own website, you can install eCommerce software to create your own shop (Wikipedia has a comparison of many options). This option gives you the most control over your shop, and potentially costs the least (in money, at least) but requires a time investment or a cost to hire someone else to set up your shop.
I use Zen Cart for my shop, and I like it, but I'm not sure I'd recommend it to others. On the plus side, it's completely free, and I can change it to look and work exactly the way I want it to – it works well for my needs. I can offer instant pattern downloads; I have sales reports at my fingertips; it costs me nothing except my monthly web hosting fee. But I don't generally recommend it to other people for these reasons:
Time: It takes a lot of work to set up initially – it took me 2 weeks of full-time work to get my shop ready to launch. And every time I want to change something, I have to schedule in more time to make the changes (there's a reason why my shop still isn't branded with my logo, almost a year after the logo launch…)
Tech Skills: If you want to make tweaks and updates to your shop, you need to get more into the code side of things – it's not very user-friendly. If you're not familiar with HTML (the code that webpages are written in) I'd suggest you either find someone to help you with that side of things, or avoid Zen Cart.
You could get away with using default templates that come with the software and doing very little in the way of modifications, but then your shop won't look like it's yours, and branding is very important – you want your customers to remember you! Or you could hire a web designer/developer to create and install your shop for you (for a one-off fee), but that's a steep investment if you're just starting out.
So, if you're not a very technical person or don't have the time or inclination to delve into code, I'd recommend you use a simpler option like a marketplace store.
Alternatively, you could look into a best-of-both-worlds solution like Ecwid, that allows you to set up a store on your own domain without doing any coding. You'd get the advantages of having your own store, branding, and control, with the ease of an online marketplace for creating your listings. However, you do have to pay a monthly fee for this convenience.
My Experience
I can tell you that setting up multiple shops takes a lot of time, and maintaining shops on many platforms may take more in effort (and, potentially, in fees) than you get back in sales. If you're spending time maintaining 5 shops, is that the best use of your time, or would it be wiser to free up more time to create more products?
You'd probably do better to concentrate your efforts on one shop, or two selling locations that make sense for your situation (e.g. one local and one international marketplace shop, or one marketplace shop and a shop on your own site).
This is my current situation:
I focus all my attention on my own self-hosted PlanetJune shop, and that's where I see the bulk of my sales.
I maintain my Etsy shop, but only for advertising purposes, as many people search for patterns on Etsy and I want mine to show up in their searches. (I think of my Etsy fees as my advertising budget.)
My ArtFire shop is still open, but I don't have time to maintain it and I'm in two minds about keeping it open – do I really need a third shop? (No.) But then, you can easily import Etsy listings into ArtFire, so I could update my shop relatively easily… I'm still on the fence about this one!
I closed my Ravelry shop, but continue to list all my patterns in their database with links back to my own shop, so my patterns show up in all the Ravelry searches, but I don't have to maintain yet another shop.
I closed my DaWanda shop, as I just didn't have time to add all my listings. Also, accepting payments in Euros was a hassle, and many customers didn't speak English, which made communication difficult.
I haven't set up a Craftsy shop, because my business strategy is to bring everyone to my own shop. The only thing Craftsy could offer me that I don't already have is access to their customers, and for me, the work in creating and maintaining my presence there isn't justified by the potential sales.
Those reasons make sense for me, but won't necessarily apply to you if you don't have a high-traffic website, you sell patterns but don't have an instant download option, you don't want to do any coding, you live in Europe, you just sell your work as a hobby, or countless other factors…
In Conclusion…
I hope you can see that there really is no one-size-fits-all solution here: every option has its advantages and disadvantages, and you need to decide what's best for your unique situation, based on your business goals, your location, the type of products you sell, your technical ability, your budget, and the time you can invest – both initially, to create your shop(s), and then on an ongoing basis, for maintenance and processing orders.
Using an online craft/pattern marketplace has many advantages: it's easy to get started and to list your items, and you'll (hopefully) get lots of traffic via people searching that site. On the flipside, the costs are higher, people tend to associate their purchases with the site ("I bought it on Etsy/Ravelry") instead of with you ("I bought it from PlanetJune") so it's harder to build brand loyalty, and you'll have direct competition in the search results from other sellers who may offer similar products at lower prices.
Setting up a shop on your own site, with a simple PayPal cart or dedicated eCommerce software, means that you have fewer costs, less direct competition, and people know they are buying from you. The downside is that, if nobody knows about your shop, nobody will visit, so the onus is on you to spread the word. That's really a subject for another post, but you can do this by: writing a blog with useful content that people want to read and share; making sure your site shows up in Google searches; being active on social media; handing out business cards with your web address; or countless other marketing strategies. The best-looking and most functional shop in the world won't do you any good if nobody sees it…
Where and how you sell online is a big decision, and it's worth taking the time to compare options and find the right platform for you before you delve into setting up your shop – it's a lot of work to change to a different storefront and set up all your item listings again, and you don't want to lose your existing customers by moving to a new web address.
If you're considering selling online, or already have a shop but wonder what other options are available, I hope you've found this summary useful!
---
Have you used any of these options, or something different? What were the results? I'd love to know your online selling venue recommendations; for or against! Please feel free to share your thoughts and experiences in the comments…