No, I haven't posted for a while. I have been crafting, but everything I'm working on is a commission or a submission and so I can't show you anything for a while yet. Here's a teaser of my latest finished work: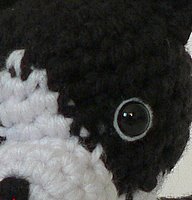 More on that in a couple of weeks…
Working with the black yarn proved difficult: I used to keep a large spotlight on a side table next to the sofa that I would keep trained on my work whenever I crocheted. In the new house, the layout is different and I don't have a side table for the spotlight. I thought I would try a Crochet Lite hook – I've been wondering about it for months, but they are expensive and I wasn't convinced how well they would work.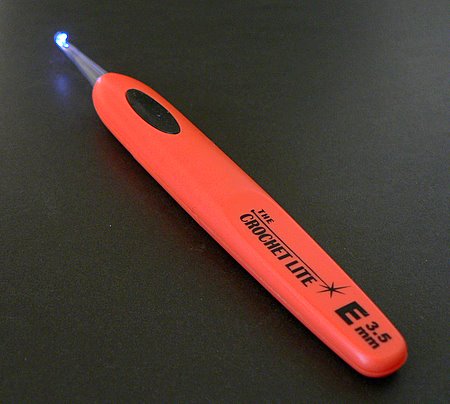 I bought the size E. The handle is an icky orange colour, but I found it very comfortable in my hand. The hook was smooth and easy to use (although I prefer metal hooks in general), although it did squeak a bit against my acrylic yarn! Now onto the important part: the light. It really works! The bright blue-white LED light shines directly out of the tip of the hook, so I could easily see where to insert my hook, even with black yarn.
My hook was $11.99 (Canadian dollars) from Michaels, but I used a 50% coupon to bring it down to a more reasonable price. I only wish they sold the hooks with interchangeable tops, so you would only need to buy one handle/battery unit for all the different hook sizes. I would definitely consider buying more Crochet Lite hooks, but I'll have to think carefully which sizes I really need – I can't justify buying a full set! I think H and maybe G would be most useful for me.
---
And in other news, my trade with Jen is complete! I received my gorgeous new handmade purse and tote bag this week. The bags are beautifully made, with full lining and interior pockets. I love the colours and patterns of the exterior fabrics too, and the generous sizes are going to be really useful for me – I can't wait to start using them!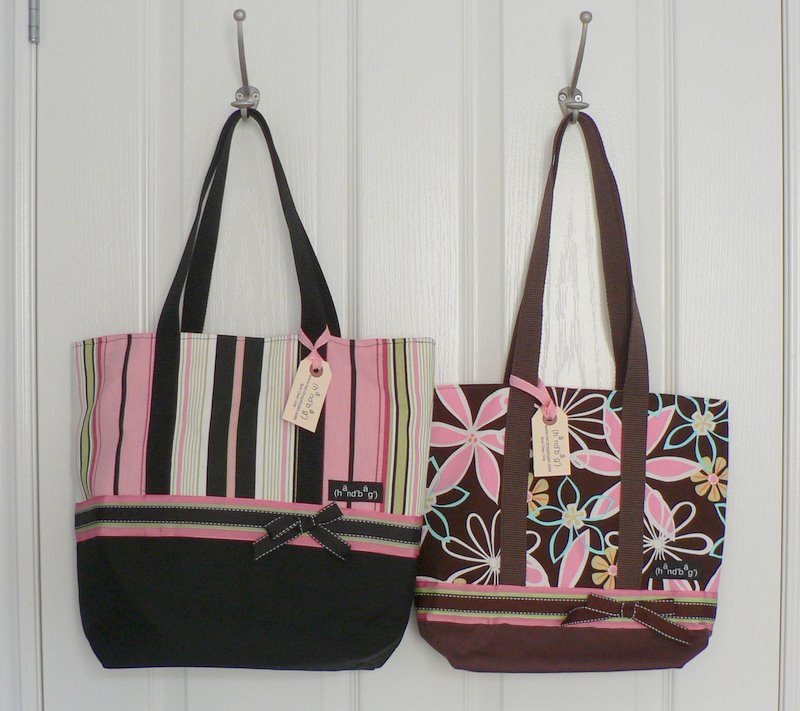 If you're in the market for a new bag, I encourage you to check out Handbags By Jen!