Mmmm, muffins. What's not to love about a muffin? Delicious, convenient, and… did I mention delicious?
Of course, a regular muffin usually contains between 10 and 25g of fat, which takes the edge off the pleasure of eating it. Low fat muffin recipes are a lot healthier (e.g. my Quaker Low Fat Banana Muffin Mix contains 1.5g fat per muffin) but tend to be a bit light and unsatisfying, and lack the moist, heavy goodness of a regular muffin.
I have a solution to make a healthy muffin that really does taste good! Mix your low fat muffin ingredients as directed in your recipe or mix packet, then add some magic ingredients (quantities below are for 12 muffins; if you are making a different number, adjust these amounts accordingly):
1/2 cup apple sauce
1/3 cup wheat bran
1/2 cup fruit or chocolate chips (e.g. I like to use raisins or fresh blueberries)
Add these to your mix, then spoon it into your muffin pans and bake as directed. (You may need to add 1-2 mins to the regular cooking time.)
Et voila…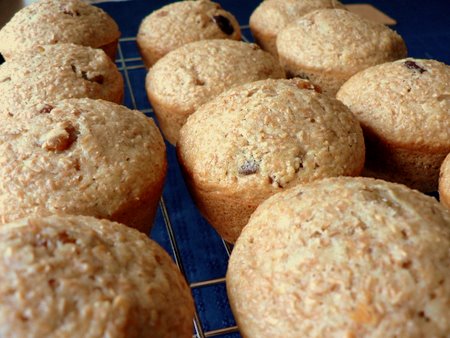 Mmmmm, fresh banana raisin muffins… Are you hungry yet?