September is over which means I'm back from my mini sabbatical, which went by in a flash – did you even have time to miss me?!
I achieved some major goals: an amazing trip to Malaysia (I'll share that with you when I've finished sorting through the 2000-ish photos I took…) and some big technical improvements with the shop (I'll tell you about those in a later post too).
And then I hit a snag: I was stricken with first a bad tummy bug (while travelling), then a cold (probably caught on the long journey home) and now I have bronchitis, so I'm not at all rested and revitalised as I'd expected to be after this time away from you. The best laid plans…
While I do have several new and exciting patterns in the works, nothing is anywhere near ready to publish, and I think I'm going to have to pass on designing any new Fall- or Christmas-themed patterns this year. I know it seems like a wasted opportunity, but my designs take inspiration, time and a clear head to develop and I don't have much of any of those right now – being awake coughing all night will do that to you!
Fall CAL
However, I do already have a million and one designs (approximately), so all is not lost. 😉
This month's crochet-along theme is all things fall, halloween and autumnal, from cute and spooky amigurumi, to seasonally-appropriate accessories. You can choose from any PlanetJune patterns and the patterns from both my books, provided they fit the theme (either as-is, or with your own customizations). Here's a selection of ideas to get you started: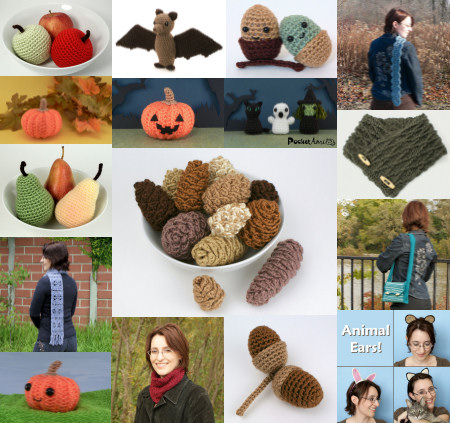 Note: This photo doesn't even include all the PlanetJune options, let alone any pics from Idiot's Guides: Crochet – if you've already bought the book, you'll know there are lots of seasonally-appropriate options there too!
I hope you'll join us in the PlanetJune ravelry group for the Fall CAL this October 🙂
Book-Along CAL Report
The vast majority of entries in the Book-Along were made from the patterns (and creative uses of the stitch patterns) from my new book, Idiot's Guides: Crochet. It hasn't even been out for 2 months yet, and it's an amazing feeling to see it being put to such good use, and to see people taking my advice from the book and modifying my patterns to make their own gorgeous versions. Here's a sampling of the CAL entries (click the pic to see them all on Ravelry):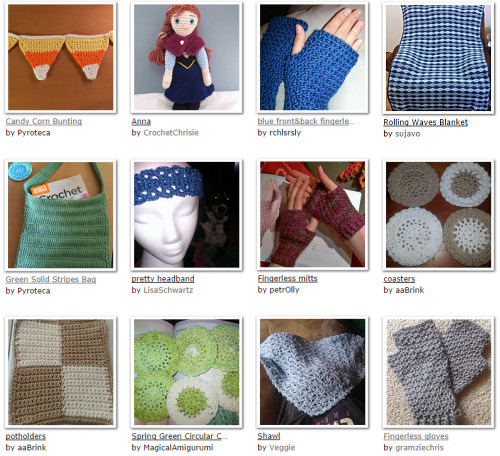 I'm going to start a new thread in the Ravelry group for future book projects – it's lovely to be able to browse through and see what everyone is making.
Review and Win contest
You're automatically entered in the next monthly draw every time you write a review for a PlanetJune pattern you've enjoyed – and you'll also be helping future customers make an informed decision about patterns they are considering buying.
I have a bumper crop of winners to announce this month, as circumstances haven't left me time to draw any winners since May(!), so here are the whole summer's randomly-drawn winners:
June's winner is Jessica C's review of the ever-popular Baby Bunnies:
Very well-written pattern, easy to follow and with plenty of pictures to assist in placement of parts. They work up quickly and easily.
July's winner is Stacey H's review of the Baby Sea Turtle Collection:
I made several of these! This was the very first pattern I made. I actually learned to crochet so I could make this pattern! It was easy enough for a beginner!
August's winner is Peggy G's review of the classic Stegosaurus:
My nephew is dino-crazy, so I have made him almost every single one of June's dinosaurs. They are a huge hit with him and they are so cute and fun to make. Super detailed pattern makes them zero-stress. Highly recommended!
And September's winner is Chevelle G's review of my Gecko pattern:
I've been crocheting for just over a year now, but this was my first amigurumi project! I've been wanting to try my hand at it for ages, and when my fiance saw that I'd pinned this pattern from Ravelry to my Pinterest board, he fell in love and asked me to make him one! June's pattern was so straightforward and easy to follow, making it perfect for someone having a go at amigurumi for the first time. It was amazed to see it taking shape so fast – I had this little guy finished in just a few hours, and my fiance loved him! I can't wait to try more of June's patterns – they are detailed, easy to follow and full of photos that are a great reference. Thank you, June! 🙂
Congratulations to all the winners – I've emailed you to find out which pattern you'd like as your prize! And thanks to everyone who takes a minute to leave a review in my shop for a pattern they've enjoyed – please do keep those reviews coming…