Isn't it frustrating when external factors affect your productivity? There's an ongoing construction project happening on my street at the moment, and my house is filled with loud machinery noises all day long. I'm finding it hard to get much of anything done – there's nowhere I can go to escape this noise!
I like to work in silence so I can really concentrate, so this is proving to be a big problem for me. If you have any suggestions for coping with a noisy working environment, please leave them in the comments – thanks 🙂
Turtlemania CAL
The Turtlemania crochet-along is in full swing and I'm really enjoying seeing the large and small turtle blankets that have already been finished, for example: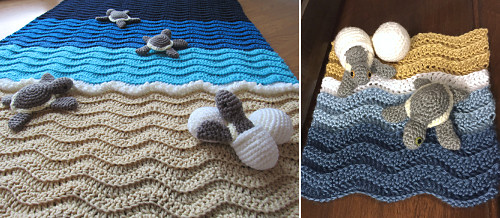 Photo credit: these lovely projects were crocheted by Ravellers jomeigs and sujavo
I'd love to see more baby turtles popping up in the PlanetJune Ravelry group – please come and share if you're making the turtles and/or beach blankets too! 🙂
Review and Win contest
You're automatically entered in the next monthly draw every time you write a review for a PlanetJune pattern you've enjoyed – and you'll also be helping future customers make an informed decision about patterns they are considering buying.
I didn't do a draw last month, so today I'm drawing the winners for both February and March: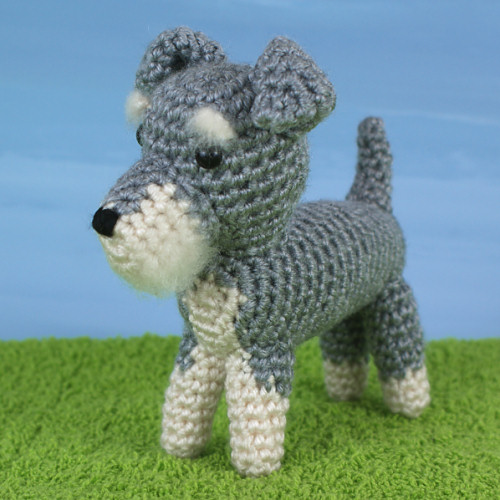 February's winner is Virginia B's review of my AmiDogs Miniature Schnauzer pattern:
I needed a schnauzer pattern to make for a friend of my daughter's. Found the perfect one on Planet June. Very cute. After I downloaded the instructions, I was very pleased with the clarity of the directions, the pictures included and even detailed assembly directions-quite a reasonable price and very professional. I have been crocheting for years and realized a good design when I saw it. I immediately ordered the cat pattern because it was even cuter and I have cats. Told my son about the website and he ordered June's book The complete Idiot's Guide to Amigurumi for me as a gift. It is also excellent and well written. Thank you June for your excellent patterns.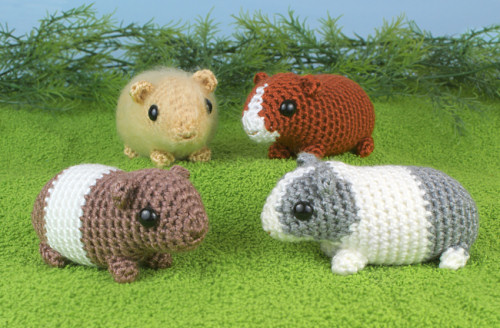 March's winner is Megan W's review of my Baby Guinea Pigs pattern:
I love this pattern! The guinea pigs are perfectly chubby and I have a whole family of them! The pattern is very well-written and helps you place the eyes and the legs in the right spots!
Congratulations, Virginia and Megan – I've emailed you both to find out which pattern you'd each like as your prize!
What's Next?
My Horse design is just about finished and looking good. I'm working on the pattern, and my next challenge will be to figure out the wings for my Unicorn and Pegasus Expansion Pack! All being well, the patterns should be ready in the next few weeks, so look out for them soon 🙂