I always like to experiment and see if there are ways to improve amigurumi techniques to give better results, and today I have a new one to share with you.
Back loop only (BLO) stitches are often used to add detail in amigurumi designs, particularly for turning sharp corners. For example, look at the bottom of a crocheted plant pot (where you turn a sharp corner from the base of the pot to begin the sides) or the bottom of a foot (where you turn from the flat base to the side of the foot).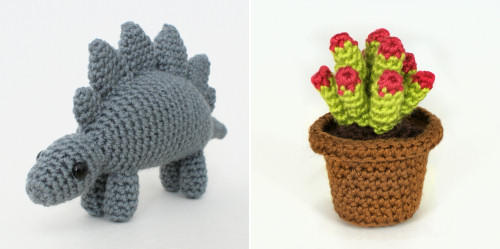 Stegosaurus and Succulent plants both have a round of BLO around the bottom edge (of their feet and pot, respectively)
But BLO stitches are looser and more open than standard stitches worked in both loops, so the corner round will lose the solid, firm fabric of the rest of your amigurumi. My new modified BLO technique solves this problem!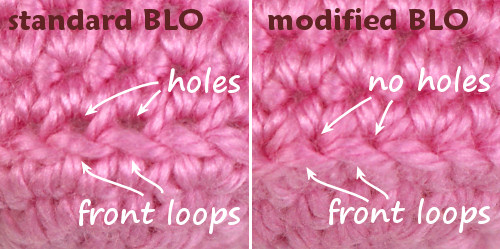 The holes above the unworked front loops are eliminated with my technique
Now, before we get started, I should explain what this technique is not: this is not a new method for patterns that are worked in BLO throughout. Using it in that way would change the shape of the finished pieces (more about that later).
This technique is best used to replace occasional BLO details in a piece worked in both loops, e.g. the round of BLO stitches used for turning sharp corners in amigurumi patterns. Just as you can replace a "ch 2" start with a magic ring, and an "sc2tog" with an invisible decrease, you can replace that round of BLO with my modified BLO (in any amigurumi pattern) and it'll give your amigurumi a much nicer result.
What's wrong with BLO?
The problem with BLO stitches compared with stitches worked in both loops is that they can easily stretch open. When you're making amigurumi, where the stitches are stretched by the stuffing, this results in taller stitches with larger gaps between each round.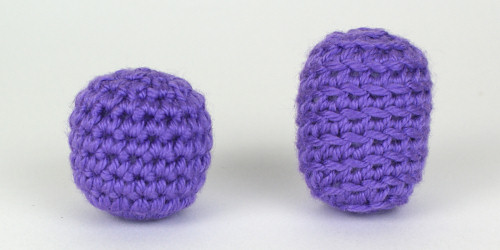 L-R: sc worked in both loops, sc in back loops only
(I discussed this in more detail in my tutorial Front Loops, Back Loops, Both Loops.)
Why Use BLO?
But BLO has several uses as an accent in amigurumi designs, for example:
to add textural detail with the unworked front loops
to add anchor points for additional stitches worked back into in the unworked front loops
to turn sharper corners than you can achieve with regular single crochet stitches
This last one is the main use of BLO in amigurumi, and the situation that you can most improve with my new technique! Although BLO makes a nice corner, it does leave the fabric looser and more floppy around that round, because the stitches can stretch open.
A Better BLO
When you look at a single crochet stitch, you usually work into both the front loop and the back loop at the top of the stitch:
But, if you rotate your work forwards a bit, you can see that there's another horizontal bar just beneath the back loop, at the back of the stitch (below, left).
To improve the appearance of your BLO, work each stitch into both the back loop and this back bar (below, right).

Are you left-handed? Here's how it'll look for you:

You can see the stitch in action in the videos below:
Video Tutorial (right-handed)
Video Tutorial (left-handed)
Note: The videos may look a little small embedded in the blog: if so, you can fullscreen them or click through to YouTube (links: right-handed; left-handed) to watch them full-sized 🙂
Stitch Comparison
So you can see the difference this technique makes, let's compare the modified BLO stitch with a standard single crochet (worked in both loops) and a standard BLO single crochet.
I've crocheted the same sample 3 times, once using each stitch.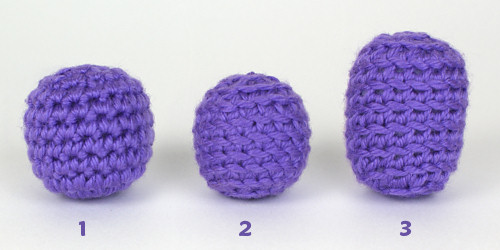 #1: single crochet in both loops
#2: modified BLO single crochet
#3: BLO single crochet
As you can see, the modified BLO does not stretch out like a BLO stitch; the stitches are much closer in size to a standard single crochet (although very slightly smaller still, as the stitches are tighter).
Comparing the BLO and modified BLO in close-up: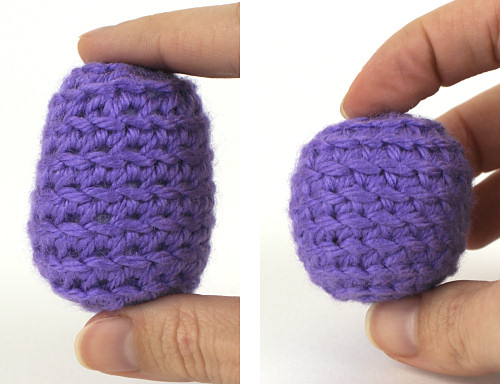 Left: BLO; right: modified BLO
You can see that the gaps that result from standard BLO stitches are eliminated with this technique, and the stuffing doesn't show through between the stitches.
So this modified stitch is a much better match for a standard single crochet, as it keeps the tight, solid appearance of a regular amigurumi, and doesn't leave any unwanted gaps.
Caveats
Do not use this technique for a piece designed to be worked in back loops only. As you can see, using the modified BLO stitch with a pattern designed to be worked entirely in BLO would give the same problem as working the pattern in both loops – the shape would be compressed vertically.
I recommend you use this technique only as an accent stitch for pieces crocheted predominantly in both loops. (The only reason I crocheted the above sample piece entirely in modified BLO is to give you a clear way to compare the differences between the size and shape of the stitches.) This stitch is more difficult to work than either standard or BLO single crochet, because the back bar is tighter, so I don't suggest you ever crochet an entire piece using this technique!
In Practice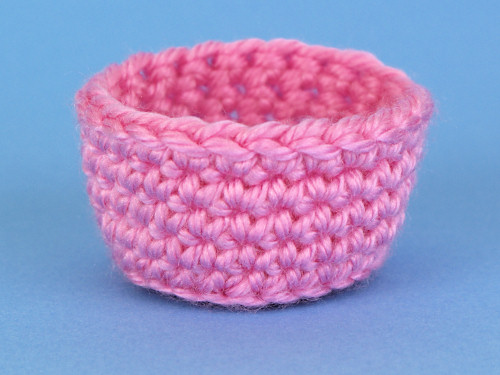 I crocheted this little amigurumi-style pot as a sample to demonstrate this technique. The corner formed by the modified BLO round is neat and firm, and it's actually a little sharper than the corner you get from a standard BLO stitch.
Conclusion
You can safely use the modified BLO to replace a single round of stitches (or any number of individual stitches) worked in back loops only in any amigurumi pattern.
It prevents the gap from forming below each BLO stitch as the fabric stretches, and it maintains the firm solidity of the amigurumi fabric throughout your piece.
While this isn't an essential technique, it's another 'upgrade' you can use with any pattern (like my invisible increase) to improve the look of your amigurumi.
I know I'll be using it for all my BLO details in future, and I hope you'll enjoy it too!
---
Do you find my tutorials helpful? If so, please consider making a contribution towards my time so I can continue to create clear and concise tutorials for you:
Thank you so much for your support! Now click below for loads more crochet video and photo tutorials (and do let me know what else you'd like me to cover in future tutorials…)