Don't miss the launch discount, at the end of this post!
I'm not even sure where to begin this post, as I have so much I'm excited to show you… I'll just dive straight in:
Horse crochet pattern
First, the pattern that started it all – my latest commissioned design, for a Horse, is now complete: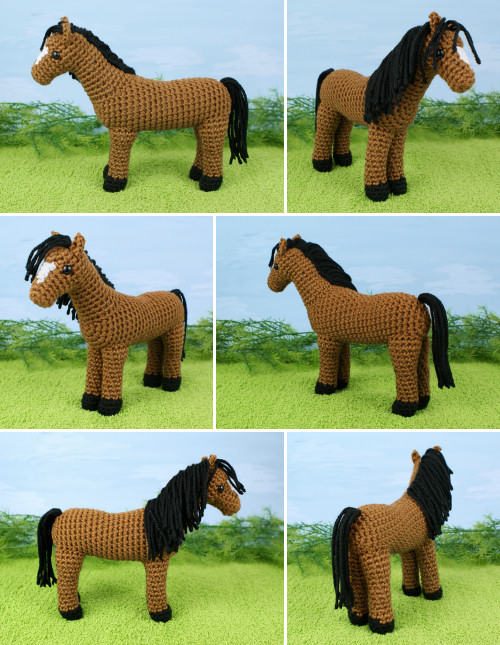 My horse has a sweet face, a realistic shape and bay colouring. In addition to detailed assembly instructions, this pattern includes two amazing new techniques to make a really special mane and tail:
The mane is thick and full, and the strands are attached neatly and firmly.
The tail hangs beautifully with no knots or visible attachment points.
Both techniques require no additional materials and are explained in full in the pattern, with lots of step-by-step photos so you can make a perfect horse!
Unicorn and Pegasus Expansion Pack
And, of course, having a horse design opens up a whole world of possibilities for other designs, and I couldn't wait to add a Unicorn and Pegasus Expansion Pack for the Horse. And I'm so thrilled with the result – I hope you agree!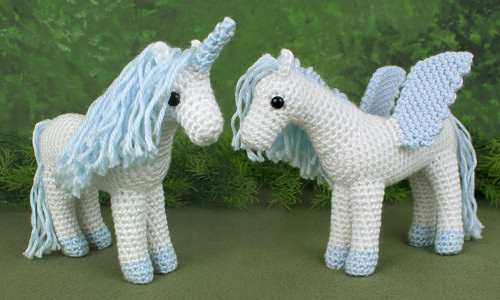 What is an Expansion Pack?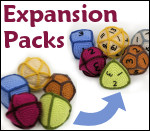 An Expansion Pack is an add-on to an existing PlanetJune pattern.
The Expansion Pack lets you modify or add to the original pattern to create something else.
You cannot use the Expansion Pack alone – you must also purchase the original pattern in order to be able to complete the pictured items in the Expansion Pack pattern.
This Expansion Pack lets you convert my Horse into a Unicorn, a Pegasus, and/or an Alicorn (that's a winged Unicorn – or a horned Pegasus if you prefer!) – so you actually get three options in one Expansion Pack: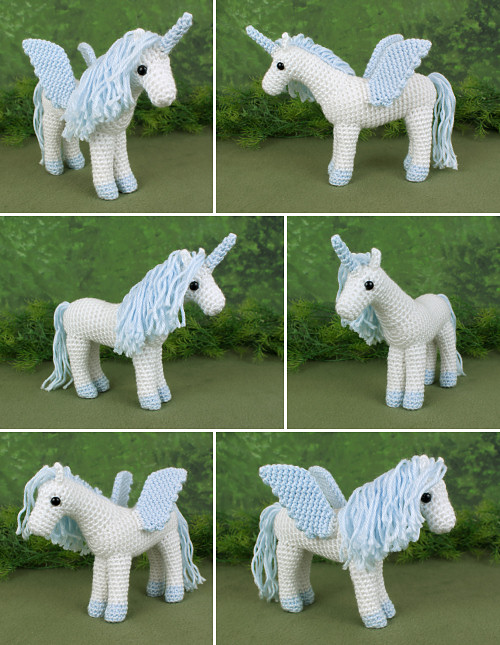 I'm especially pleased with the elegant wings – they're a combination of sturdy and decorative, as they're stiff enough to stand up by themselves, while still looking delicate with the feathered edge.
Hoofing It CAL
In honour of the new patterns, we're starting a new crochet-along in the PlanetJune group on Ravelry – you can make any of the new designs, or any other PlanetJune designs with hooves (see the CAL thread for the full list). The CAL runs right through till the end of July, so you have time to make one of each if you want 😉
I hope you'll join us – I can't wait to see everyone's horses, unicorns etc!
Links to Buy & Launch Discount
As with all my Expansion Packs, you can buy the patterns separately (although please note that you do need the base Horse pattern to be able to make a Unicorn or Pegasus), or there's a discount when you buy both together.
But to sweeten this deal even more and give you an incentive to join the CAL right away, I'm offering an additional discount on the Multipack Set (Horse, Unicorn & Pegasus) if you buy within the next 7 days, so you can get all three for only $7.50 – that's only $2.50 per pattern!
So, here are your options:
Or, if you're not ready to buy yet, click through to Ravelry and favourite/queue them so you won't forget about them!
Horse:
Unicorn & Pegasus: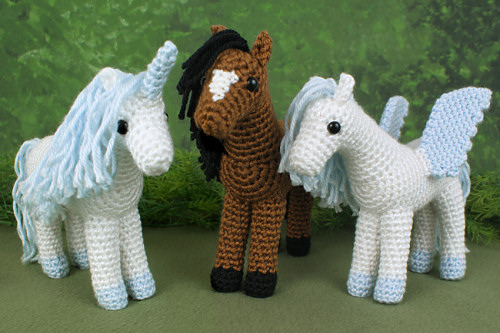 Can you resist these sweet faces? I hope you love these designs as much as I do – please leave me a comment if you do! Which will you be making first?