While I was in the UK, my sister handed me a piece of fabric (a gift from Jodi) and asked me to make it into something for her. We decided a makeup bag would be a good choice for the cute fabric, and I had the brainwave of adding a layer of clear vinyl over the lining, to protect the lining fabric from getting makeup smudges all over it.
I used splityarn's zippered wristlet tutorial because it's worked out for me before, but I skipped the wrist strap and layered a piece of thin clear vinyl over the right side of each lining piece before assembling the bag.
It was… not easy. The vinyl wanted to stick to the base plate of the sewing machine, and kept moving with respect to the lining fabric. It was really tricky to keep all the layers in position to sew the bag together. About halfway through, I realised that sewing the vinyl to each lining piece (around the edges within the seam allowance) before I started would have kept the pieces together – isn't hindsight great?!
But I struggled on, and eventually finished the panda bag. And now I see that the vinyl lining, because it is clear, doesn't show up at all on any of my photos! But trust me, it is there, and the panda faces on the inside will be protected 🙂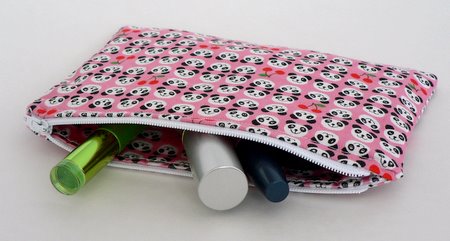 And then – the very same day – I saw Jessica's post about iron-on vinyl. It would have been perfect for my project, had I only known it existed a day earlier… So, if you decide to make a clear vinyl-lined bag, I recommend you try the iron-on vinyl, if you can find it, and make your life easier!
Dawn: hope this is what you had in mind! I'll send it to you soon xx