I'm so glad you guys like my tiny designs! I unfortunately don't have the time to reply to every blog comment I receive, but I always reply to any questions you ask in the comments (either by e-mail or on the blog, if I think it's something others may want to know the answer to as well). And want to assure you that I read and appreciate every comment I receive. Thank you, and please keep on commenting!
Thanks to your feedback, I've decided these tiny crocheted animals will be a new range of patterns, and I have a new theme in mind (although no name yet – I'm working on it). Here's the latest mini ami: a teeny tiny mouse. I'm keeping him away from my cat, as I think, especially with a little catnip inside, this would make a very tempting cat toy (with yarn or felt eyes for safety, of course)!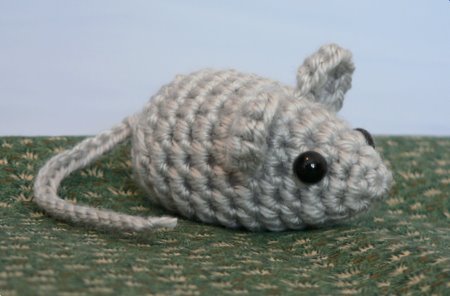 Like the others, he's only about 3″ long (plus tail) and he is super simple to make.
I'll let on what the pattern theme for these little ones will be when I've come up with a couple more designs. Any preference over whether you'd like them to be released individually or as value-priced sets (or both)? Let me know – I love to get your feedback!
UPDATE: Looking for the pattern? You can find the PocketAmi Set 1 crochet pattern in my shop.