This post is part of my occasional series of photoblog posts about the wildlife and nature I see while living in South Africa.
Whale photography isn't easy. Even though whales are huge, they don't typically come close to shore, and they don't often reveal more than a small glimpse of their bodies above the water. The best time of year for whale-watching in South Africa is around September-October, when the Southern Right Whales come into False Bay (the large bay to the east of the Cape Peninsula) to calve in the safe, shallow waters. But, even then, and even with a decent zoom lens, your best photos will likely look like this: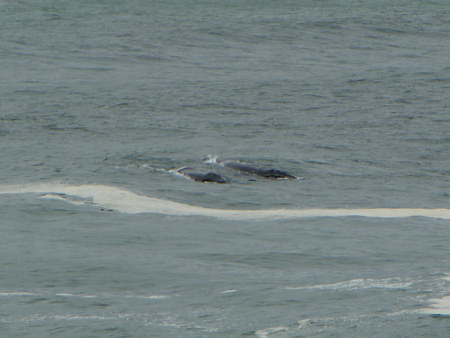 Yay – it's a mummy and baby whale! (Yeah, you'll have to take my word for that…)
They sometimes leap out of the water, but, by the time you have the camera ready, they've gone again. Even if they come ridiculously close, like this, you'll have an amazing experience, but your photos will just show a dark grey blob in the water: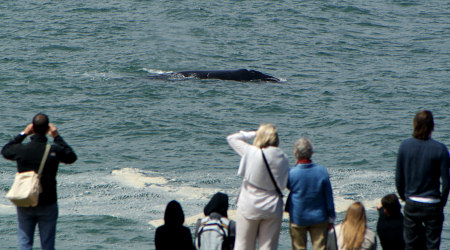 Is it a whale? A submarine? Driftwood?
You can see my first season's attempt at whale photos in my previous post, but last year (our second whale season) we got very lucky with some very close-up views of the baby whales.
I could claim that these photos show a parent and baby, but I have no idea if that's the case. Still, this is a baby whale tail: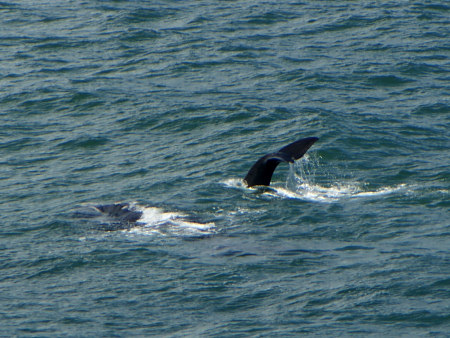 …and this is a definitely a spouting blowhole!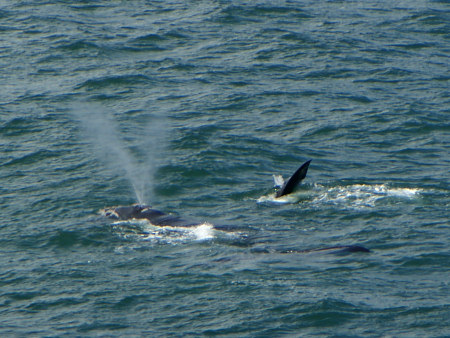 Then we went for lunch, and somehow snagged an upstairs open-air seaview table, so I had a great vantage point when one of the babies started playing, leaping out of the water over and over again! As the photos don't give the full effect, I've also assembled a couple of my photo sequences into looped animations for you, so you can get a better idea of the exciting whale-watching experience:


Baby whale animation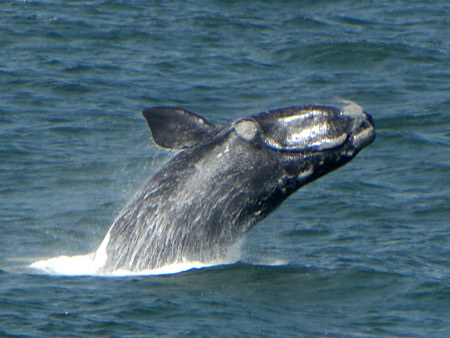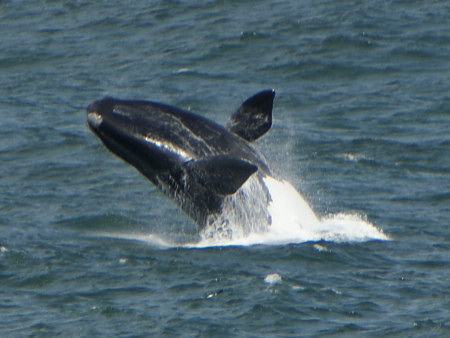 It looks a bit like an orca (killer whale) with that black and white colouring, doesn't it? (Which is topical, as I'm just putting the finishing touches on my orca crochet design – it's really nice to have some real-life whale experience to inspire me!)

The orca resemblance ends with the colouring – the Southern Right Whale is more than twice the size of a killer whale, at an unimaginable 15m/50ft long! In fact, these babies I've shown you are already about the size of adult orcas when they are born…
A little Southern Right Whale trivia: this giant of the sea is a baleen whale; it has baleen plates instead of teeth, and feeds by filtering seawater through the plates, trapping thousands of tiny krill inside its mouth.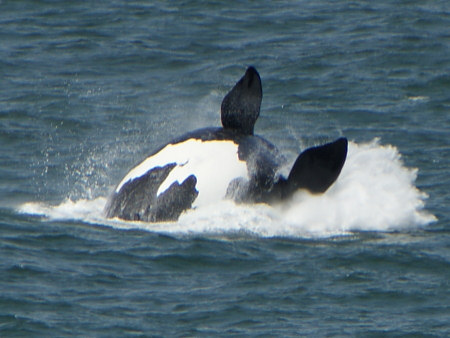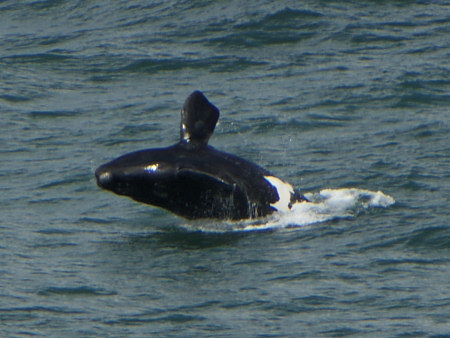 I don't know if I'll ever get better whale photos than these, but I'm looking forward to trying again this year when the next whale season comes around: even if my next photos are terrible, having the opportunity to see whales up close is something to look forward to every year. They're so unbelievably huge, it's hard to comprehend it, and seeing these graceful giants in their natural habitat is a real privilege.
I hope you've enjoyed this wildlife post! Please do leave me a comment if so – I do love to hear from you…