It's Donationware time again! I've created a set of 2 beautiful shamrocks for you to crochet for St Patrick's Day, or any time you want a splash of green in your life.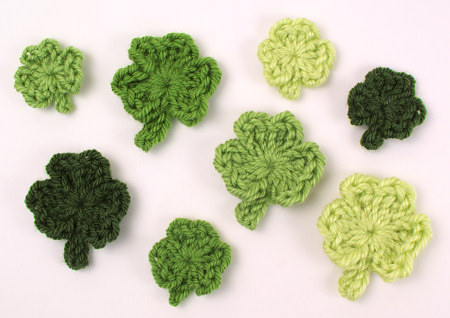 Shamrocks is a clever little pattern to make sweet shamrocks with a dimensional 3D effect, in two sizes: a realistically-shaped design, and a tiny miniature version. String them into a garland, attach one to a greetings card, add a pin back to make a cute brooch or lapel pin, or layer them for a novel look.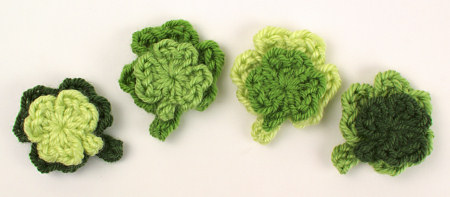 This pattern comes a few days later than I'd planned, thanks to a catalogue of disasters including broken internet at home (I'm currently in Dave's office so I can actually post this!) but luckily, my shamrocks work up in minutes, so you still have plenty of time if you're planning on some St Patrick's Day decorations.
If you've made my ever-popular Love Hearts pattern, you'll have no problem making Shamrocks – just like the Love Hearts, all the stitches of Rnd 1 are worked directly into the magic ring. The difference with the Shamrocks is that both sizes of shamrock are completed in just one round each, which makes them very, very quick to complete! I timed myself making the Mini Shamrock and it took 90 seconds (excluding weaving in the ends)…!
I really love this pattern – I hung the garland over my fireplace for this photo, but now I think I'm going to leave it up there for a while; it's just so cheerful!

As I like to reward people who chose to donate for my donationware patterns, the PDF version of this pattern includes bonus crochet stitch diagrams for both shamrocks, in both right- and left-handed versions. As always, the pattern is free for you to use, and you need only donate if you'd like to thank me for my time in creating it, or if you'd like the easy-to-print PDF version.
I hope you enjoy my Shamrocks pattern!
Go to the Shamrocks pattern >>
Crochet-Along with us…
And here's a bonus – a Shamrock is a definite sign of spring, so that means you can enter your crocheted shamrocks into this month's Spring/Easter CAL – and maybe win the Suncatcher Eyes CAL prize! Check the PlanetJune Ravelry group for all the details 🙂