PocketAmi Re-releases
My pattern re-release project is making progress, and today the PocketAmi (individual Sets 1-6 and the multipack deal of Sets 1 & 2) are all available in the new format, and any you've previously purchased are ready for you to download! Log back into your PlanetJune account at any time in the next 2 weeks and you'll see the download buttons for all your past PocketAmi pattern purchases have been re-enabled, so you can click and download the new versions.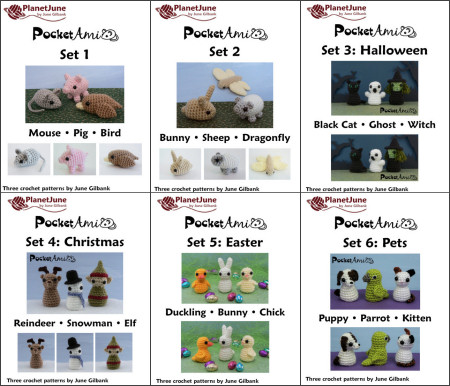 If you have any questions about the pattern reformat project, or you received the patterns through a different mechanism (and so don't have an order for them in the PlanetJune shop) but you'd still like the new versions, I've set up a Pattern Re-Release FAQ that should answer all your questions. I'll keep it updated throughout this project and add any further questions that arise.
Craft Business Help
I've amassed quite a collection of helpful information posts on various aspects of running a craft business, but I just realised they aren't too easy for you to find, as my Craft Business category also included posts about my own business. To solve this, I've separated the old Craft Business category into My Craft Business and Craft Business Help. Now you'll easily be able to find my helpful articles! Craft Business Help includes my advice on:
…and more! So if you'd like my advice that may help you with your craft business, check out the Craft Business Help category from the Categories menu in the right sidebar, or the Blog > View by Category menu at the top of this page 🙂
Stash Replenishment!
You may have guessed that one of the hardest things for me about living in South Africa is the lack of access to the craft supplies I'm accustomed to. So I took full advantage of my husband's business trip to the US and restocked my stash a little – two years with no shopping is a very long time, so I had some catching up to do (within the limitation of suitcase size)!
Now I have new needles, hooks and notions to play with…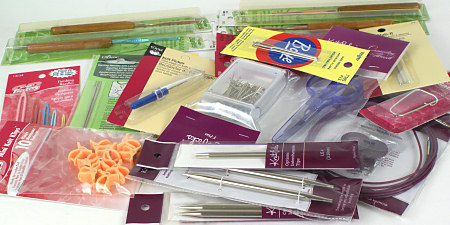 New yarn shades for future amigurumi designs…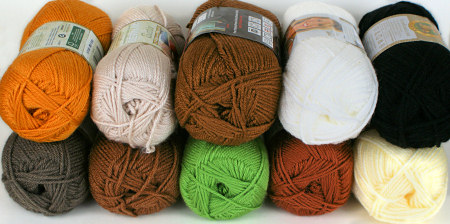 And some yarn for new accessories…

Actually, the KnitPicks Reverie yarn (fluffy baby alpaca!) on the right is destined to become my next knitted sweater, but I don't have any specific plans for the rest as yet. The funny thing is that I ordered my non-amigurumi yarn over several weeks from several different online shops, and I had no idea until I unpacked Dave's suitcase that I seem to have something of a teal obsession going on – I picked all my yarn from the same colour family without realising it! I guess that means you can expect to see several new teal-coloured PlanetJune Accessories popping up over the coming months/years…
Review and Win contest
February's 'Review and Win' winner is Sara T, with her review of my Baby Cephalopods 1: Octopus & Squid: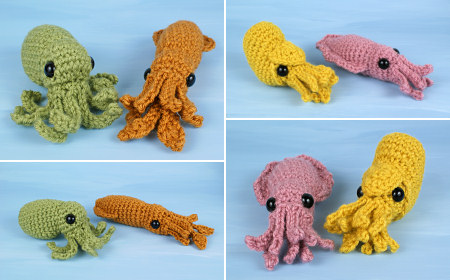 Baby Octopus & Squid are on the left in these photos.
These are so much fun!! Directions are clear with lots of pictures, and the finished products are adorable. They worked up for me in about an hour and a half, and they are the cutest cephalopods I've ever seen! I am very satisfied with these patterns.
Congrats Sara – I'll email you to find out which pattern you'd like as your prize 🙂