My recent post inspiration/influence vs copying: drawing the line started quite a discussion! I've been answering questions in the comments of that post, but copyright is a huge and many-sided issue, and I'm not an expert by any means – I just know what I personally want in regard to my copyright from three different angles:
My designs: don't copy them
My patterns: don't share them
Items made from my patterns: yes, you may sell them, provided you give me credit as the designer
Another interesting topic has emerged from the comments, and I thought I'd address that today: the process of designing. Although I shared my research process in the previous post to demonstrate how much 'behind the scenes' work goes into my designs, I also hoped it would be of interest to other designers, and it seems that it was. Owein commented:
This post has another very helpful purpose for me. It is a rare treat to see a talented artist's design process. I would never try to illegally copy any of your designs, but I hope you don't mind if I emulate your process of producing a design. In fact, I'm sure there are a few blanks that you could fill in if you were to produce a post that outlines your entire design process. I know that was not your original intention, but it is a help to those of us who would like to design unique products of our own.
Now, I can't share my actual design process – the part that takes you from all the information and pictures I showed in the previous post to my design sketch, because it all happens inside my brain, and so it must work differently for each person. But what I can share is the factors that I balance to produce my designs. These tips don't apply to only amigurumi designers: this basic process applies to whatever you're designing, be it patterns, handmade products, or inventions/designs to be commercially manufactured.
---
Tip 1: Research, research, research
You can never have too much information in the back of your mind when you design. Unless your design is purely fantastical, knowing as much as you can about whatever you're basing it on can't hurt, even if your design style is miles away from realistic. Do a Google image search, check Wikipedia, visit some official or fan websites about the subject matter for your design, and maybe even consult a book or two – your local library can hold some amazing reference sources.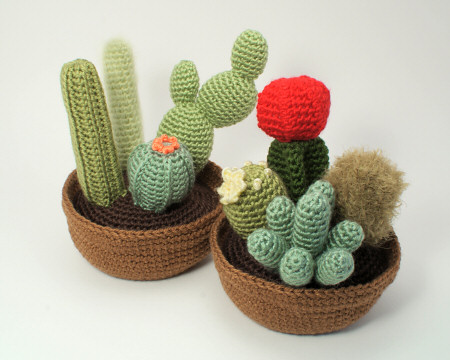 Example: Before I started work on my Cactus Collections (right), I visited several cactus websites to get a feel for different types of cacti, and I checked out half a dozen books on growing cacti from the library. After identifying some basic cactus types, I used the books and more websites to do more detailed research on each type.
The research stage also includes checking up on what's already out there, not with the intent of copying it, but more to make sure that your amazingly original design doesn't already exist. If someone else has independently come up with the same idea, you can still go ahead and make your own version, but wouldn't it be better for you as a designer to tweak yours a bit so it's more distinctive? Not only will this avoid any possible future accusations about copying etc, but you don't want somebody to confuse your work with the pre-existing one and maybe buy from that person instead of you!
Example: Before starting my Pteranodon design, I looked for existing knit and crochet Pterosaur patterns (above), so I could make sure my design would be original.
Doing this step before you get too deep into your own design gives you a chance to avoid the similarities before they occur.
---
Tip 2: Find and follow your design aesthetic
The aim isn't to make your design photo-realistic (unless photo-realism is your trademark style), but to convey the idea in your own style – this is where your inner artist gets to play.
You may not want all your designs to reflect exactly the same style, and of course your style will change with time, experience, and new inspirations, but however many 'looks' you develop, they should all be part of your overall style. It'll help you to find recognition if your designs aren't too eclectic and have some common stylistic elements between them. Ideally, you'd like people to be able to look at a photo of your work and say "oh, that must be a XXX design – I love his/her stuff!".
If you're just getting started in designing, you may not have figured out your own distinct style yet – it takes time.

Example: Here are some of my first designs. It's pretty clear when I decided to do my research (below) instead of designing purely from images in my head (above) – that's when my style began to evolve beyond cute (but generic) toys.

You can work on developing your style with research too: try looking at photos of your favourite stuff (Pinterest is a great way to keep track!) , and figure out what it is about each that especially draws you to it. I get inspiration from other handmade work, photos of nature, products I see in shops… there's inspiration all around if you look for it. Then look for common elements or links between the things you like, such as colour palettes, scale, level of detail and embellishment, etc etc.
The more you know about what you like, the easier it is to reflect that in your work.
---
Tip 3: Consider the finished product and its purpose
For example:
Is it a pattern for others to follow? Then you need to balance the detail of the design with the ease for other people to follow it. The most wonderfully detailed design is no good if your customers give up halfway through in frustration.
Is it a toy for young children? Then you need to consider what is attractive to a child (bright colours, simple shapes) and avoid dangers (delicate parts, choking hazards)
Is it going to be mass-produced? Consider simple designs that can be produced with few pieces, or designs with pieces that can be created as multiples and then assembled separately, to save time.
The list could go on, but I hope you can see that there's a delicate balance between what makes a good design in a vacuum and what makes a good design in the real world. If you actually want to sell your pattern/product (whatever it may be), it has to be functional as well as aesthetically pleasing. That's why my art pieces (for example orang utan, Reepicheep) are far more detailed and complex than my patterns: a pattern for something like that would be hugely difficult and frustrating to follow.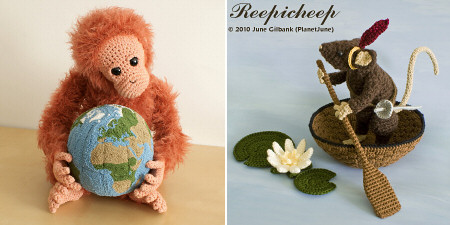 Example: Designing for function: my art pieces (above) would make terrible patterns! My pattern designs (below) are intentionally far simpler.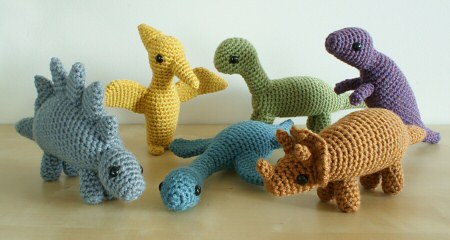 Just because you can create something complex doesn't mean you should (unless you're designing art and it has no purpose other than to look good and/or convey your artistic message). I made the design decision to be minimalistic with my Dinosaurs (only one colour, simple stylised shapes) and yet they have become some of my bestsellers, partly because the simple design makes them a pleasure to crochet.
That's not to say that all designs should be minimal – it'd be a boring world if they were! – just that what you leave out of your design can be as important as what you put into it. The trick is to figure out what to leave out, and why, by thinking about both form (appearance) and function (intended use).
---
Go Forth and Design!
If you've read through to this point and think you're ready to make designs that look just like mine, then you've missed the point. If you're serious about designing, you need to be original – the goal here is to create and develop your own distinctive style so that people will begin to recognise you by your work. I hope that following my tips above will help you along that path 🙂
Add your viewpoint! Join the conversation in the comments below…