I thought it was time for a little change of pace. My PocketAmi range is simpler than my usual designs, but they have that instant gratification factor – at only 3″ tall, they are super-fast to crochet and make excellent gifts for kids, or cute little ornaments.
I've already made 3 seasonal PocketAmi sets (Halloween, Christmas, and Easter) and I've seen how much you enjoy crocheting and modifying them from the Crochet-Alongs I've hosted with them! My new PocketAmi Set 6: Pets designs are along the same lines, but fun at any time of year. PocketAmi Pets includes a tiny but adorable puppy, kitten and parrot, all for one price.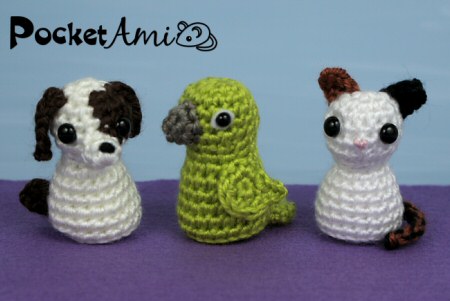 PocketAmi Puppy is cute little mixed-breed, with a brown patch over one eye. The pattern also includes a simpler version that omits the eye patch, for novice crocheters who aren't comfortable with colour changes.
PocketAmi Kitten has calico markings (but of course you can crochet her in any cat colours if you'd prefer!) and the tiniest little kitty nose.
PocketAmi Parrot is surprisingly detailed for an amigurumi only 3″ tall – just look at his parrot eyes and beak shape.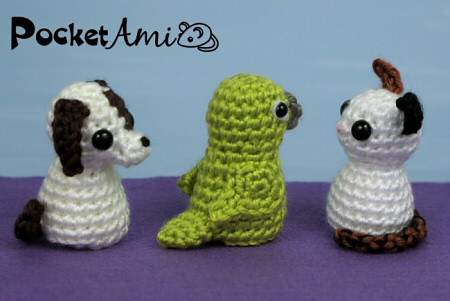 I hope you'll enjoy crocheting PocketAmi Set 6: Pets as much as I enjoyed creating the mini designs!