When I designed my Fuzzy Bunny & Chick pattern in 2007, I used Bernat Baby Lash yarn for the chick. It was perfect – a curly-lashed eyelash yarn with a thick yarn core in the perfect shade of chick yellow – but, of course, that yarn has long since been discontinued.
I stopped designing with novelty yarns in 2008: the frustration of yarn-specific patterns (yarn not being available to the majority of my customers worldwide, and then getting discontinued with no suitable replacement) means it's very rarely worth the hassle of using an unusual yarn in a pattern.
Still, my Fuzzy Friends patterns are good designs, and I've always felt it's a shame there are so few yarns that would be appropriate replacements to use with my sweet little Fuzzy Chick pattern. So, after a little experimentation, I've come up with two easy options so anyone can make a very, very cute Fuzzy Chick – maybe even cuter than the original, do you think..?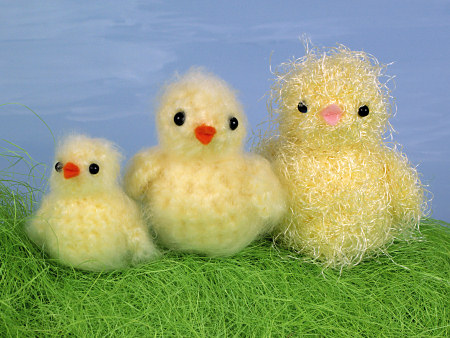 L-R: Tiny Chick, Medium Chick, Fuzzy Chick (original)
The best part is that the new Tiny and Medium chicks both use standard everyday worsted weight acrylic yarn, so you can just use the same yarn you do for normal amigurumi! (Specifically, I used Bernat Satin in Banana for both chickies.)
Tiny Chick is just over 2″ tall, and uses worsted weight yarn, an E US/3.5mm hook, and 4.5mm eyes.
Medium Chick is 3″ tall, and uses 2 strands of worsted weight yarn held together, an H US/5mm hook, and 6mm eyes.
You can also use the above yarn/hook sizes as a starting point for any of my other Fuzzy patterns, if you don't want to make them with a novelty yarn – this technique will work equally well with all of them!
A Miracle Brush
Let's pause for a moment so I can tell you about my new amazing amigurumi brushing tool. I've seen it called a Teasel Brush (UK), Nap Riser Brush (US), and Bunka Brush (Japan) – if you google each of these names you should be able to find a stockist in your country under one or other of the names. Basically, it's a very small wire brush with stiff angled prongs, used for brushing out the seams of teddy bears, brushing pile fabrics, or creating brushed areas in needlework or (of course) crocheted or knitted fabric. Some of these brushes slip over your finger, and others are mounted on a small wooden handle (like mine, below), but the prongs are the same in both cases.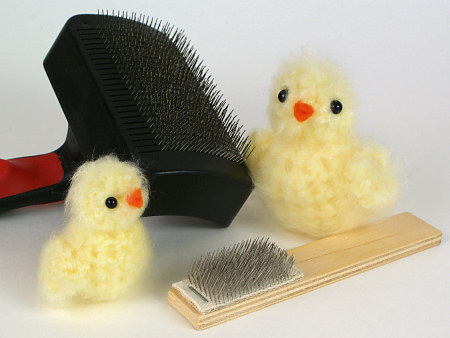 A small tool for a small job like a tiny chick makes all the difference – compare the size of my teasel brush (front) with the pet slicker brush (back).
Using one of these brushes follows exactly the same principle as using a wire pet brush to create brushed amigurumi, but, as it's far smaller than a pet brush, it's more suited to brushing detail areas and small amigurumi. I've left visible scratches in my thumbnail more than once when brushing my crochet with a large pet slicker brush, but, since I bought the smaller brush, I have finer control over where I'm brushing, and haven't scratched up my nails once!
Of course, it does take longer to brush the same size area with a smaller brush, so, as usual, it's your personal preference as to which type of brush is the best option. I'm happy to keep both in my toolkit now, and use the most appropriately-sized brush for the job at hand.
Making the Chicks
To make my chicks, I followed the original Fuzzy Chick pattern, together with the instructions from my Fuzzy to Brushed Crochet tutorial (you'll have already received the tutorial as a bonus PDF if you've bought any of my Fuzzy patterns) but I brushed the chick pieces for longer than I did the bear in the tutorial, to get them nice and fluffy. This should give you an idea of the process: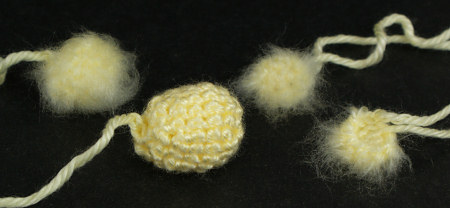 L-R: Head (brushed), Body (unbrushed), Wing 1 (brushed side up), Wing 2 (brushed side down)
As you can see, the pieces are very small after crocheting them, but the fluffiness adds to the size considerably after they are brushed. After brushing, my double-strand-of-worsted chick is almost as large as the original chick.
As the chicks are heavily brushed, I gave the fluff a little trim around the face (particularly the eye area) with a pair of small sharp scissors, to get rid of any extra-long fibres and neaten then up a bit.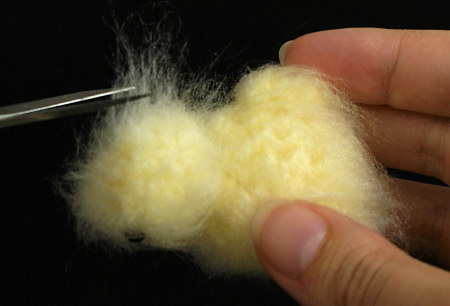 It'd be a bit fiddly to brush such small amigurumi with a pet brush, so, if you feel like small brushed amigurumi might be something you'd like to add to your repertoire, I highly recommend you seek out a Teasel/Nap Riser/Bunka brush to make the task less perilous!
Now you know you can use any yellow yarn to make a Fuzzy Chick, how about making one – or a handful – of tiny chickies for the Spring/Easter crochet-along? The brushing probably takes longer than the crocheting, but with only 4 tiny parts, it's still a very speedy project, and would be lovely for Easter…