Crochet Tutorials
In case you haven't seen it yet, I've revamped my crochet tutorials pages and collected them all together into one convenient master list. Now you can easily find instructions for whatever you're looking for! Just remember www.planetjune.com/help 🙂

Technical Difficulties
Heavy server loads caused some intermittent problems at PlanetJune last week. My site was migrated to a new server at the weekend, which improved matters somewhat, but I've just bitten the bullet and paid for a massive upgrade – business continues to grow and my server has to grow along with it! (You shouldn't see any difference in speed at normal load, but hopefully in future there won't be any slowdowns or error messages when things get too busy.)
Bonus Discounts: In case the downtime stopped you from taking advantage of last week's special offers, I've extended both the Dinosaur Expansion Pack Sets launch sale and the Pine Cone Collection discount code until this coming Sunday. The dinosaur sets are already discounted in the shop, and you'll find the pine cones code in my last newsletter!
I've also just discontinued my Affiliate Program – the code developed a glitch a week or so ago, and, as the program isn't aligned with my primary PlanetJune goals (to design amazing new crochet patterns, to make clear and helpful tutorials, and to provide stellar customer service) it didn't seem worth the time to fix it. The idea of paying people to recommend me seems a bit icky, anyway, now I think about it – I want people to say nice things about me because they want to, not because they're being paid, so maybe this is all for the best…
Review and Win contest
October's 'Review and Win' winner is Jamie S, with her review of my Climbing Eyelets Triangular Shawl: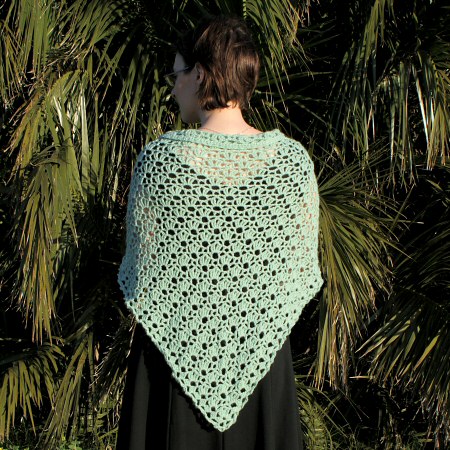 This is the loveliest item I've ever made! What makes this pattern wonderful is, first, it's an incredibly fast stitch pattern, once you get the initial set-up rows stitched. A large shawl in less than 3 days! Second, after a few rows into the pattern, I no longer had to look at the instructions. In my opinion, it becomes so easy to remember as a result of its intuitive construction. Third, because it's very open, it mitigates the inherent characteristics of crochet (heavy, thick), producing a light fabric that I can easily see myself wearing on cooler evenings/mornings in the hot and humid climate zone where I live, and I say this whilst using worsted weight yarn! On a final note, when I had a question about the pattern, June answered it promptly and in a cordial manner 🙂
Congrats Jamie – I'll email you to find out which pattern you'd like as your prize 🙂
It's so rewarding for me to see people enjoying my Accessories designs. They're a great introduction to new crochet techniques that you may think would be intimidating or too advanced, but they really aren't! If you'd like to try crocheting one too, you'll find extra support in the Accessories CAL thread on Ravelry.